Jordan Eagles' artwork is certainly not for the faint of heart. The artist uses blood as the primary medium for his work, heating, electrifying, drying and decomposing life's precious serum in order to create his minimalist paintings.
Aptly known as the "Blood Artist," Eagles is showing his newest body of hemoglobin inspired work, called "Hemofields," at Krause Gallery in New York next month. In this exhibit, Eagles focuses on the transformation that blood undergoes during resin's curing process, as he situates layer upon layer of iridescent blood between plates of clear resin. Illuminating not only deep pools of red but also shades of orange, brown, and black, the artist incorporates backdrops of copper, which act as electrical conductors, mixing with the hues to create suspended yet energetic moments. Eagles transforms his blood patina into the sublime, depicting these explosive scenes of sprawling tendrils and bulges of color that seem in constant motion.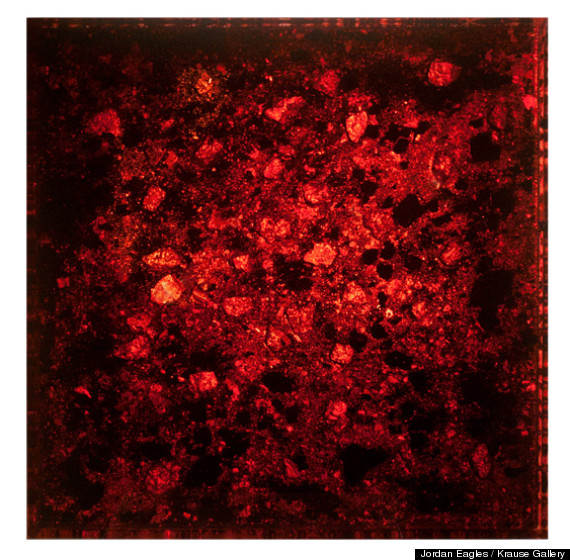 Blood, copper, preserved on plexiglass, UV resin
This process of manipulating bovine blood into preserved resin displays has been Eagles' signature art-making method for over a decade. And through the years of experimentation, he's delved into blood's transformative textural patterns as well as its conceptual relationship to regeneration and decomposition. "The works offer an allegory of death to life but focus on the colors, textures, patterns and inherent energies of this sacred material," Eagles states in the exhibit's press release. While his works may not always convey the intimate blood handling that goes into each project, the video Eagles has created to accompany the exhibit certainly shows the ritualistic steps of the resin creations. Stretching gauze soaked in blood, grinding aged blood cells into dust, and burning the thick red pools are performance acts in themselves.
Check out the images of "Hemofields" in the slideshow below and, if you aren't hemophobic, watch the video above to see Eagles' entire process.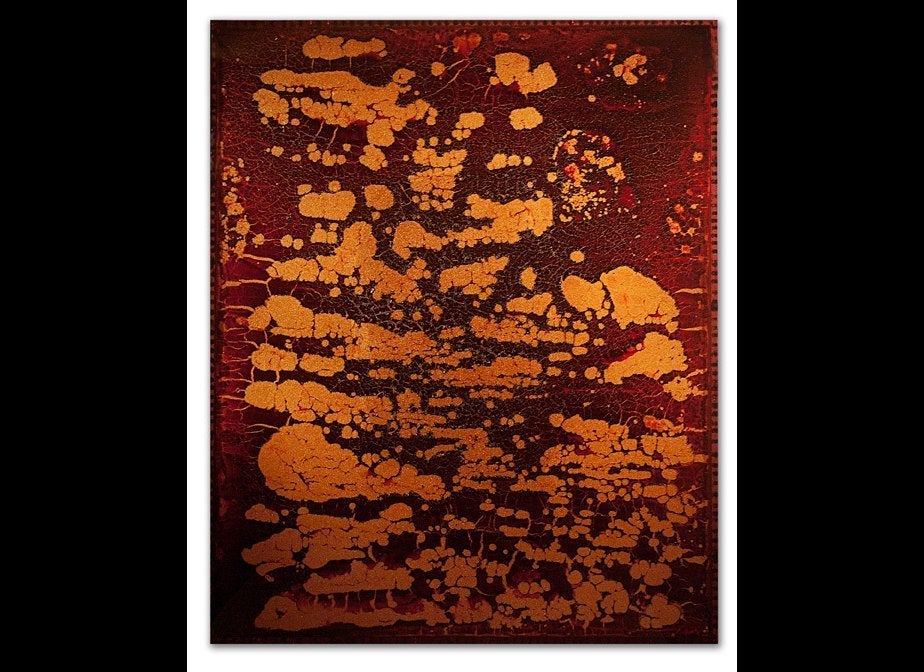 Jordan Eagles' Displays Blood Art In 'Hemofields'
Popular in the Community