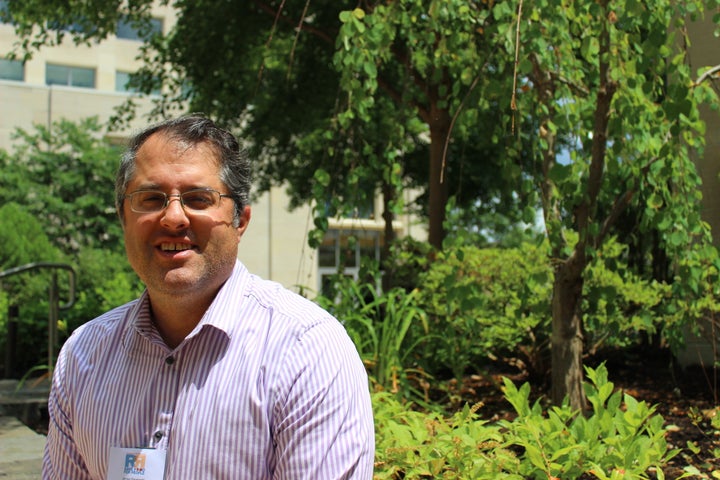 Jordan Figueiredo's son, Evan, hates salads.
The 5-year-old, like many 5-year-olds, just can't get into his greens. But if there's one thing he can't get enough of, it's carrots with legs. Or peaches with noses.
Basically, if it's a fruit or vegetable that doesn't look the way it's "supposed" to, Evan is calling dibs. And the weirder it looks, the more he wants it.
Evan gets this from his father. The elder Figueiredo works by day as a solid waste specialist for the Castro Valley Sanitation District, about a 40-minute drive outside of San Francisco, working to make sure municipal waste is properly dealt with.
In his spare time, Figueiredo works practically around the clock as an anti-food waste activist. In addition to managing EndFoodWaste.org, a resource website, he also runs the popular Ugly Fruit and Veg social media accounts, which feature humorous photos of the unusually shaped fruits and vegetables that most grocery stores refuse to sell. The accounts boast over 70,000 followers on Twitter and another 30,000 on Instagram. 
The activist makes it a point to connect the dots between retailers' pickiness and the size of America's food waste problem. Indeed, a recent study found that as much as half the food grown in the U.S. is discarded because it doesn't look quite right, The Guardian reported.
But Figueiredo believes his message is resonating with an ever-larger audience of adults who, he hopes, will follow his son's lead.
"Our little food waste geek group would be excited when there was one big article [about food waste]," Figueiredo said. "Now it's like one big article every day."
And Figueiredo is pushing for action beyond awareness — last year, he led an effort petitioning Whole Foods to sell "ugly" produce. He succeeded, thanks to a new partnership between the chain and the firm Imperfect Produce, so he then set his sights on Walmart.
The mega-chain is already taking small steps to sell produce that might otherwise go wasted. Just prior to meeting with Figueiredo, Walmart announced it would sell "ugly" apples in 300 Florida stores. The company also began selling misshapen potatoes in its Texas stores this spring.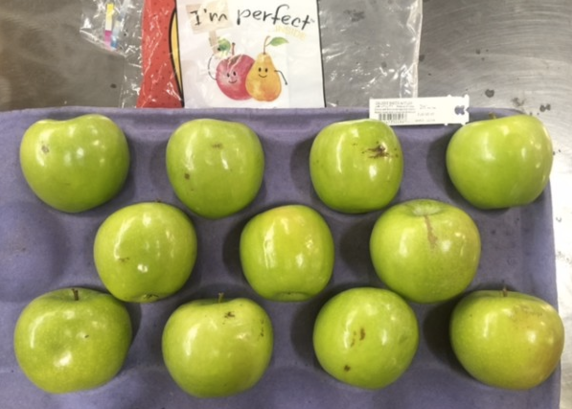 While those moves show progress, Figueiredo argues there's still a long way for Walmart to go.
"It's a really good step, but I want to work with them on a full, national program," he told HuffPost by phone from San Francisco International Airport, where he was getting ready to depart for Bentonville.
Sometimes food recovery groups like the Cambridge, Massachusetts-based Food For Free step in to help rescue produce that would otherwise go unused, but these groups are frequently under-resourced and incapable of making much of a dent in farm-level food waste. 
Figueiredo is exploring petitions aimed at other large national grocers. But his activism is pushing even deeper than that — to what he sees as the broader societal reason that Americans waste so much food to begin with.
Americans, he said, don't value food enough ― or all the resources that went into it.
His day typically begins early, as he updates his social accounts and checks emails concerning his various campaigns before heading to his day job. His lunch, breaks and evenings are often also occupied by his food waste activism as well. On weekends, Figueiredo heads to farmers' markets in San Francisco to take photos of "ugly" fruits and vegetables for his social accounts. And occasionally he uses his vacation days to travel to speak at conferences and other events.
The schedule can be demanding, but it helps that Figueiredo's family, including his wife, Ellie, is on board, even if she initially thought he was "a little nuts," he said.
"She totally gets it now," he added.
Since his "ugly veg" crusade began about two years ago, the whole family is eating more fresh fruits and vegetables, he said — something the vast majority of Americans are falling short on.
Figuereido's photos — plus ones he receives from disciples of his budding movement — eventually hit the Ugly Fruit and Veg accounts, where they're paired with tongue-in-cheek captions describing "horrified" jalapeños, zucchini "birds"  and radish "rats." The eye-catching pictures serve as reminders of how unique fruits and vegetables can look ― while still tasting delicious.
Stefanie Sacks, a food writer and nutritionist who helped lead Figueiredo's Whole Foods and Walmart petitions, believes her colleague's lighthearted approach is key to his success.
"He's hit people with humor around a very serious topic," Sacks said. "That makes it more accessible and usable because you're not making people feel bad about what they can't do."
Fellow food waste crusaders deeply admire Figueiredo's work, too.
Dana Gunders, staff scientist at the Natural Resources Defense Council, called him a "one-man force to be reckoned with." And Dominika Jarosz, global campaigns manager of Feedback's Feeding the 5000 anti-food waste initiative, credited Figueiredo's "sheer energy and enthusiasm" for the progress his campaigns have made.
"It's proof positive of how one person can make a difference — in their spare time," Jarosz added. 
Figueiredo is well aware that one man can only do so much. In order for the U.S. to reach its ambitious goal, set last fall by the Environmental Protection Agency and the USDA, of reducing food waste by 50 percent by the year 2030, widespread cultural changes will be necessary. 
But he is hopeful the U.S. can hit that lofty target. Comparing the rise of food waste in public consciousness with recycling efforts in the 1980s and '90s, he said there is plenty of reason for optimism.
"Wasting food means a lot more to people than wasting materials," Figueiredo said. "Food is really important culturally to a lot of people. It means so much and marks so many important moments in our lives. We take so much pleasure from it, too. I think that's why it's gaining traction so much faster."
Agriculture, he said, is particularly on board with his message — he said he's received hundreds of messages from farmers who praise his work.
But ultimately, he is pushing for buy-in from consumers, those of us responsible for as much as the one-third of estimated overall food waste that happens in our kitchens every day. And that's where Figueiredo said he believes this hard-fought battle is being won. 
"People like to celebrate the unique things in life. The differences. This is another way to celebrate differences," he said. "Nature doesn't grow everything perfectly, so this is a way to celebrate amazing produce and nature and how things grow naturally. I don't think it's very complicated."
Calling all HuffPost superfans!
Sign up for membership to become a founding member and help shape HuffPost's next chapter
BEFORE YOU GO
PHOTO GALLERY
"Ugly" Vegetables