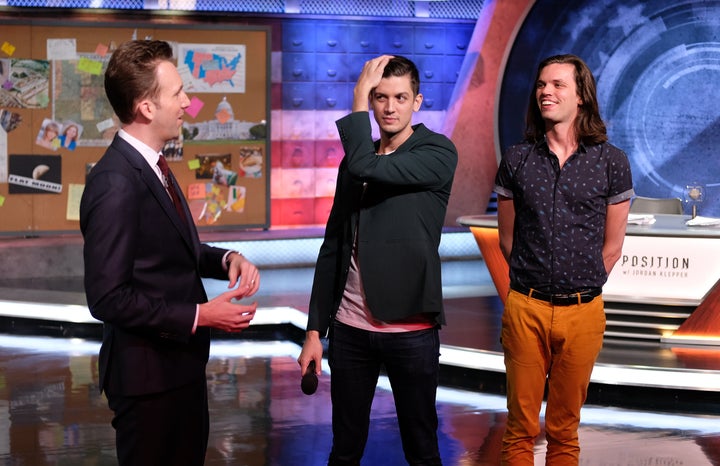 Jordan Klepper was deep into a point about dishonesty in public discourse when he realized, mid-sentence, that the picture he was trying to paint might be getting too disgusting.
"You see where you can take that nugget of shit ― this is getting to be a pretty gross metaphor right now," Klepper said while responding to a question from HuffPost during a media event to promote his new show, "The Opposition."
He stood amid a set that seems to be a take on a survival bunker. A backwards American flag could be seen on the back wall, blocked by a conspiracy board covered in notes. One note questions whether Taylor Swift is a shill for the Democratic Party and another advocates for Hillary Clinton's impeachment. The show, where Klepper plays a conspiracy-peddling, alt-right buffoon a la Alex Jones, is obviously playing with the very notion of logic.
"We take that nugget that we actually see out there and I think we get to show [it], we get to heighten," he said.
"It's a great place for a comedian to show the bullshit that is out there as opposed to just yell[ing] at that bullshit, and so that was our attempt with 'The Opposition,'" he said. Rather then just pointing at absurdity and laughing, Klepper plans to embody the absurdity for laughs.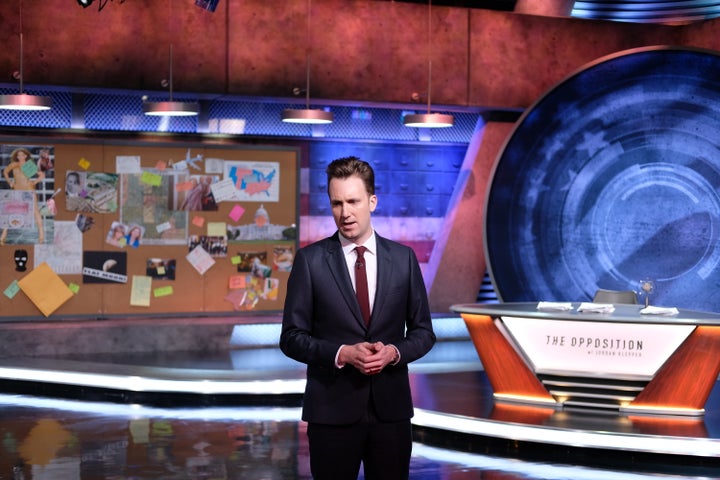 The comedian came to national attention as a correspondent on "The Daily Show." He joined the program in 2015, the same year as the tail-end of Jon Stewart's long run at the helm. Stewart closed out that tenure with a speech about how "bullshit is everywhere," leaving viewers with a parting message to remain vigilant against said bullshit and that if they "smell something, say something."
Now, Klepper will lead his own show on Comedy Central, "The Opposition," which will directly follow Trevor Noah's "Daily Show."
This new program is closer in vision to Stephen Colbert's "The Colbert Report," with Klepper acting as a voice for the conservative viewpoints he plans to skewer. Still, there is a clear connection of mission to the Stewart-led television show he started with.
"I do think the difference between us and 'The Daily Show' is like, 'The Daily Show' exposed it earnestly, it can go right at it," Klepper explained. "And I think what we're having fun with is like, let's articulate what we see as bullshit, but then let's play with the machinations around that bullshit. We get to show. I get to be the flawed personality who peddles that bullshit."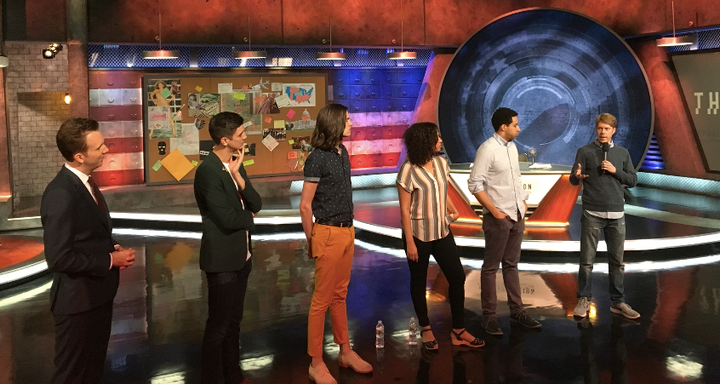 To help him, Klepper has enlisted a cast of characters to represent other tropes in the alt-right. There are Milo Yiannopoulos types who consider themselves to be provocateurs. There's a beta sidekick that wants to be an alpha. There's a voter who is just looking out for herself, no matter what. The comedians and actors playing these characters will, naturally, try to be even more outrageous versions of their source material.
Klepper seems well aware of the potential pitfalls for his new show. He acknowledged that he's yet another white male given a position of power — but then again, so is his source material. He wants, at least while on-screen, to be seen as an unsympathetic character.
"Let me be your punching bag," Klepper said.
"The Opposition" seems to be positioning itself as the opposite of the rising "resistance" — the group of people who organized to vocally oppose President Donald Trump after his election.
This show is, by its name, inherently confrontational. In the coming months, viewers will discover if its plan to go further than merely pointing out flawed or dangerous viewpoints, and instead embodying them, is funny.
It remains unclear if the show will pursue the funniest joke over the most educational segment, but with a strong track record from those involved and the valiant guiding light in Stewart's message, "The Opposition" is sure worth giving a shot.
At the media event, the show gave the press wristbands that said, "You are the opposition." This is a premise that, for better or worse, starts at us versus them. It will be important to see where it ends.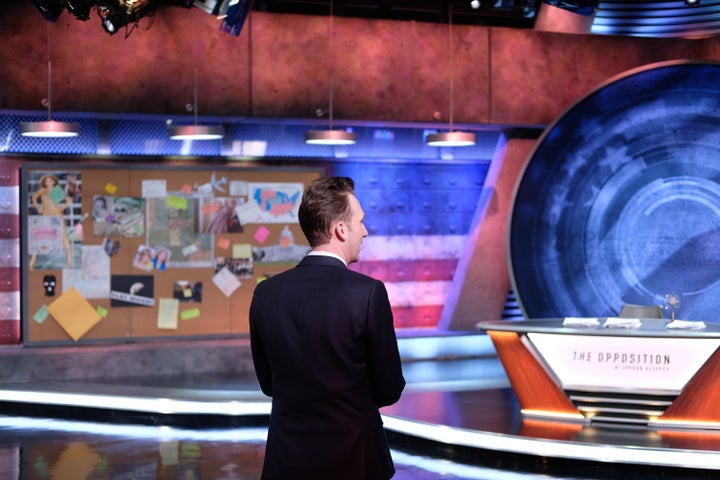 Below are few photos of "The Opposition" set. The show premieres Sept. 25 on Comedy Central at 11:30 EST.
The desk, complete with articles from Mother Jones and a fancy microphone.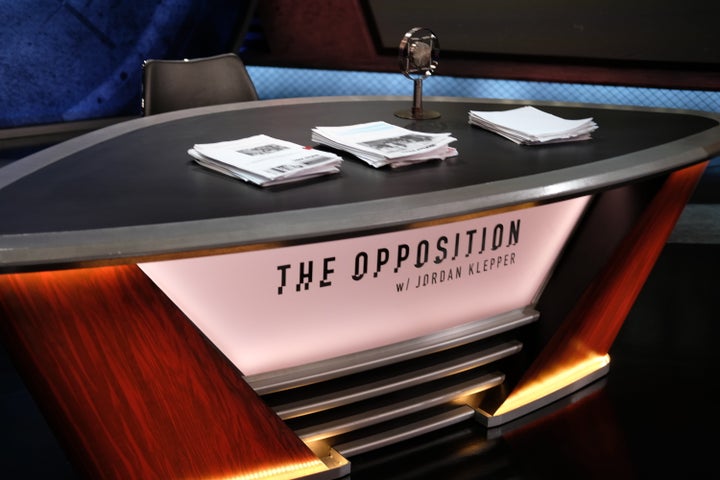 The show will have interviews in most episodes, often with journalists — or the "enemy," as Klepper described.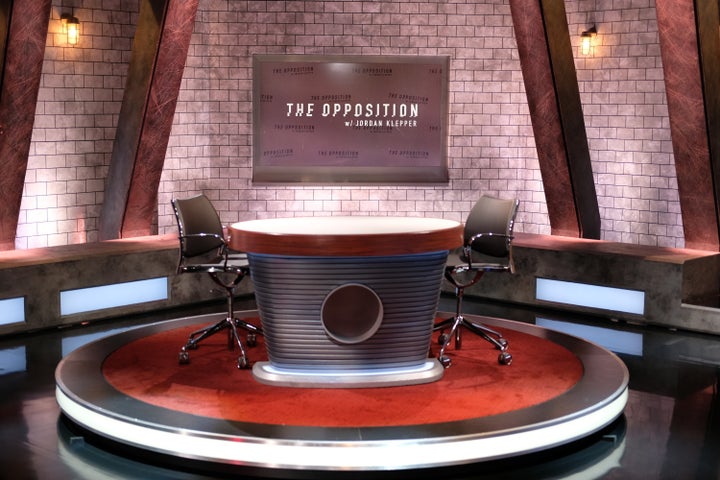 This conspiracy board will apparently be updated as the show goes on.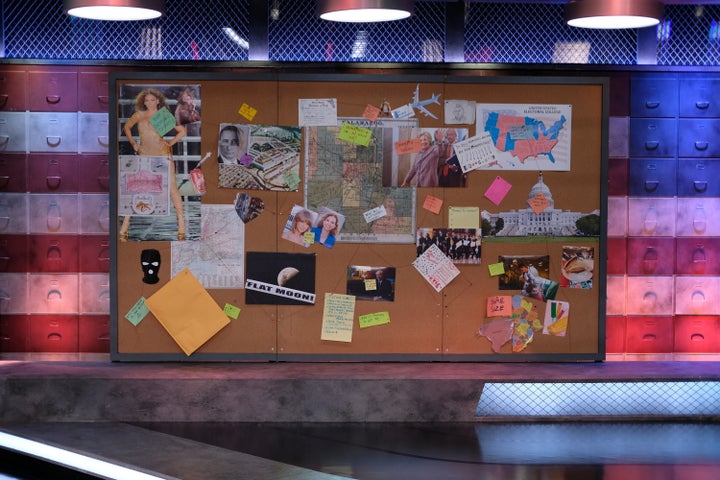 If they wanted to "IMPEACH HILLARY," they should have at least elected her president first.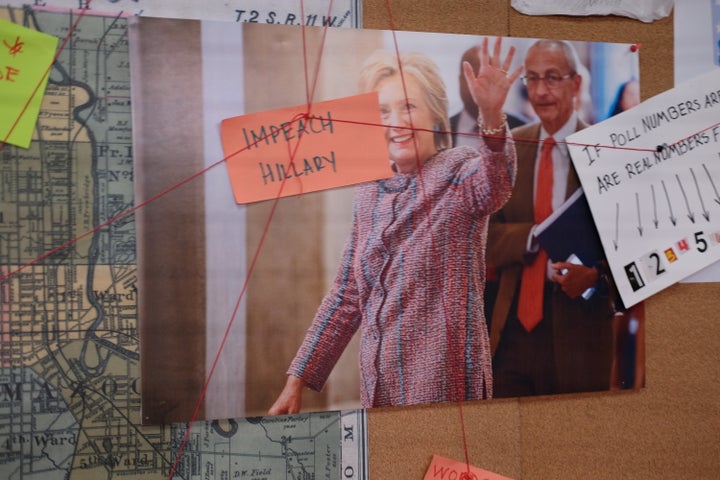 The board suggests Taylor Swift and former chairperson of the Democratic National Committee Rep. Debbie Wasserman Schultz (D-Fla.) are the same person.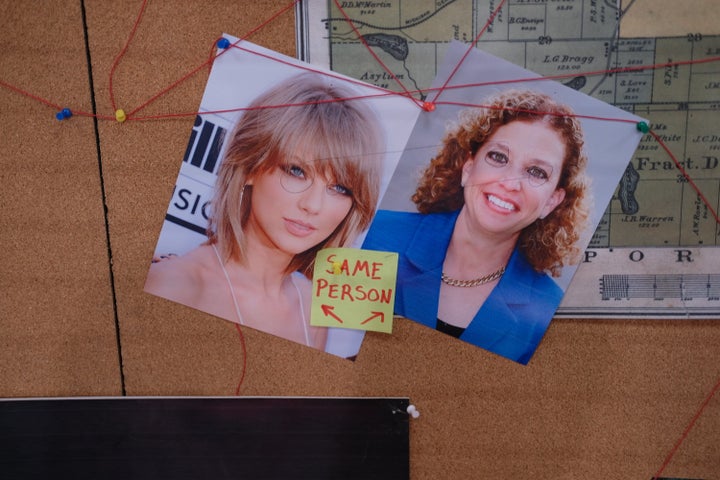 Maybe the most straightforward idea on this board.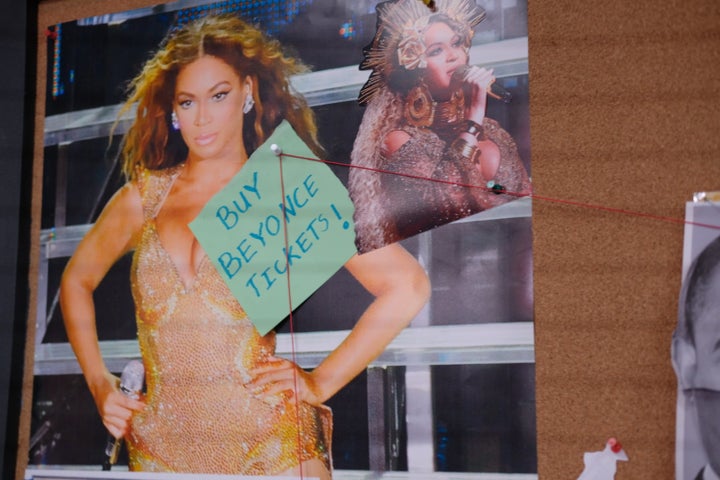 Of course, this all circles back to the idea that maybe these conspiracy peddlers just want to enlarge their anatomy.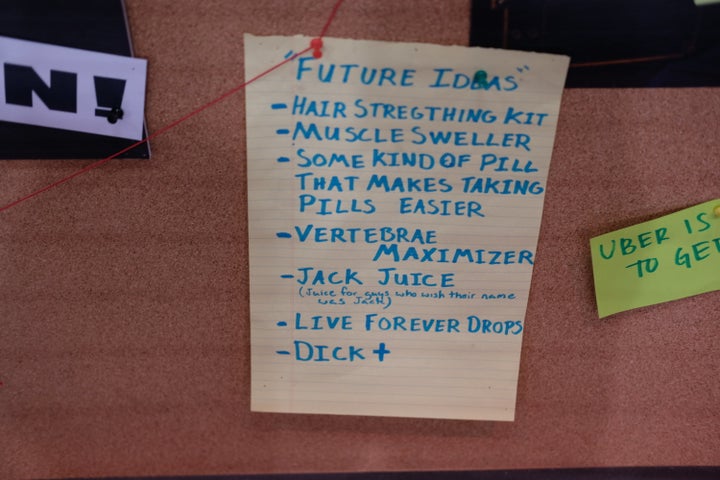 Popular in the Community