The New York City subway rider who put a homeless man in a lethal chokehold Monday has broken his silence on the killing with a statement from his lawyers.
"Earlier this week Daniel Penny was involved in a tragic incident on the NYC Subway, which ended in the death of Jordan Neely," read the statement, dated Friday.
The release first expressed "condolences to those close to Mr. Neely" before going on to defend Penny's actions.
"When Mr. Neely began aggressively threatening Daniel Penny and the other passengers, Daniel, with the help of others, acted to protect themselves, until help arrived. Daniel never intended to harm Mr. Neely and could not have foreseen his untimely death," the attorneys said.
Graphic video shows Penny, a 24-year-old Marine veteran, holding 30-year-old Neely in a subdued position on the floor of a train car.
A voice off camera can be heard warning Penny to be careful. "You don't have to catch a murder charge," the person says.
The video, shot by witness and journalist Juan Alberto Vazquez, shows Penny holding Neely for about 3 minutes before releasing his limp body on the floor. However, Vazquez told the New York Post and NBC New York that the chokehold lasted closer to 15 minutes.
Two other men can be seen close to Neely's body in the video. Though one appears to be helping Penny restrain Neely, Vazquez told Curbed that the other was attempting to help Neely.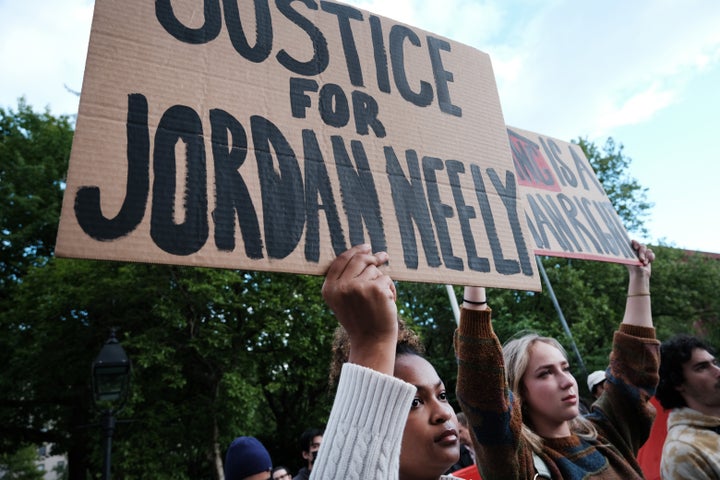 The killing occurred after Neely "started yelling" about not having food or water, Vazquez said.
"The man got on the subway car and began to say a somewhat aggressive speech, saying he was hungry, he was thirsty, that he didn't care about anything, he didn't care about going to jail, he didn't care that he gets a big life sentence," he told NBC New York. "That 'It doesn't even matter if I died.'"
Popular in the Community