Fake news is a problem that "Get Out" writer/director Jordan Peele in collaboration with BuzzFeed hopes to fix ― by literally putting words in the mouth of former President Barack Obama.
"We're entering an era in which our enemies can make it look like anyone is saying anything at any point in time — even if they would never say those things," says "Obama."
"So, for instance, they could have me say things like, I don't know, [Black Panther's] Killmonger was right! Or, Ben Carson is in the sunken place! Or, how 'bout this: Simply, President Trump is a total and complete dipshit."
The video reveals about halfway through that it's been Peele's voice from the start. Digital manipulation was used to make it look like Obama was talking, driving home the video's warning to viewers that they should be careful about trusting information they find online.
That message ends with Obama/Peele saying, "Stay woke, bitches."
According to BuzzFeed, the video was written by Peele and produced by BuzzFeed's Jared Sosa with help from Peele's company, Monkeypaw Productions. Peretti wanted the video to come to fruition because BuzzFeed has covered counterfeit news websites extensively.
"We've covered counterfeit news websites that say the pope endorsed Trump that look kinda like real news but because it's text people have started to become more wary," Peretti said. "And now we're starting to see tech that allows people to put words into the mouths of public figures that look like they must be real because it's video and video doesn't lie!"
Peele cheekily acknowledged the video on Twitter, but did not say much else after it was published:
As for how Obama's creepy manipulation came to be, it was done using After Effects, a motion-graphics program, and Fakeapp, an artificial-intelligence video-editing program. Sosa digitally pasted Peele's mouth onto Obama's, then replaced the former president's jawline with one that moved in conjunction with Peele's speech patterns. Fakeapp was then used to make everything more seamless, an effort that took more than 56 hours of automatic processing, according to BuzzFeed.
"What I learned from this whole thing is that while it will still require a good deal of human intervention, this kind of thing is not only possible but going to get a lot better," Sosa said.
Before You Go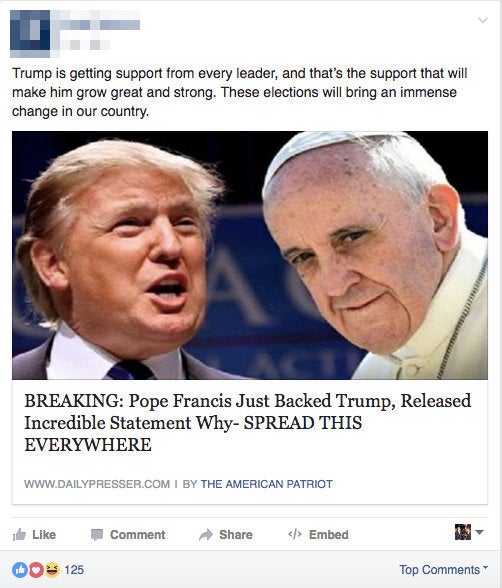 Fake News Spread By Social Media During The 2016 Election
Popular in the Community