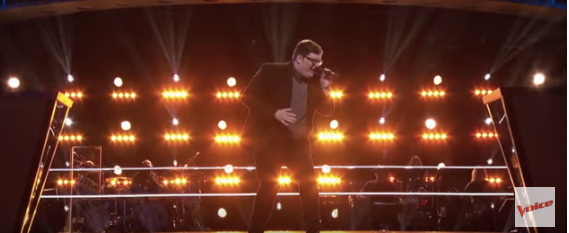 Judges and audience members were left speechless yesterday after one of the most amazing performances ever on "The Voice." 
Jordan Smith, the 21-year-old Kentuckian that first wowed judges with his blind audition, was back with another impressive display of his vocal range. Smith sang Adele's "Set Fire to the Rain" for his "Knockout round" performance against contestant Viktor Kiraly. 
Are you ready to get goosebumps? They'll start to appear around the 1:05 mark: 
You know when the judges react like this during your song, you are freakin' KILLING IT.
Warning: Mild "The Voice" spoilers below.
"Jordan commands your attention so much to the point where you're completely just swept away by what he does, it's really special," said Jordan's coach, Adam Levine. "Jordan can win this entire competition, no doubt."
Smith went on to win his knockout round against Kiraly, who was later picked up by Gwen Stefani. When Smith heard that Kiraly had been picked up by Gwen, this amazing moment happened -- showcasing Smith's true spirit of good sportsmanship:
Guest adviser Rihanna was also on the show (and equally as impressed as the judges with Smith). Check out some of her "Voice" highlights in the clip below: 
PHOTO GALLERY
Gwen Stefani Beauty Evolution