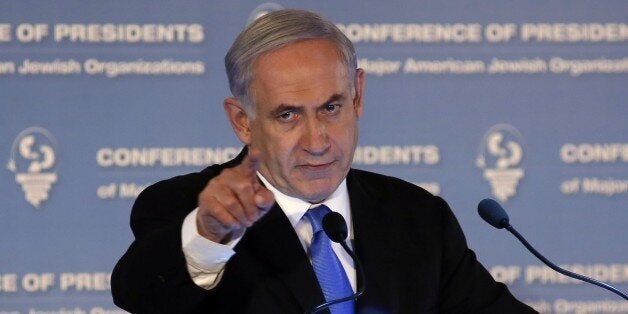 Israeli Prime Minister Benjamin Netanyahu is the latest politician to get into trouble for an ill-advised song choice while campaigning.
In a recent commercial released in Bibi's bid for re-election, actors (poorly) dressed up as militants of the Islamic State group, also known as ISIS, cruise through the desert to the tunes of Jordanian hip-hop group Torabyeh.
The members of the Torabyeh have taken offense at the association, with founding member Firas Shehadeh saying that he "was shocked" and that the group is "against ISIS and against Israel," in an interview with Reuters. They've also taken legal action against Netanyahu and his right-wing Likud party, arguing that the Israeli prime minister did not have permission to use the song.
Here's the spot, which is titled "Us or Them, ISIS's Version":
In the ad, the Islamic State members rampaging in their truck pull up next to an Israeli driver to ask directions to Jerusalem, and are told to "turn left" in a play on words that implies that voting for Bibi's left-wing opponents will increase the risk of terrorism in Israel, Haaretz reported.
"Us or Them" is keeping with the style of Netanyahu's other campaign spots, which play almost like short comedy sketches. Some of these have actually gone viral, and have had less legal implications.
Netanyahu's trouble over the use of music is just one in a long list of clashes between politicians and artists. In the U.S., almost every Republican presidential nominee in the last thirty years has been told to stop using one of the songs prominently featured in their campaigns, from Bruce Springsteen slamming Ronald Reagan for using "Born in the USA" to Tom Petty threatening to take action against both George W. Bush and John McCain for use of "I Won't Back Down."
But pairing Torabyeh's track with Islamic State militants is arguably far more offensive than using it on the campaign trail, and especially tone-deaf since Shehadeh told Reuters the song, 'Ghorbah,' is actually a take on the political alienation of Palestinians.
The ad also comes at a sensitive time for Jordanians after the brutal murder of one of the nation's fighter pilots by Islamic State militants. Anti-ISIS sentiment has been at a high since the killing, and anyone connected to the group has been roundly denounced and targeted by authorities.
Watch the original music video for the song here:
Popular in the Community