Washington, DC--Today Queen Rania of Jordan joined other leading education advocates Congresswoman Nita Lowey and Counselor to the Secretary of the Treasury Gene Sperling to launch "The Big Read" as part of Global Campaign for Education's global action week calling for quality basic education for all children.
"This week, millions of children, teachers, adult learners, campaigners and parents around the world will call on global leaders to give every child, everywhere, a quality education," said Queen Rania. "Together, we can amplify the many voices asking that we give the 75 million children around the world out of school today the happy ending they deserve - education for all."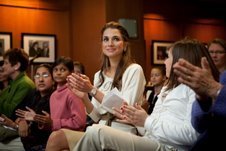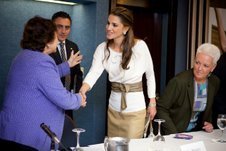 "The Big Read" is a story book compiled of short stories about education written by influential figures, Nobel Prize winners, leaders, celebrities, activists and recently literate children and adults. The Big Read authors include Queen Rania, Natalie Portman, Nelson Mandela, Mary Robinson, Alice Walker and Desmond Tutu.
Close to 10 million children and teachers will participate in group readings of The Big Read which are planned in 100 countries around the world from April 20-26. Participants call on world leaders to help get all children in school and give them the opportunities that a quality education provides.
"Helping nations around the world educate their children sows the seeds for economic opportunity abroad and diminishes the risks of violence and instability. It also demonstrates the goodwill of the American people. As Chair of the Appropriations State and Foreign Operations Subcommittee, I will continue my work to bolster resources for basic education and ensure coordination among our diplomatic and development agencies," said The Honorable Nita M. Lowey (NY-18), Chairwoman of House Appropriations Subcommittee on State, Foreign Operations, and Related Programs.
Queen Rania was also joined by two child advocates for global education to sign the "Big Read", Devli Kumari, a recently literate former child laborer from India and Jessica Murkowitz, an eighth grade student from Seattle.
Since 2000, increased funding has yielded results with 41 million more children in school, yet 75 million children of primary school age are still not in school, with many of them working in factories, on farms or caring for their sick parents instead. For those fortunate enough to make it to school, millions struggle to learn, as they share teachers with up to 100 other students, have few or no textbooks and receive only a few hours teaching a day. As generations before them also failed to have the chance at school, today 774 million adults are unable to read and write. Across the world, one in five people can't read.
Every year, GCE organizes Global Action Week with children, teachers and educational groups around the world in 120 countries. We know we're making an impact: after 9 million people participated in 2008's Action Week, G8 leaders announced in Japan an additional $1 billion in aid to education. Since the Global Campaign for Education started in 1999, 40 million more children are now in school. We have made progress, but there is much more to do.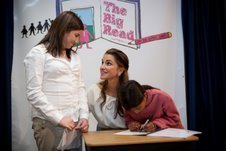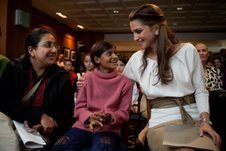 This week, "The Big Read" will be distributed to over nine million children around the world at no cost at events calling on leaders to do more to fund education and literacy in the world's poorest countries and meet the Education for All goals and education MDGs.
At the end of the book, there is a simple, clear declaration to governments to provide funding for education and literacy. After reading the book, children and adults can add their name to this statement and pass it onto a friend. We are collecting the names to deliver to governments to demand that they take action to make sure that everyone has access to an education. GCE works to ensure that all children everywhere, especially girls, get the opportunity afforded by an education. Investment in education, with a particular focus on girls, is one of the best investments in the developing world. In addition to equipping a child with the knowledge and skills needed for a productive life, universal primary education offers countries even deeper and wider returns for health and economic growth.
About Queen Rania: Her Majesty Queen Rania Al Abdullah of Jordan is an international advocate for universal education. Convinced that education is the key to breaking the cycle of poverty, Her Majesty campaigns for more investment in girls' education. She focuses much of her energy on creating opportunities and encouraging innovative public/private partnerships to increase access to, and quality of, schools. In March 2008, Queen Rania launched her "Madrasati" (which means "my school" in Arabic) initiative to renovate at least 500 of Jordan's most dilapidated public schools, to make sure that all young Jordanians have access to bright, safe, well-equipped classrooms and playgrounds.
About Congresswoman Lowey: Congresswoman Nita Lowey (D-NY) has represented New York's 18th Congressional District in the U.S. House of Representatives since 1989. Lowey is a member of the powerful House Appropriations Committee, where she serves as Chairwoman of the State and Foreign Operations Subcommittee. As Chairwoman, she has worked to ensure that diplomacy and development remain key pillars of our national security strategy. She is a leading Congressional proponent of international basic education, a strong U.S.-Israel relationship, enhancing the role of women in development, and a leading advocate for democracy and justice in Afghanistan, Iraq, Northern Ireland, Sudan Indonesia, and around the world.
About GCE: The Global Campaign for Education, founded in 1999, brings together non‐governmental organizations (NGOs) and teachers' unions in more than 120 countries. GCE promotes access to education as a basic human right and raises public awareness to create the political will for governments and other leaders in the international community to fulfill their promises to provide at least a free public basic education for all children. Every April GCE organizes a week of campaigning on education called Global Action Week. This year's Action Week is called The Big Read. For more information: www.campaignforeducation.org/bigread
Popular in the Community