Jordin Sparks knows a thing or two about football. After all, her father, Phillippi Sparks, played in the NFL in the '90s.
The 26-year-old singer says she started following every Super Bowl, especially after competing on "American Idol" in 2007. This year, though, her involvement became more impactful.  
On Friday, the "Idol" alum joined Rashad Jennings from the New York Giants, Julius Thomas of the Jacksonville Jaguars and other NFL stars and celebrities to host an end zone dance-off as part of Verizon's #Minute50 campaign.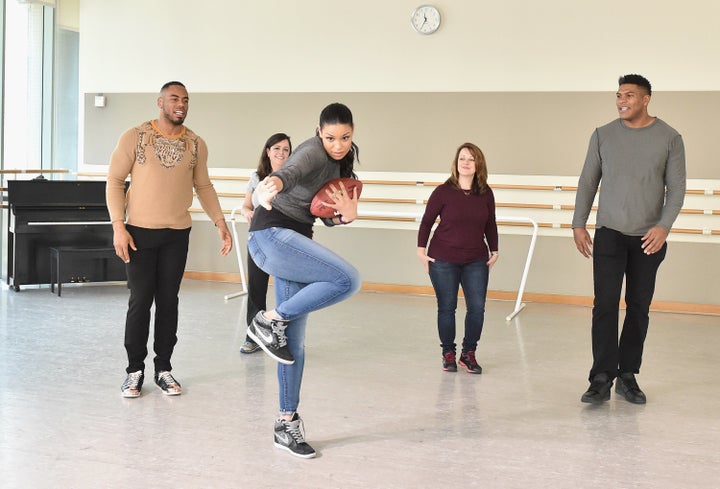 "They can't go and enjoy the festivities so we brought some fun to them," Sparks told The Huffington Post in an interview. "They didn't know we were here. We taught the winners our favorite touchdown dances. It was really, really fun. I was like, 'I never scored a touchdown but this would be what I would do if I did!'"
We caught up with Sparks immediately after she showed off her stellar, Zumba-inspired end zone dance moves. And let's just say, she got a workout.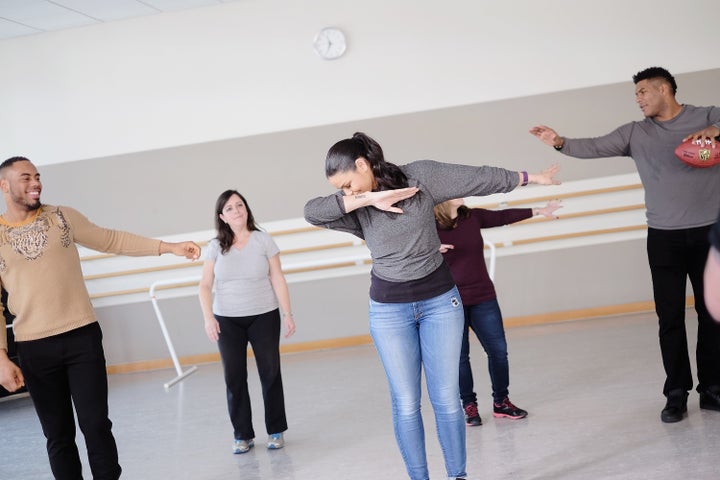 "I'm sweating. My heart is pounding," Sparks admitted.
Sparks' involvement is directly related to her I'm M.AD. Are You? campaign, which encourages young people to volunteer and get involved in their communities. In this case, M.A.D. stands for Making a Difference.
"Basically, we encourage people of all ages to go out and make a difference – something that stirs your spirit up or gets you mad and gets you in such a way that you're going to go out there and change it," she said.
Sparks works with 150 girls in Uganda, backs a school in Haiti and also meets with young people all over the United States about her initiative.
"There are so many things that we're doing or are just called to help try to do. With this platform, I get to give back," she said. "What stirs up my spirit is the youth. I love kids, I love teens – I just want to empower them and encourage them. They can live out their dreams."
Meanwhile, expect to see a lot more from the R&B songstress this year as she's in talks to return for the final season of "American Idol."
"I'm very excited to be part of the show," she said. "Of course, I'm very sad it's the last season so any way I can go back to be a part of it ... I'm still working out what exactly I'm going to do."
PHOTO GALLERY
13 Best 'American Idol' Performances Ever
Calling all HuffPost superfans!
Sign up for membership to become a founding member and help shape HuffPost's next chapter