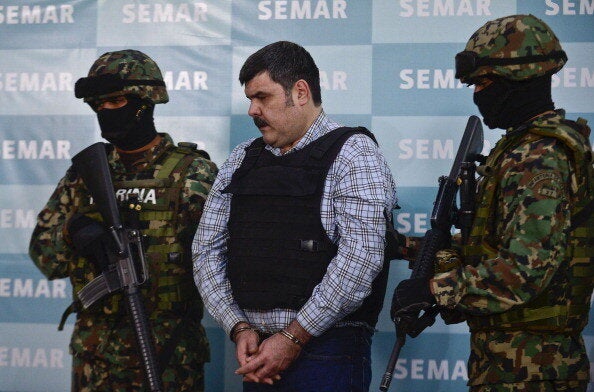 MEXICO CITY, Sept 13 (Reuters) - The Mexican Navy said on Wednesday it had captured one of Mexico's most wanted drug bosses, the head of the Gulf Cartel, in what would mark a major victory in President Felipe Calderon's crackdown on organized crime.
The Navy said it would give more details about the arrest of the man it believed to be Jorge Costilla, alias "El Coss," when it parades him in front of the media early on Thursday.
A government security official said Costilla, 41, was detained in Tampico in northeastern Mexico, where the cartel is active, without putting up a fight. The U.S. State Department has a reward of up to $5 million for his capture.
No other details were immediately available.
The arrest of the suspected capo comes barely a week after the Mexican Navy captured senior Gulf Cartel member Mario Cardenas, alias "Fatso," also in the state of Tamaulipas where Costilla was caught.
The Gulf Cartel has been weakened by a violent turf war with the Zetas, a gang formed by army deserters which acted as enforcers for the cartel before breaking with their employers in 2010.
It could also have political implications because top officials in the cartel's stronghold of Tamaulipas have been accused of taking money from local drug gangs.
"All these politicians who were getting money from the Gulf Cartel ought to be very worried now because this information is going to come to light in Mexico or the United States," said Alberto Islas, a security expert at consultancy Risk Evaluation, after hearing the reports of Costilla's capture.
Costilla features prominently on a wanted list of 37 kingpins the Mexican government published in 2009. Well over 20 on that list have now been captured or killed.
Still, the Mexican Navy has erred before in its claims, saying in June it had captured a son of Mexico's most wanted man Joaquin "Shorty" Guzman, only to later admit that it had not.
Islas said he expected Costilla to be extradited to the United States, and that his testimony could prove damaging to officials in Tamaulipas and neighboring Veracruz state, which has also been dogged by allegations of corruption.
Tomas Yarrington, a governor of Tamaulipas between 1999 and 2005, is fugitive and wanted in Mexico for aiding drug gangs.
Yarrington governed Tamaulipas for the Institutional Revolutionary Party (PRI), which will retake the presidency in December after its candidate Enrique Pena Nieto won a July 1 election. The PRI suspended Yarrington from the party in May.
Islas said damaging revelations about graft would raise pressure on Pena Nieto to take steps to clean up the image of the centrist PRI, which governed Mexico between 1929 and 2000. That rule was tainted by frequent allegations of corruption.
The FBI said Costilla is believed to have taken over the daily operations of the cartel after his former boss Osiel Cardenas was arrested and jailed in Mexico in 2003.
It said a federal arrest warrant was issued for Costilla in Texas in 2002, and that he was charged with drug offenses, threatening to assault and murder federal agents, and money laundering.
The FBI's wanted notice includes a grainy photograph of Costilla wearing a cowboy hat and a moustache.
With Costilla's apparent capture, the cartel is looking increasingly weak, and bloody turf wars for control of the northeastern border with Texas would now intensify. "There will be an increase in violence there," Islas said.
The stage was now set for increased hostilities in the region between Mexico's two most powerful gangs, Guzman's Sinaloa Cartel and the Zetas, he noted.
This could prove a headache for Pena Nieto, who has vowed to quickly reduce the number of beheadings and mass executions. There have been more than 55,000 drug-related deaths in Calderon's six-year offensive against cartels.
Calling all HuffPost superfans!
Sign up for membership to become a founding member and help shape HuffPost's next chapter
BEFORE YOU GO
PHOTO GALLERY
Worst Atrocities in Mexico's Drug War