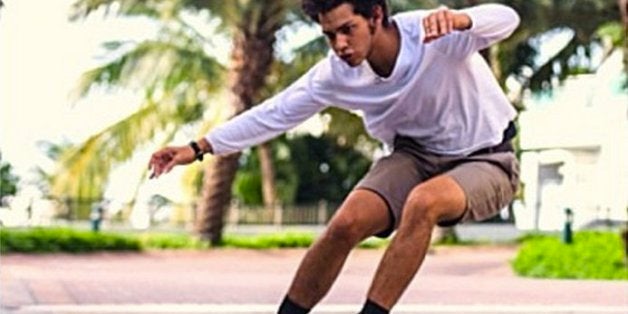 The Miami Beach Police officer involved in the Taser death of a teen graffiti artist has a very long and troubling Internal Affairs file, according to documents obtained by the Miami New Times and Miami Herald.
And before he chased down and shocked 18-year-old Israel Hernandez, who died some minutes later, Jorge Mercado was among three officers investigated for Tasering and beating an Iraq war veteran in his hotel room.
According to New Times, the incident unfolded in 2008 when Luis Maldonado and Randy Vege went to get drinks at Mango's on Ocean Drive to celebrate Vega's return from Iraq. Reports the paper:
...On the way out, Vega accidentally bumped into a bar worker. She told bouncers to grab the friends before they left, and the bouncers followed them to their hotel nearby.

"Our pursuers continued to forcefully bang on the door, demanding that we 'Open the f-cking door," Maldonado wrote. Instead, Vega dialed 911. Minutes later, Mercado and three other Miami Beach cops burst into the room after using a hotel master key.

"Upon entry and without a word, I was hit in the face by the police officers," Maldonado wrote. While two cops allegedly beat him, the other two Tasered Vega, then beat him on his neck and back.
Though Vega and Maldonado were arrested for battery on a law enforcement officer and resisting arrest, the charges were eventually dropped. The pair wrote their congressman over the incident, but eventually declined to pursue their complaints -- bringing the Internal Affairs investigation to a close. Read the full story at Miami New Times.
The Herald reports that records show Mercado was also alleged to have broken a man's nose while brawling off-duty, disciplined for failing a drug test, investigated for arresting a woman trying to make her way through Memorial Day traffic in 2012, and caught up in a scandal over questionable overtime.
The failed drug test was the only complaint to stick.
Miami Beach Police Chief Raymond Martinez has defended the officers' judgement, saying "even though it was only graffiti, it's still a crime."
A cause of death has yet to be determined.
Popular in the Community