WASHINGTON -- A young Latino activist believes that the campaign of former Florida Gov. Jeb Bush (R) denied him entrance to an event based on the color of his skin. Jorge Quintana, 23, had a ticket for a free Bush town hall on June 27 in Henderson, Nevada, but claims he was turned away at the door.
"It's kind of ironic that Mr. Bush had his event at a community center, but members of the community were not allowed to attend," Quintana, who is from nearby Las Vegas, said about his experience.
When The Huffington Post asked the Bush campaign about the episode, an aide would only say that "a small group of individuals were asked to leave the event after a member of the group tried to sneak in through a secured back entrance."
The campaign could be referring to Mi Familia Vota, a nonprofit aimed at encouraging Latino voter participation that Quintana volunteers for. A handful of Mi Familia Vota members staged a demonstration outside the June 27 event. However, a spokeswoman for the Henderson Police Department told HuffPost the department had no record of a break-in and had not been called to the scene. Members of Mi Familia Vota told HuffPost that no one from their group tried to sneak into the town hall.
Quintana said he never tried to sneak into the event, either alone or as part of a group. He said he already had a ticket -- he provided HuffPost with a copy of his receipt -- so he would have had no need to sneak in. He also said that he wasn't planning to disrupt the event and wasn't wearing any clothing that identified his involvement with the organization.
Two members of Mi Familia Vota received the opportunity toask Bush at the event how he felt about President Barack Obama's Deferred Action for Childhood Arrivals --a program that Bush has said he would undo if elected president -- but Quintana said he was not part of that group. According to Emilia Pablo, the Nevada state director for Mi Familia Vota, Quintana arrived at the event before the protesters did.
Quintana said that he and his 14-year-old brother arrived at the Valley View Recreation Center, tickets in hand, before the event started. When they got to the front of the line, they presented their tickets to the doorman. Quintana said the doorman then asked the brothers to wait while he went to speak to a supervisor.
"Right away, I felt very uneasy as to the way they were looking at me, almost as if they didn't want someone of my demeanor around," he said. "For me, it's another way of saying 'you're not allowed here for how we perceive what you look like'... I saw a group of older white people get in, and they didn't even have to show their tickets. "
"We were dressed like everybody else," Quintana went on. "Just casual. I had a button-up shirt and jeans on."
A local reporter who was at the event confirmed that Quintana wasn't wearing anything that would have been disruptive.
Eventually, Quintana said, the doorman returned and told him and his brother that they would not be allowed to attend the event.
"The only answer he gave me was that it was a private event," said Quintana. "I kind of found it funny that we submitted all of our personal information, everything checked out, and then once we get to the door... they come up with this excuse."
"I felt a broad range of emotions, but the biggest was disrespected," he went on. "Disrespected in a sense that, as a young individual who has studied the civil rights movement of the '60s and is influenced by thinkers such as Malcolm X, [I] was shunned at the door with the expectation that I would be able to go in and learn."
After being turned away, Quintana met up with the protesters, who were outside in an area where Bush was scheduled to have a press conference. However, Bush decided to hold the press conference indoors after seeing the demonstrators. According toanother report, the former governor at one point "snapp[ed] at a young aide who was about to lead him outside to do a news conference right where a handful of protesters were waiting for him."
Quintana told HuffPost that eventually he and the other demonstrators were dismissed from the event.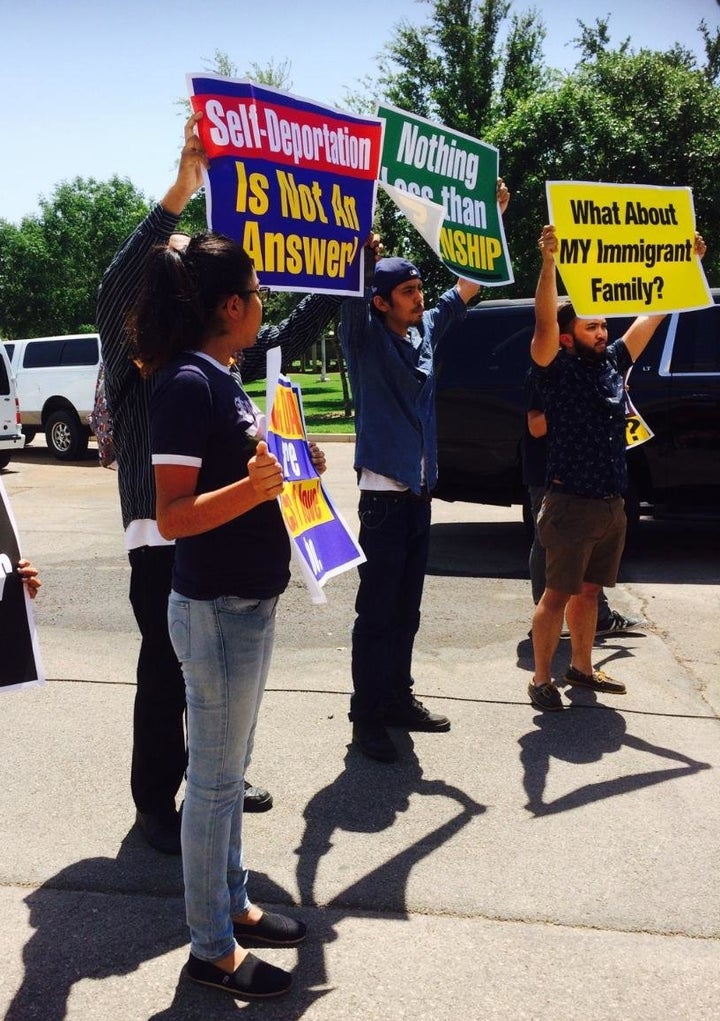 "We were actually requested to leave the property by two officers," he said. "They had told us that the organizers inside had specifically requested our group be moved off the premises or face jail time."
Quintana, a first-generation American, said he feels a responsibility to vote for those who cannot, which is also why he volunteers to register voters. "I saw this as a great opportunity to learn and be able to make a more informed vote for the upcoming election," he said about his decision to go to the event.
In a Telemundo interview that aired Monday, Bush, who is one of more than a dozen Republicans seeking their party's nomination for president, described an occasion when his own children were taunted about the color of their skin.
"I would ask Mr. Bush, how would he feel if his son, a Latino, was denied access to a political event because of the color of his skin?" Quintana said.
Popular in the Community