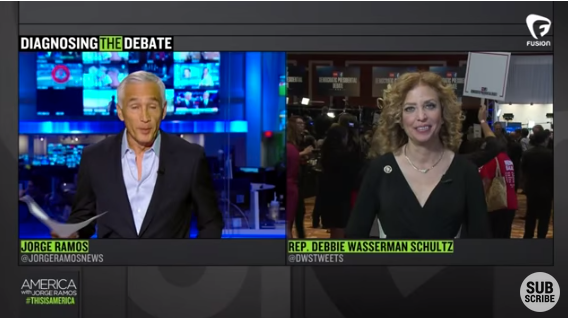 Following Tuesday's CNN Democratic primary debate, Fusion host Jorge Ramos pressed Democratic National Committee Chair Debbie Wasserman Schultz (Fla.) on the lack of diversity among the party's presidential candidates.
"When I was watching the debate I was thinking, 'does the Democratic party lack diversity?" Ramos asked. "I didn't see a Latino or an African-American or Asian on that stage."
Wasserman Schultz countered that the party has a "demonstrated commitment" to diversity, pointing to President Barack Obama, who is both a Democrat and African-American. 
"If you look at our party up and down the ballot -- from the way we select delegates to the way that we elect members of the Democratic National Committee," she said, "there is overwhelmingly more diversity up and down the ballot when it comes to Democrats."
She added that the party is not only committed to representing people of diverse ethnic backgrounds, but also women and LGBT people.
"We are the party of diversity," she said, adding that the party's policies are more favorable to minority communities than Republicans'. "The Republicans are, essentially, the party of a monolithic view that is narrow-minded."
Watch the full Fusion interview below:
Calling all HuffPost superfans!
Sign up for membership to become a founding member and help shape HuffPost's next chapter