Jorge Ramos has one big "modern family" -- and he's not looking to change it.
Ramos, 56, who rarely comments on his personal life, revealed plenty about how he and Delgado, 41, have managed to successfully mesh their families together on the talk show.
The Mexican journalist, known for his decades-long work as a Univision news anchor, described his relationship with the host and former Miss Venezuela runner-up.
"I have a wonderful, loving relationship with Chiqui -- who by the way is the host of the equivalent to "Dancing With The Stars" on Univision, it's doing great," Ramos said on the show.
Before he could continue, host Barbara Walters interrupted, "She's your girlfriend?"
"Yea, girlfriend, partner any way you want to define it, and then we have this beautiful modern family," Ramos continued. "She has two daughters, they are 3 and 21 [years old]. That's half of the family. The other half of the family [is] my kids, Nicolas who is 15 and Paola who is 26."
After some commotion over the gap in age of Delgado's two daughters, host Jenny McCarthy inquired whether the couple would someday marry.
"We tried that [with other people], it didn't work," Ramos said. "So we're going to try something different. And when we put everyone together under the same roof, it works. The beautiful, loving experiment is working."
The journalist continues at the helm of Univision nightly news broadcast, but despite his busy schedule he says he "needs to stay young" to keep up with the 3-year-old in his house.
"I do yoga, tennis and I still play football every single Saturday morning, which by the way is soccer – football in español," Ramos told Barbara Walters.
CORRECTION: A previous version of this article incorrectly stated Chiquinquirá Delgado is 47 years old. The Venezuelan host is actually 41 years old.
Before You Go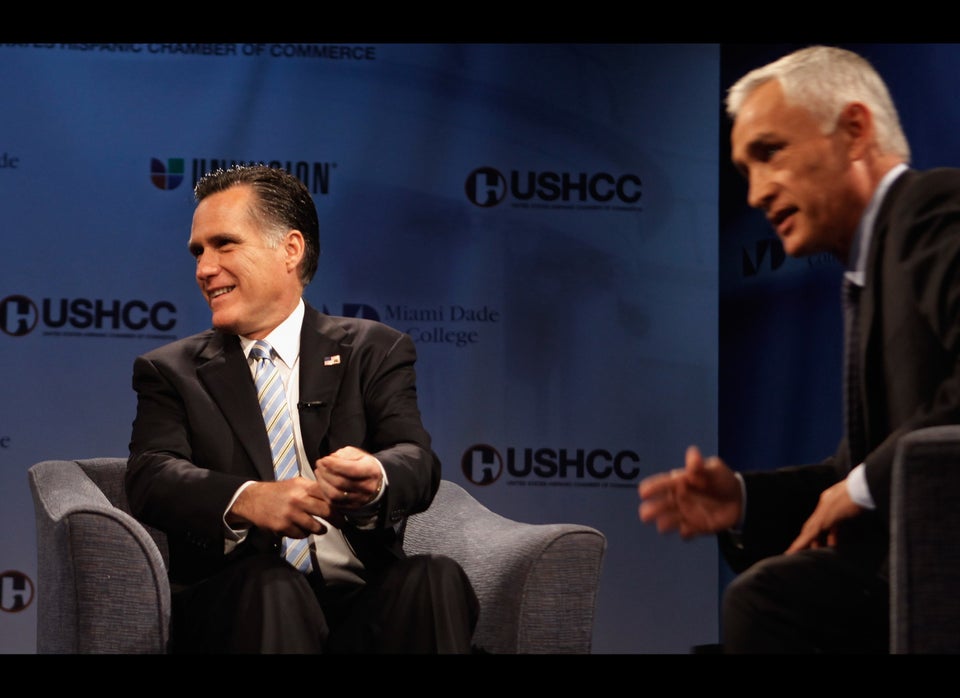 Jorge Ramos
Popular in the Community