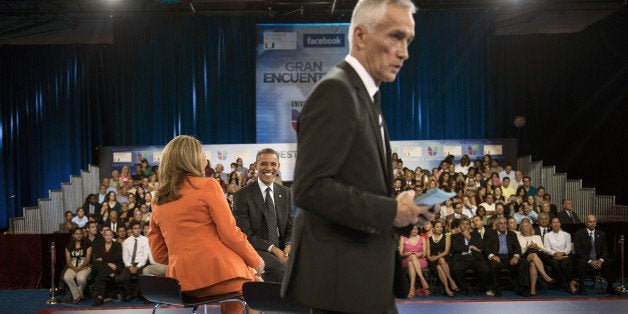 NEW YORK –- Jorge Ramos, the top-rated Spanish-language news anchor and a vocal immigration advocate, said he's prepared to put pressure on members of Congress if a reform bill isn't passed by the time the Fusion television network launches this fall.
"We're going to come out on Oct. 28th, and if the House doesn't approve immigration reform by then, then there's going to be a new, very loud voice in Fusion, talking about immigration every single night until immigration reform passes," Ramos said in an interview with The Huffington Post.
Ramos added that the English-language Fusion is prepared to "own" the immigration story upon October's launch. "It's going to be ours from the first hour," he said. "There's no question about it."
Fusion, a joint ABC News-Univision channel aimed at English-speaking Latinos and millennials, recently unveiled its October schedule of news and entertainment shows, including an 8 p.m. flagship program, "America with Jorge Ramos."
Ramos, 55, arrived in Los Angeles from Mexico three decades ago and worked his way up from reporter at a local Spanish-language channel to the influential co-anchor of the nightly news program, "Noticiero Univision."
In the interview with HuffPost, Ramos spoke about plans for the forthcoming Fusion prime-time show, a mix of reported news segments and interviews, along with the significance of broadcasting nightly in English and why both network executives and political parties ignore the increasing Hispanic population at their peril. Whether trying to attract voters or gain viewers, he stressed that decision-makers in politics and media need to pay attention to demographic changes and a population that may triple to around 130 million by 2050.
"What's happening politically is also happening on TV," Ramos said. "You can't win the White House without the Latino vote and you can't win the ratings war without Latinos anymore. It's a parallel universe and it's happening at the same time. The same way in which the number of Hispanic voters is growing, the number of Latinos watching television in English is growing. For political parties, and for television networks, and for digital platforms, it's a matter or survival. If you don't have Latinos, you'll die. That simple."
"It is very clear that it is in Boehner's hands and in the Republicans' hands," Ramos said, adding, "The House is going to decide if we legalize 11 million undocumented immigrants or we don't."
"All the pressure -- and it is not only at Univision –- but in all the Spanish-language media, is on Republicans," he continued. "Especially when it comes to immigration. It's a very well-informed audience who knows every single detail about immigration reform because we talk about it every single day. So now all the pressure is on Republicans."
Since Obama's lopsided victory among Latinos, beating Romney 71 percent to 27 percent, prominent Republicans have talked of needing to better the party's chances in 2016. Ramos said that 16 million Latinos are expected to vote in the next presidential election, an increase from 12 million in 2012.
Ramos said he believes there are Latinos who share many values with the Republican Party, especially on social issues and religion. But Ramos said that shifting the party's views on "immigration is a prerequisite for Latinos to take a new look at Republicans."
While Ramos will express a point of view about what the Republicans need to do, and recently critized Boehner, he insisted he's not partisan and noted last year's questioning of Obama as evidence of holding Democrats accountable. Ramos also said that he hasn't had any difficulty getting conservatives with differing views on immigration to come on his Univision shows.
But even as Ramos has been able to book prominent Republican and Democratic lawmakers to discuss issues like the economy, health care and immigration, he acknowledged that it's still difficult to break into the political news cycle with a Spanish-language broadcast. Not to mention a Pew study last month that found more than three-quarters of Latinos get some of their news in English, with 59 percent of U.S.-born Latinos exclusively looking to English-language news sources.
"The problem that we have at Univision, in trying to reach an American audience, is that we have to translate," he said. "With Fusion, we wont have to translate. And then Fusion is going to be finally the bridge between the Hispanic community and the rest of America."
Such bridge-building apparently starts with his own family.
"My kids don't watch television in Spanish," he admitted.
Ramos said his Miami-born children, Nicolas, 15, and Paola, 26, speak Spanish with him at home, but watch television in English. The generational divide is apparent in other methods of news consumption: Ramos reads The New York Times in print each day, while his kids read the Times and other news sources online.
"So in my own family, I'm seeing this incredible change," Ramos said, joking that the launch of Fusion is an "an incredibly expensive venture just to have my two kids watch me every night."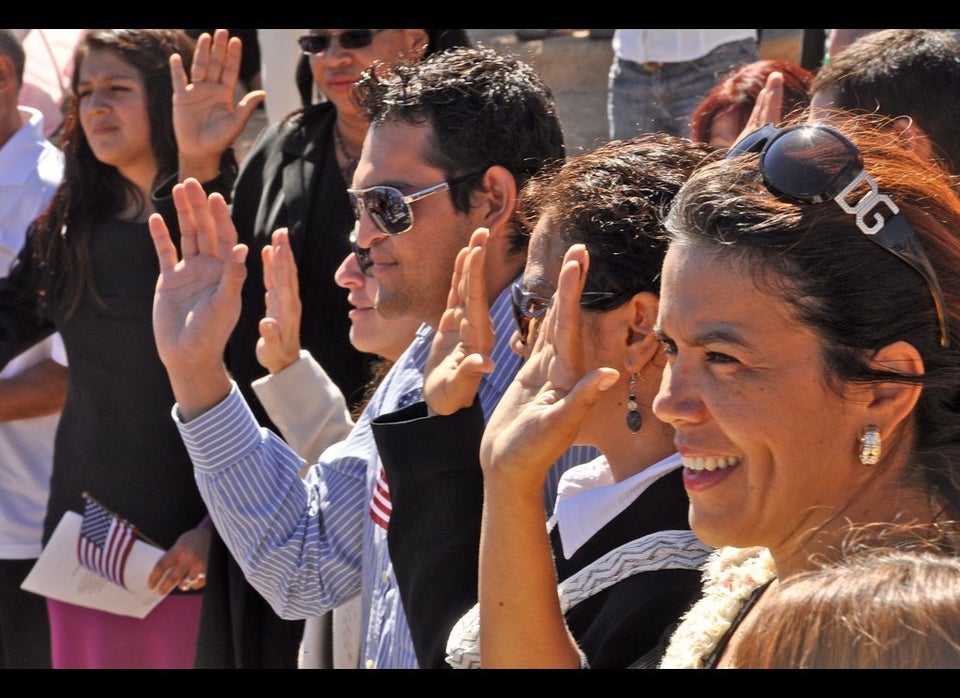 10 Major U.S. Federal Immigration Laws