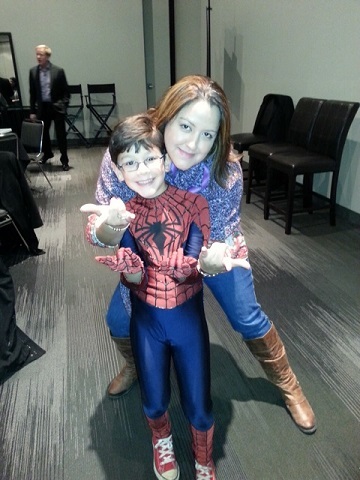 At just nine years old, Jorge Vega plays a character, also known as Jorge, in the film The Amazing Spider-Man 2. Jorge has already conquered all three mediums -- stage, television and film. In addition to acting, Jorge is also is an honorary youth volunteer for the NYC Chapter of the American Diabetes Association. Jorge Vega behind the scenes during the filming of The Amazing Spider-Man 2 which opens May 2nd in theaters.
The word "amazing" has a brand new meaning for the young actor Jorge Vega. As if balancing school, community volunteer work and playing video games isn't enough! Jorge takes his acting career seriously and travels the globe to work.
How did you find out you won the role in The Amazing Spider-Man 2?
My mom picked me up from school and told me my managers wanted to talk to me -- immediately I knew that I had booked something, but I didn't know which job because I go to so many auditions a week. My mom put the phone on speaker and was already teary-eyed -- so NOW I am like, "This must be huge if she is crying!" But, there were a couple of auditions I went for that were for big national commercials being shot in Los Angeles, so that's what I thought. Then my managers said, "You know WE know you're AMAZING right?" And I was like, "Yeah..." But I still didn't get what they were trying to tell me! And now my mom's tears are coming down hard -- and then it hit me! I had my mouth open in disbelief!
My managers started laughing and screaming, my mom was crying and laughing and then we hugged it out, and I went to (try) do my homework.
Why is your character's name Jorge?
I'm not sure. We improvised a lot during the first scene and I just said my name. I'm not sure if it was on purpose, but it was really nice of the director, Marc Webb, and the production to keep my name.
Tell us about your family and how things are juggled around your schedule. What is your heritage?
This is a one-woman show. I live with my mom, and she is the one who takes me everywhere I need to go. She helps me figure out the characters and practices with me. Auditions are mostly after school and often after she has finished her work, so she has managed. I just sit down in the car and she takes care of the rest. My mom manages my schedule and helps me prioritize school work. So far we have managed!
I was born in San Juan, Puerto Rico. My mom decided to move to New York after she received a great job offer when I was three years old. All of my family lives in Puerto Rico, so it's just my mom and me in New York. My grandma comes to visit us in New York during the summers and we visit her during Christmas.
Why do you have eyeglasses, and what did you do with them when you had to pull your Spider-Man mask over your face?
I can't see very good from far away. The glasses in my scenes are mine; the ones I use every day. I am supposed to use them just to focus on things that are far, but I really like them so I use them all the time.
My character also wears glasses so it worked. The costume designer put a special tape on the sides so they wouldn't come off when I take off my mask.
How many days total did you work on Spider-Man? What were your approximate call times?
Around two weeks, but not in a row. Three days here, two days there and a few times for voice over. Some call times were at 7 a.m. and others at noon.
Did you get to keep your Spider-Man costume? Ever spill something on it by accident?
I wish! Nope, the costume goes to the production vault as they jokingly told me, but they sent me similar costumes and lots of new Spider-Man toys to make up for it!
My mom was the costume police. She made sure nothing got on it!
Did you get to meet Stan Lee on set? Do you know who Stan Lee is?
I know now! I didn't meet him on set, but I hope to meet him soon!
Did you like Spider-Man before you got the part and if so, at what age did you like Spider-Man?
Yes! When I was old enough to choose my Halloween costumes around four years old, I chose Spider-Man! I have always liked spiders and dinosaurs. He was a perfect match!
Did you get to see any stunts?
Who was the coolest actor on the Spider-Man set?
Wow. Both Andrew Garfield and Paul Giamatti were amazing. The scenes I got to share with them were funny, and the set was so amazing and cool -- so I call it even.
What's your favorite video game and game console?
My mom's laptop and phone to play Minecraft and my Nintendo DS!
Anything else you'd like to say?
I am just thankful for this chance and can't wait for other opportunities! I thank my mom for listening to me and helping me do what I love. Special thanks to my managers for believing in me. I also want to be a veterinarian, so hopefully my acting work can pay for vet school!
Author's Note: Special thanks to Steven DeSpirito!
Popular in the Community