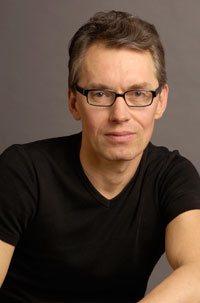 A commission to create a brand new ballet for a boutique troupe like Aspen Santa Fe Ballet is a really big deal, even for a well established choreographer like Jorma Elo. In order for the Finnish-born dance maker to continue to dazzle with his ground-breaking, technique-busting contemporary dance works, he's gotta have 'em: commissions.
"You see, I love this job, it's the best," says the freelancer in his lilting Scandinavian accent. He's speaking by phone from New Mexico, where he's rehearsing "OVERGLOW," in which six members of the Southwestern ballet troupe interpret the music of Beethoven and Mendelssohn. "I can't wait to get into the studio."
"You can do it at home, you can try to mess around in the living room with music and be inspired, but in the end -- how you get better -- it's in the studio with the dancers," he says, adding slyly, "and I prefer to work than stay at home."
Getting Elo out of the house aligns neatly with the mission of Terrence Jones, the president and CEO of the Wolf Trap Foundation for the Performing Arts, who oversees a longstanding program of commissioning new works in dance and music. Jones, known in East Coast arts circles as Terre, says, "I came to Wolf Trap in 1996 with a philosophy, and a strong sense, of the importance of creating new works. We started then. We've completed 70 commissions; 20 of them have been in dance."
"It's similar to the R&D process in industry and science. You must invest money in the creation of new works," says Jones, his analogy reflecting the considerable effort he spends fundraising from corporations. Naturally, since this is the realm of the arts, the amounts involved -- ranging from $5,000 to $20,000 per grant -- is dwarfed by spending in the for-profit sector. But it represents a world of possibility for a freelancer like Elo, or for Wolf Trap's other 2011 grantee, Ronald K. Brown, who will concoct a dance work to the music of Stevie Wonder.
Elo was born in Finland and trained with the Finnish National Ballet School and the Kirov Ballet School in Leningrad. Prior to joining Netherlands Dans Theater in 1990, he danced with Finnish National Ballet and Sweden's Cullberg Ballet. As a dancer Elo worked with master choreographers, notably Jirí Kylián, Hans van Manen, Mats Ek, Ohad Naharin and William Forsythe.
His repertoire fills the coffers of American Ballet Theatre, New York City Ballet, Boston Ballet, Hubbard Street Dance Chicago, Royal Danish Ballet, State Theatre Nuremberg (Germany) and Norwegian National Ballet, as well as Aspen Santa Fe.
Elo's "OVERGLOW" will be performed by the Aspen Santa Fe Ballet at the Filene Center at Wolf Trap National Park for the Performing Arts on July 12. Brown's commission, entitled "On Earth Together" will be performed by his own troupe, Evidence, on Aug. 2.
Elo's work is conceptual and plotless, closely mirroring the classical scores he tends to select. Describing "OVERGLOW" while it is still under construction, he says, "It's pure movement, I did a dramatic dance scene today. It seems to be right; I'm not sure how it came about. Something [in the rehearsal] struck me as a drama, the reality of life, and I find it interesting to remind myself of it. Life has these phases with tension or drama. It's really cool how things take direction in the studio; it takes you by hand, and it feels right."
[Story continues after slide show.]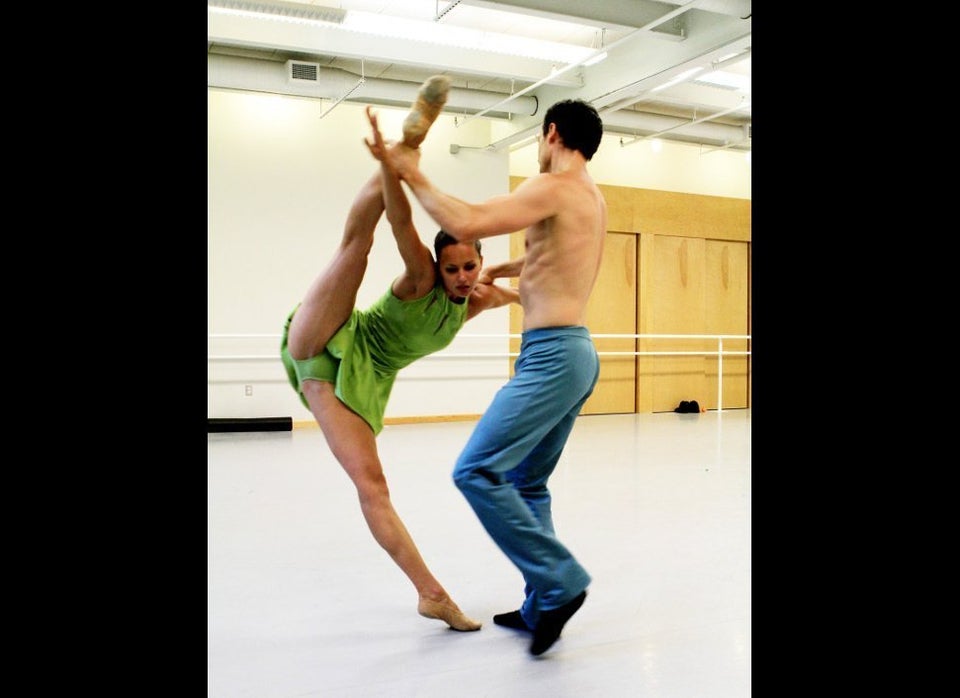 Jorma Elo Rehearses Aspen Santa Fe Ballet
Wolf Trap is located in Virginia about 20 miles from the White House, and features three performance venues, including a 7,000-seat outdoor amphitheater, The Filene Center. This year marks Wolf Trap's 40th anniversary. Inaugurated in 1971 as the nation's only performing arts center that's a national park, Wolf Trap has always had a yen for dance. The nonprofit Foundation has funded works by some of the country's leading choreographic talent paired with dance companies: Ann Reinking for Ballet Hispanico, Ronald K. Brown for Philadanco, Jimmy Gamonet De Los Heros for Miami City Ballet, Paul Taylor for his own company, Randy Duncan for The Joffrey Ballet, and Alison Chase for Pilobolus have all been grantees of the program.
In addition, the Foundation produces the wonderfully creative "Face of America" series in which new site-specific dance commissions are filmed on location at various National Parks around the country. The works are later performed live on the Filene Center stage at Wolf Trap, accompanied by visuals captured from the on-location shoot which are shown on massive screens located throughout the amphitheater.This neat art-meets-environment project has had Elizabeth Streb flying at Kitty Hawk; Trey McIntyre graceful at Glacier; Project Bandaloop hanging around Yosemite; Doug Varone scrambling in Mammoth Cave; and Donald Byrd basking on the Virgin Islands.
Upcoming "Face of America" dance events are scheduled for the Everglades and the Pacific Northwest, and in 2016 there will be a huge retrospective that will mark in art the centennial of the national parks system.
Especially today, when news wafts ominously across the pond about financially strapped European governments clipping the wings of high flyers like Nederlands Dans Theater and the Flanders Ballet, it's encouraging to see American commissions of this caliber. For Elo it's vital, his life's blood, even despite his ongoing, prestigious gig as resident choreographer of the Boston Ballet.
Elo notes, "Other choreographers have their own company; they get to practice and rehearse, but I am a freelancer without my own company. I don't think it's a natural thing for me to be a director. In America, it's the fundraising and the social aspect. I'm not a social guy; I'm used to being with dancers."
Los Angeles-based arts journalist Debra Levine blogs about dance, film, music and urban culture on arts•meme.
Popular in the Community