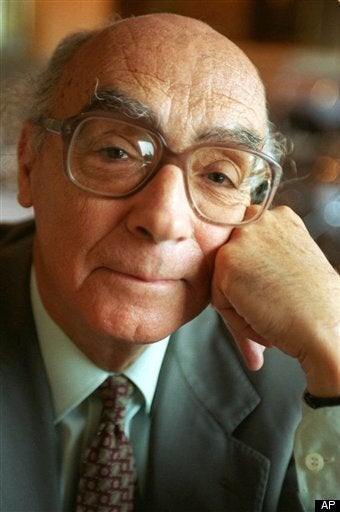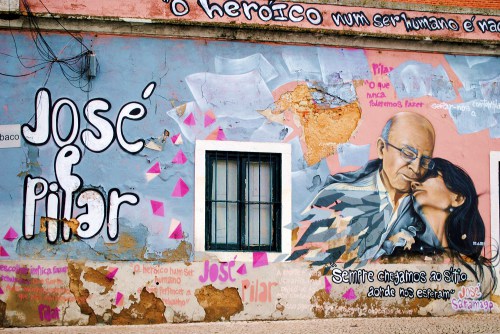 "What should I say, Pilar?" José Saramago, the Portuguese writer, asked his wife, when asked to give a Christmas greeting during a television interview.
"That Christmas should last all year," Pilar del Rio replied, always knowing what to say when the Nobel Laureate couldn't find the right words.
"But I hate Christmas. How can I say that?"
Self-described as "quiet" and "melancholic," Saramago was born in a village in Portugal to a family that could not afford to send him to school past the fourth grade. It was only at the age of 60 that he began to write full-time. Saramago won fame in the English-speaking world for his novel Baltasar and Blimunda, a love story set during the Portuguese Inquisition, and Blindness, a fantastical novel in which a plague of "white blindness" reduces a country's people to their most primitive state. In 1998, he became the first writer in Portuguese to win the Nobel Prize for Literature. Today, his books have been translated into 25 languages. Not bad for a man who didn't go to middle school.
While this may sound like the story of a self-made man, the late Saramago did not reach his success alone. As the saying goes, behind every great man there is a great woman, and for Saramago, del Rio was -- and continues to be -- that woman.
"I am absolutely convinced that there are two José Saramagos: José Saramago before he met Pilar, and José Saramago after he met Pilar. And that's all I have to say," said the Spanish writer Juan Teba.
The recent documentary José and Pilar captures the last years of Saramago's life, after he met del Rio. It portrays the author as a private man forced into the public sphere. Del Rio, a stubborn, fearless and outspoken feminist who owns any room she walks into, guided Saramago through press conferences, book signings, award ceremonies and endless interviews, which the author reluctantly agreed to.
"Soon dead bodies will begin to appear, dead photographers, reporters, cameramen," the author jokes in the film. "And since nobody suspects me of being a murderer, as long as there are reporters, I'll go on killing them. Especially photographers."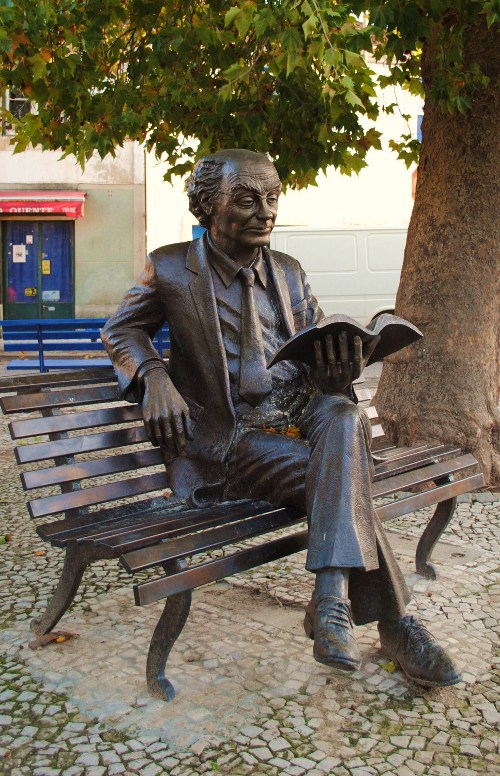 The film was popular in Portugal, although Saramago, who was infamous for being a Communist and an atheist, had a complicated relationship with his homeland. A devoutly religious country, Portugal was opposed to Saramago's work, so much so that when he published The Gospel According to Jesus Christ in 1991 and it was nominated for the European Literary Prize, the Portuguese government banned the book from the competition. The writer moved to Spain in a self-imposed exile.
But José and Pilar, which ran in theaters for five months and was chosen to represent Portugal in the 2012 Academy Awards' Best Foreign Film category, helped to change the Portuguese people's perception of Saramago. It is an intimate look into the life of an endearing and compassionate man.
The film was the vision of Miguel Gonçalves Mendes, a Portuguese director who loved Saramago's novels and begged the author to allow him to make a documentary about his life. Saramago was hesitant, but finally agreed. After four years of filming, Mendes created the two-hour documentary out of 240 hours of footage. The author told Mendes he was pleased with the final product.
"When Saramago saw the final product, he said to me, 'While you were filming, I had some doubts about the things you chose to shoot, but now I see that the movie is about more than me -- it's about life and relationships,'" said Mendes. "Saramago said to Pilar, who was by his side, 'This film is a declaration of my love for you.' She replied, 'Yes, but my life is a declaration of love for you.'"
Del Rio's life since Saramago's death in 2010 has been just that. She dedicates her time to fulfilling her late husband's wish for the foundation -- to "continue" him. Saramago was deeply moved by the injustice of the world, and Pilar shares his political convictions.
"Everyone has a right to food, a house, education, freedom of expression, and everyone has the duty to collaborate to make that happen. Citizens cannot be quiet in front of the things that governments are doing. Citizens must intervene," she said.
A journalist by profession, del Rio voices her opinions through political commentaries on Spanish radio. She also organizes discussions to increase dialogue and raise social awareness about social justice.
"We work at a level of reflection, not protests, bringing thinkers and philosophers together to debate questions. That's our goal -- to make society think," she said.
In 2012, the foundation's headquarters will open in Casa dos Bicos (The House of Spikes), a 16th-century building in Lisbon that will include a library and exhibitions and host cultural events and conferences. The foundation also promotes reading by presenting workshops based on Saramago's only children's book, The Biggest Flower in the World, at schools and public libraries.
When asked what she misses most about her husband, del Rio said, "I will not tell you concrete things. But I miss him all. I miss him entirely, completely. We all miss him, because he was not only a novelist, he was a thinker who fought against the myths of power, religion, and empty morals. He stood for something. He thought about the future and looked into the past."
"The fact that Jose is dead does not mean that Saramago has died," she added. "Saramago still lives."
Related
Popular in the Community