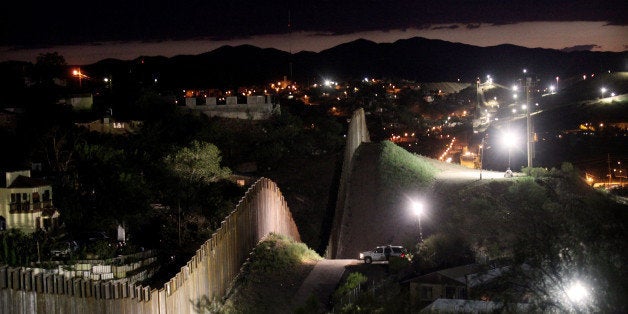 The mother of a 16-year-old Mexican national shot at least 10 times is suing the Border Patrol agents responsible for his death, the American Civil Liberties Union said Tuesday.
The civil suit filed by the mother of José Antonio Elena Rodríguez comes amid a long-running debate over the Border Patrol's use of force.
The agency has maintained that its officers opened fire on Elena Rodríguez on Oct. 10, 2012, after a group of people threw rocks at them from the Mexican side of the border. The agents were on the U.S. side responding to a report of drug smuggling in Nogales.
But the lawsuit contends that Elena Rodríguez was not throwing rocks and that he was merely walking along the street near the border wall separating the twin cities of Nogales, Mexico, and Nogales, Arizona.
"The U.S. Border Patrol agents who killed my son in a senseless act of violence are still out there and they need to be brought to justice," Araceli Rodríguez, his mother, said in a press release issued by the ACLU. The lawsuit was filed by ACLU and other lawyers against 10 unnamed Border Patrol agents and 10 unnamed officers of U.S. Customs and Border Protection.
The FBI investigated the incident, but the U.S. government has not filed any criminal charges against the agents involved.
"The reason a civil lawsuit is necessary is because our own government has not taken any action in this case or in other similar cases," Lee Gelernt, one of Rodríguez's lawyers, told The Huffington Post. "The government has not prosecuted guilty Border Patrol agents in the past, and they have not honored Mexico's requests to extradite Border Patrol agents to face hearings in Mexico. The only remaining alternative is a civil suit by the family."
U.S. Customs and Border Protection did not immediately return a request for comment. A spokesman told the Associated Press that the agency does not comment on pending litigation.
The complaint says there was no reason for Elena Rodríguez to die that day.
"At the time of the shooting, the agents were not under threat by Jose Antonio or anyone else standing near him -- much less in immediate danger of deadly or serious bodily harm," the complaint says. "Jose Antonio's death was senseless and unjustified."
Calling all HuffPost superfans!
Sign up for membership to become a founding member and help shape HuffPost's next chapter
BEFORE YOU GO
PHOTO GALLERY
Why Latin Americans Really Come To The U.S.