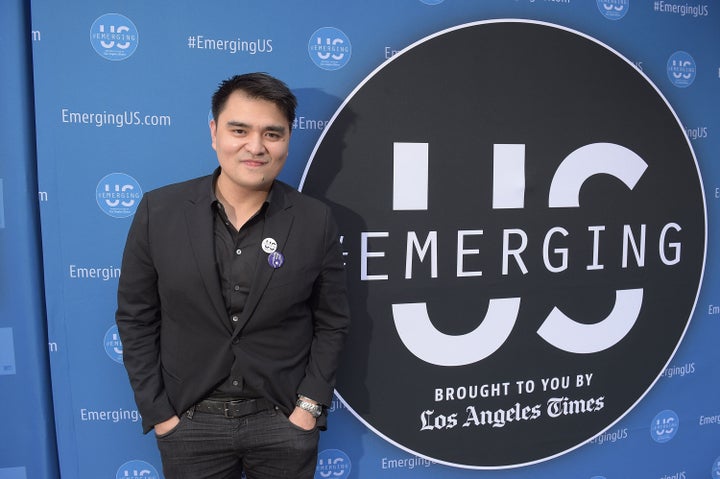 Jose Antonio Vargas thinks the national media is missing the big picture when it comes to race, culture and immigration in America. As an outspoken journalist, filmmaker and undocumented immigrant, he would like to help tell that story. He just needs a million dollars.
On Thursday, Vargas launched a crowdfunding campaign for #EmergingUS, a video-heavy digital media outlet he believes can fill a void in covering thorny, overlapping aspects of American identity. 
"I cannot talk about Black Lives Matter and not talk about the immigrant rights movement, and not talk about the LGBTQ movement and not talk about income inequality, and not talk about working-class white people," Vargas said in an interview with The Huffington Post. "All of those issues are interconnected, yet for the most part in newsrooms, they're thought of as separate."
"The way most of the East Coast-based news organizations talk about these issues," he added, "doesn't reflect the reality that is happening across the country."
Vargas, 35, is familiar with East Coast newsrooms. He spent six years at The Washington Post, where he was a member of its Pulitzer Prize-winning team covering the Virginia Tech shooting, worked as a HuffPost editor, and wrote for The New Yorker. His career path took a detour after he revealed in 2011 that he is an undocumented immigrant whose family brought him to the country at 12 years old. Vargas has since toured the country as an immigration activist, landed on the cover of Time magazine, and made documentaries about his own experience and that of young white Americans.
Last year, Vargas met with then-Los Angeles Times publisher Austin Beutner, who was looking to reshape the paper and experiment with new digital initiatives. Vargas started #EmergingUS inside the Times newsroom, but after Beutner was fired in September amid clashes with parent company Tribune, Vargas was forced to consider the site's next step forward. Vargas praises the Times for allowing #EmergingUS to incubate in the newsroom, but said the digital platform needed to grow as an independent venture.
Vargas is now partnering with Beacon, a crowdfunding startup that's helped raise funds for individual journalists around the world and several news outlets, including this one. Beacon will match donations dollar for dollar up to $500,000, or half of Vargas' total funding target. A $20 donation essentially becomes a $40 pledge. 
Though crowdfunded journalism is on the rise, a recent Pew study showed this part of the industry remains relatively niche. In the first nine months of 2015, the public gave about $1.7 million to such projects, according to the study. #EmergingUS is looking to bring in $1 million in just 60 days. 
Vargas said he's "carefully optimistic" #EmergingUS will reach its goal because he's confident there's an audience hungry for an outlet with its editorial point of view.
"I would argue that there isn't a digital platform that seeks to answer this question of 'Who are we?' and 'Who are we becoming?'" Vargas said.
#EmergingUS released a trailer to accompany the crowdfunding initiative that highlights several upcoming stories, from Asian male sexuality and Arab-American actors battling stereotypes to the founding of Black Lives Matter and the concerns of the white working class. 
Vargas, who now lives in LA, said there has been a conversation about race and identity on the West Coast for decades that's extended beyond white and black, and into Latino and Asian populations. He considers that one reason East Coast outlets have appeared slower in tackling emerging demographic and cultural shifts. He also believes major news outlets tend to have coverage blind spots due to lack of diversity in newsroom leadership -- a topic he's recently been tweeting about under the hashtag #JournalismSoWhite‬.
Specifically, Vargas said immigration is covered extensively in the U.S. media as a divisive political issue, but often lacks context. He recalled being "amazed" at how few facts people knew about immigration when participating in around 470 events throughout the country, including what it means to be undocumented, how one becomes a legal resident, and the makeup of immigrants in the country. 
Though more than 70 percent of Asian adults in the U.S. are immigrants, he noted, media coverage is primarily focused south of the border. 
"Asian people in this country are actually more immigrant than Latinos are," he said. "But how do we cover immigration? Is it because we think Mexican, we automatically think Latino, and then we automatically think the border, and then we automatically think illegal?"
Beyond immigration, Vargas said white Americans becoming a racial minority in the coming decades is another big "untapped, untold story in American journalism right now."
Vargas has expressed views on issues, like immigration, but insists #EmergingUS is journalistic in nature, not advocacy-based. He said journalists are often too hung up on traditional notions of objectivity. 
"Every story, the way it's told, the way it's edited, the way it's presented -- every story has a point of view," he said. "I grew up in newsrooms. Reporting is my religion. Journalism is my church. Facts are facts, right? When a fire happens, when a murder happens, you cover the facts. But other than that, most everything we report in the media has a point of view."
Vargas added that as a gay, undocumented immigrant, with a Latino name and Asian features, he "can't really afford objectivity." Having a point of view, he said, is "kind of my own way of seeing myself in the way I'm reflected in the media."
He suggested the U.S. media has not lived up to its responsibility to reflect back to the public what a multi-ethnic, contemporary American experience looks like -- something he hopes to do through #EmergingUS.  
"We don't see diversity as a slice of the pie," he said. "For us, it's the whole pan."
Calling all HuffPost superfans!
Sign up for membership to become a founding member and help shape HuffPost's next chapter