WASHINGTON -- Eleven undocumented immigrants are putting themselves forward on Wednesday to plead with the Obama administration to protect them -- and others in similar circumstances -- from being deported as it considers what may be a broad executive action on immigration enforcement.
The undocumented immigrants, including journalist-activist Jose Antonio Vargas, will announce the initiative at a press conference on Wednesday morning, organized by Vargas' organization, Define American, in partnership with the National Immigration Law Center. They are applying for deferred action that would allow them to remain in the U.S. temporarily, while urging President Barack Obama to halt deportations. The New York Times first reported the plans.
"This is our way to insist on the urgency and the humanity of the 11 million people like us," Vargas said in an interview with HuffPost about the 1 of 11 Million campaign.
The project started after Vargas, who came to the U.S. from the Philippines when he was 12, traveled to McAllen, Texas, in mid-July to document the humanitarian crisis of unaccompanied children crossing the border. After posting on Facebook that he was in McAllen, Vargas received a concerned text from Mony Ruiz-Velasco, a Chicago-based immigration lawyer who previously lived in Texas. She said she was glad he was there, but asked how he would get through a U.S. Border Patrol checkpoint on his way out. Vargas said the question hadn't occurred to him, because he typically flies using his Philippines passport without any problems.
Concerned, Vargas asked Ruiz-Velasco to be his attorney. He'd soon need one. When Vargas went through airport security to leave Texas, a Border Patrol agent asked whether he had a visa to be in the U.S. Vargas does not, and was detained for several hours. He was released later that day, but received a notice to appear before an immigration judge.
A few weeks earlier, Obama announced plans to take executive action on immigration. Vargas said that announcement and his arrest made him and other advocates think it was a good time to make the case for why administrative relief should apply to a broad array of undocumented immigrants.
"For us, it's really important to ask the question of how inclusive is the Obama administration's relief going to be?" Vargas said. "Who is going to get left out, and why? This is our effort to get in front of that and make sure that people understand that we're talking about human beings here with families."
The White House has been mum on details of the executive action. It's possible it will allow millions of undocumented immigrants -- although not all of the estimated 11 million already here -- to receive a temporary reprieve from deportation.
The administration created the Deferred Action for Childhood Arrivals policy, or DACA, in 2012 to allow young undocumented immigrants who came to the U.S. as children to apply to remain here for two years or more with work authorization. The policy created a more formal process for the general deferred action that has existed for years, which allows undocumented immigrants to apply for temporary reprieve on a case-by-case basis.
The 11 undocumented immigrants, including Vargas, who sent their stories and information to DHS are requesting the latter, broader form of deferred action. None are eligible for DACA. They hope to show that neither they nor others in similar situations should be left behind if the administration grants a reprieve to undocumented immigrants.
Like Vargas, the other undocumented immigrants asking for deferred action on Wednesday have been in the U.S. for years. They are a relatively diverse group, ranging in age from 22 to 55. Most came from Mexico, but others are from Senegal, South Korea, Honduras, Germany and, in the case of Vargas, the Philippines. Some are in deportation proceedings already, including Maria Guadalupe Arreola, 55, the mother of prominent undocumented activist Erika Andiola.
"It really shows the many different circumstances and situations that people are in now, people who have been here and who have really strong ties to this country and to their families," said Ruiz-Velasco, who is representing Vargas and two other undocumented immigrants in the initiative.
The advocates recommend that the administration create a program like DACA that would apply to other undocumented immigrants who have been in the U.S. for at least 18 months, are working or in school, and have family members who are citizens, legal residents or otherwise authorized to remain in the country. They also propose expanding DACA to remove requirements that make some undocumented immigrants who came to the U.S. as children ineligible.
Jong Min You, 34, has been in the U.S. for the longest of anyone in the group -- 33 years. He came to the U.S. from South Korea when he was 1, and his family stayed after their visa expired. Although he fits the profile of a Dreamer, he, like Vargas, is slightly too old to be eligible for DACA.
You graduated from college in 2003 with a degree in sociology and criminal justice and a minor in psychology, but can't do the work he wants because he lacks legal status. His main goal is to get citizenship and become a judge. Something like deferred action would help him and other undocumented immigrants meet those goals.
"Being an elder Dreamer, I want to fight for them, I want to fight for me, and hopefully we can do this," You said.
Erika Aldape, 24, came to the U.S. from Mexico when she was 7 and now lives in Indiana. She also was ineligible for DACA because she went to Mexico for three years to attend college, and doesn't fit the requirement for continuous residence in the United States. College is cheaper there, and she didn't realize when she went that it could be so damaging to her ability to live in the U.S. in the future. She came back to the U.S. in 2011 after three years -- a combination of cost, homesickness and her mother's illness contributed to her return -- and now is back in immigration limbo.
After helping her two brothers apply for and receive a DACA reprieve, Aldape said she hopes she can also get deferred action so she can go back to school and work legally.
"I'm getting to a point where I really kind of know where my life is headed and I'd really like to get it all started," she said.
Vargas said he hopes the White House will meet with the group -- and undocumented immigrants in general -- to discuss plans for the executive action. White House listening sessions so far have largely involved advocacy and business groups.
"We are advocating for ourselves," said Vargas, a former HuffPost editor. "As much as it's wonderful to have the support of D.C.-based advocacy groups, undocumented people can advocate for themselves."
Before You Go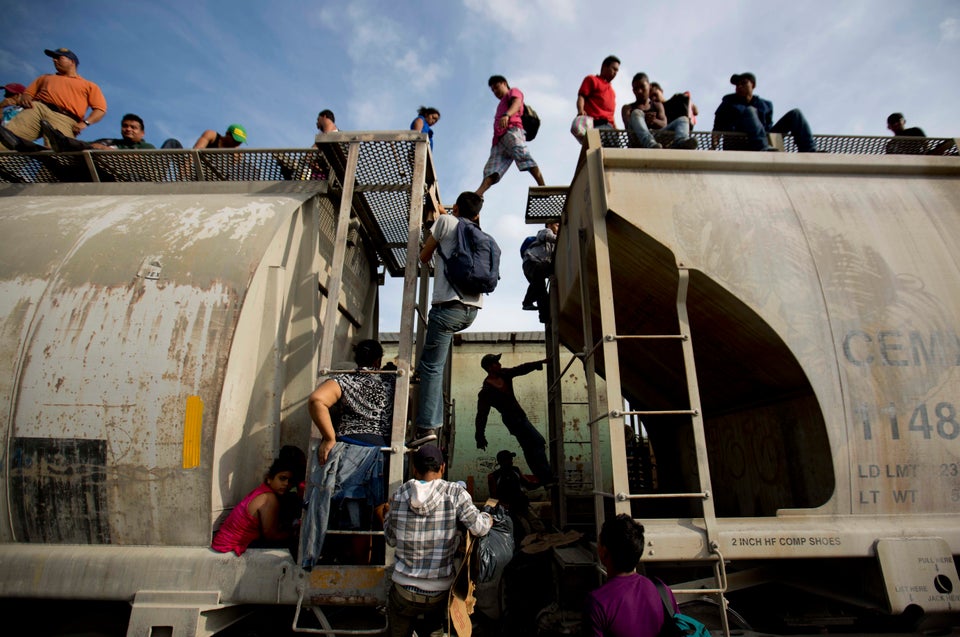 Why Latin Americans Really Come To The U.S.
Popular in the Community