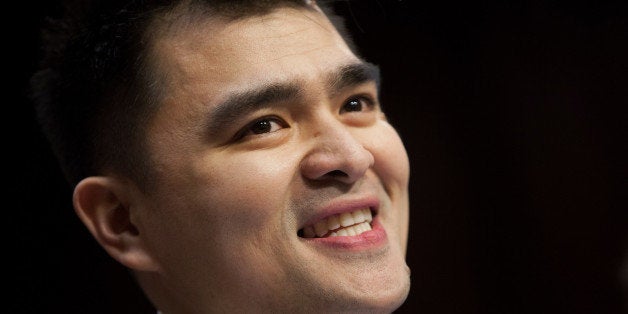 When journalist Jose Antonio Vargas first arrived in the U.S. from the Philippines at the age of 12, the bustle of Los Angeles International Airport was the first scene he witnessed. Expecting Oprah or the cast of "Baywatch" to be waiting for him at the terminal, Vargas was instead greeted by the inhabitants of one of the most culturally and ethnically diverse states in the country.
"The demographic makeover that our whole country is undergoing right now in the South and in the Midwest, that demographic makeover has been in the works in California, and in LA, for at least a generation," Vargas said Tuesday in an interview with The Huffington Post, just hours after a judge put President Barack Obama's executive actions on immigration on hold. "When people in California talk about diversity we don't mean just black and white. We mean black, white, Latino, Asian, interracial people. We mean Middle Eastern. We mean Native American. We mean all of that."
Now, some 21 years later, after a decade of working as a journalist at publications like The Washington Post, The San Francisco Chronicle and The Huffington Post, Vargas will return to Los Angeles to build a new multimedia platform for the Los Angeles Times. Having outed himself as an undocumented immigrant in a 2011 New York Times Magazine essay, Vargas' new project, #EmergingUS, will focus on race, identity politics, multiculturalism and immigration reform.
"I don't think a website or a digital platform like what we described in this press release exists. It doesn't exist," Vargas said, adding that "Emerging U.S." could also be read as "Emerging Us." "If what I'm envisioning and what we're creating already existed, I would have joined them."
"I remember Toni Morrison said she wrote The Bluest Eye because she wanted to write a book that didn't exist yet," he continued. "If there is a book that isn't out there yet that you want to read, go write it. So if this website doesn't exist yet, we're gonna go build it from scratch."
The partnership with The LA Times came about after Alida Garcia, a lawyer-turned-organizer and mutual friend, connected Vargas with the paper's publisher, Austin Beutner, via email. Over lunch, Beutner offered Vargas a chance to turn his vision of exploring America's diverse identity with articles, videos and infographics into a reality with his paper's backing.
"Los Angeles is the most diverse big city in our country, America's window to Asia and Latin America. Los Angeles is where America comes to see its future, and part of that future will be built on a better understanding of how diversity plays a role in our lives," Beutner said in a statement. "Jose is uniquely suited to look at the issues and find and tell stories that will inform all of us."
For Vargas, it was Beutner's willingness to focus on his writing, reporting and documentary filmmaking -- rather than solely his role as an activist and founder of the non-profit organization Define American -- that sealed the deal.
"Within that hour I got that sense that this man is serious and, more than that, for me, I got the sense that he looked at me as a journalist and as a story teller," Vargas said. "Many people say, 'You know, you're an advocate, you're an activist' -- I get called all these names, which is fine. The role of activists and advocates is very important. But I am, at my core, a storyteller. I've always wanted to be judged by the work. And Austin saw the work and I think he recognized what the potential is in terms of connecting these dots."
Set to launch this Spring, #EmergingUS looks to media organizations like Vice, Upworthy and Buzzfeed -- a site that has grown its Latino readership tremendously over the past year by making a concerted effort to cover immigration reform -- for inspiration.
The new platform will combine articles, reported essays, shareable data and graphics and original video content in an attempt to engage readers from all racial and cultural backgrounds. The result, Vargas believes, will be groundbreaking.
"There's an audience craving to be seen as full human beings," he said. "There's an audience out there who are waiting for their complexities to be embraced."
Calling all HuffPost superfans!
Sign up for membership to become a founding member and help shape HuffPost's next chapter