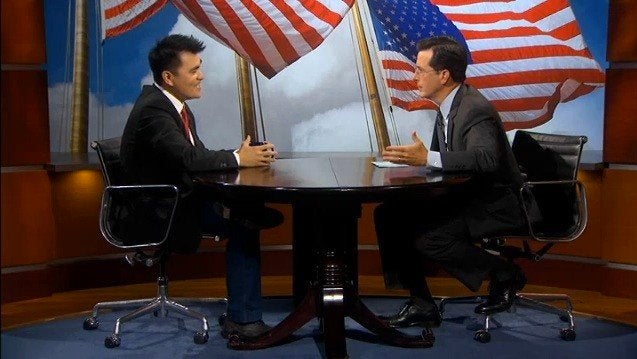 Vargas, a Pulitzer Prize-winning reporter and former senior contributing editor for the Huffington Post, said he revealed his status so he could speak out about the experiences of the country's 11 million undocumented immigrants and work to fix a dysfunctional immigration system. He said, "When we talk about undocumented immigration and illegal immigration, we need to get the politics out of it and really talk about how broken the system is. You know that it's broken." Colbert, who was born in the United States, replied, "I don't know that it's broken. It's working for me."
Vargas was sent from the Philippines to live with his grandparents in California when he was 12, and did not know his immigration status until a woman at the DMV told him his green card was fake when he was 16.
Colbert asked him whether it was more difficult to come out of the closet or to be a "border gay."
Vargas responded,"Thankfully, we live in a great country that doesn't deport gay people."
Vargas also made a clear distinction between the terms 'undocumented immigrant' and 'illegal alien,' and gave a shout-out to what he termed his "21st century underground railroad," which included a high school teacher who changed the class trip to Hawaii instead of Japan after finding out his immigration status.
For Colbert, the most shocking revelations were that someone at the DMV was nice to Vargas—and that he ruined his class trip to Japan.
WATCH
:
International users, click here to watch the clip on Comedy Central.

REAL LIFE. REAL NEWS. REAL VOICES.
Help us tell more of the stories that matter from voices that too often remain unheard.