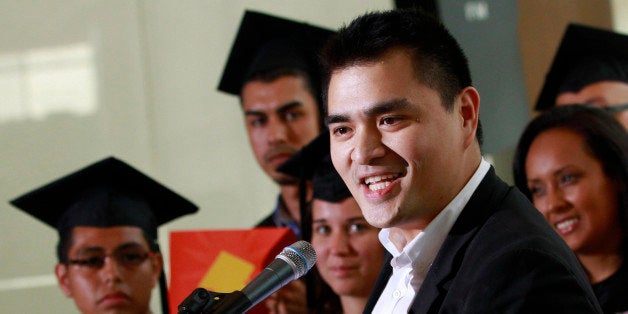 WASHINGTON -- Progress toward immigration reform in the past several years has been attributed in no small part to the many undocumented immigrants, particularly young people dubbed Dreamers, who "came out" and shared their stories.
Now, a campaign from the advocacy group Define American is encouraging more undocumented immigrants to publicly announce their immigration status.
The campaign, launched Wednesday, revolves around a website where people can upload videos or pictures and "define American" in 1,000 characters or less. Undocumented immigrants as well as allies are invited to submit stories.
"I have outed myself twice in my life. The first time was when I was in high school -- and Ellen DeGeneres' coming out on the cover of TIME magazine was a big inspiration for why I did that," Vargas, who is gay, said on a call with reporters Wednesday.
"More than a decade later, I outed myself as undocumented," he continued. "And the goal of that, and the goal of having Define American, is: How do we use these stories -- individual stories -- to tell the universal truth about the immigrant experience in this country? About the fact that we're not criminals. About the fact that we're not taking away from this country but contributing to it."
Maria Gabriela Pacheco, who came to the U.S. from Ecuador when she was 8 years old, is one Dreamer who wants to change the perception that undocumented immigrants should be feared.
"Many people have big misconceptions about who we are. And many people, as we heard last week from Mr. Trump, use that that to try to create fear," Pacheco said on the press call, citing recent comments from business mogul and GOP presidential candidate Donald Trump, who called immigrants from Mexico rapists and criminals. "And so, for me, being able to tell my story and letting other people know the power of coming out trumps anything that other people try to put out there as misconceptions," she said.
Pacheco is a longtime immigration advocate who is now able to work legally under the Deferred Action for Childhood Arrivals program, or DACA. She works as program director for TheDream.US, a scholarship fund for other DACA recipients.
Dreamers went on to push President Barack Obama to announce DACA in 2012 and to expand the program last November -- an effort that is now stalled in the courts.
Other Dreamers have also attested to the power of coming out as undocumented. Greisa Martinez, a field organizer for the advocacy group United We Dream, decided to come out as undocumented during a Texas state legislature hearing on in-state college tuition for undocumented Texans, she told The Huffington Post. That bill, called the Texas Dream Act, became law in 2001 and helped her afford Texas A&M University.
"There was a hearing on in-state tuition," Martinez said. "I just knew that, you know, it was sort of now or never and like my life was being decided... by other people, by Texas legislatures and that if I told my story it could be helpful, for not only for me but for my community."
Calling all HuffPost superfans!
Sign up for membership to become a founding member and help shape HuffPost's next chapter
BEFORE YOU GO
PHOTO GALLERY
11 Ways Immigration Reform Helps The Economy