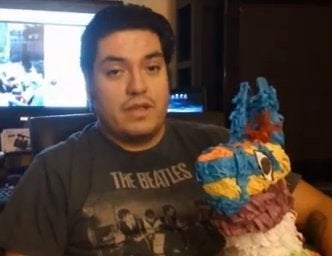 Barrientos, who enrolled in Speech 101 at Los Angeles City College, began the semester speaking with a fake, Mexican accent and kept it up for months. The prank lasted until Barrientos' final presentation, when he shed it in a comical reveal.
The comedian, who is a 26-year-old bilingual Army veteran, suddenly dropped his accent, declaring to the class, "We have to learn to communicate effectively, people, because if we don't, we will all be lost in translation."
Some students claimed not to have fallen for the prank, but based on video testimony released by Barrientos, there were enough who were totally duped.
"Half got it and thought it was funny," Barrientos told L.A. Weekly. "The other half was kind of upset because they felt duped and thought we were friends and thought they knew me. Some thought I was giving Hispanics a bad name. Those people were not Hispanic. But the negativity was part of their own filter."
In addition to adopting a fake accent, Barrientos also threw in fibs about his supposed life in Mexico, telling a classmate that he'd ridden a donkey to school. He said that friend bought it. The comedian had previously lectured the class about David Hasselhoff and the history of Cinco de Mayo.
"My professor pulled me aside, looked me in the eye, and said, 'Well done,' and sort of walked away," Barrientos said.
Warning: Video Contains Explicit Language
Popular in the Community