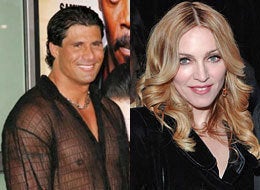 Alex Rodriguez isn't the first athlete Madonna has pursued.
In the new issue of Us Weekly (on newsstands now), former Oakland A and onetime Yankee Jose Canseco details how the singer, 49, tried to romance him in 1991 even though, like baseball nemesis A-Rod, he was married at the time. (He first talked about the incident in his 2008 biography Vindicated.)
"She had a Cuban child and wanted another one," he tells Us. "She wanted to get married and have a child with me - she wanted a Cuban child."
Canseco recalls: "We went downstairs [at her house in the Hollywood Hills] and she came over and said, 'What would you do if I kissed you?' and then sat on my lap and kissed me."
Popular in the Community