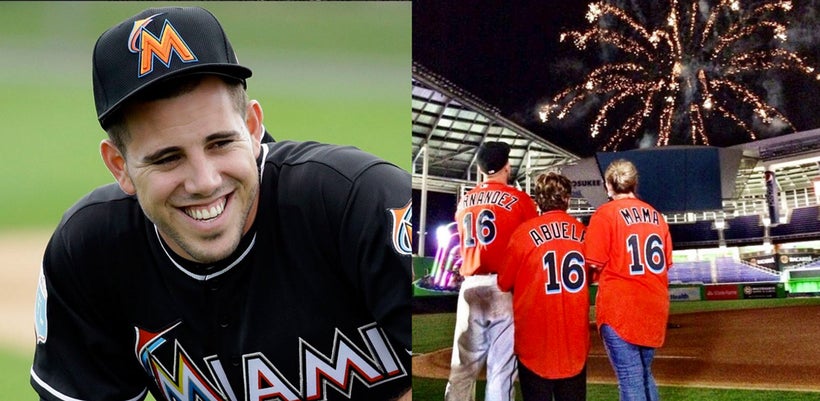 Jose Fernandez became an expectant father this year.
Last year, Fernandez became a US Citizen.
Two years ago, he suffered a major injury, from which he returned to be a dominating MLB pitcher again this year.
Three years ago, Fernandez was reunited with his abuela from Cuba.
Today, Miami mourns the loss of Jose Fernandez.
Jose Fernandez wasn't just a baseball player.
He WAS the American Dream.
Before he huddled with teammates on Major League Baseball fields, before Jose Fernandez was reunited with his abuela by Marlins owner Jeffrey Luria, before he was a 2-time All-Star pitcher, team leader and before he was a pillar of the Miami community, he was a 15-year old boy, escaping Cuba by sea.
And Jose Fernandez saved his mother from death at sea during the escape.
America took in the poor Fernandez family, huddled together after a harrowing near death experience.
He became an unusually motivated teenager in Tampa.
Five years later, a first round pick in the baseball draft.
Jose Fernandez's story is the story of thousands of other Cuban refugees, but in less than a decade it turned into a story of hope, rebirth and perseverance with meaning far outside the lines of the baseball diamond.
For his team the Marlins, that was doubly true, because Jose Fernandez wasn't just a top performer on the mound, but a leader in the dugout.
Few professional athletes displayed the passion Jose Fernandez possessed.
When he was on the field, the entire team's level of focus leaped.
Even on bad teams, they would win games when he pitched, because Jose led them.
Six years ago, another famous athlete declared that, "He's taking his talents to South Beach."
Today, South Beach has taken the talents of the best baseball player in the short history of major league baseball's residence in Miami.
Unlike any other Miami athlete before or since, Jose Fernandez was always exuberant, yet very much down to earth.
Once I left an elevator in my apartment building, only to be told that we'd shared a ride with the Marlins injured All-Star.
It didn't take long for Miami sports fans to notice that Jose Fernandez was special.
My favorite moment on the field happened on September 11th, 2013, when Jose Fernandez hit his first ever home run.
The Marlins were playing the Braves - who were due to play today until the game was cancelled in the wake of the tragic boating accident - and Jose Fernandez strode to the plate with a man on base. I remember telling a friend that knowing him, I bet he'd knock it out of the park.
But he stood to watch, and that angered Braves Catcher Brian McCann, who considered it showboating.
It was his first home run.
Just like your or me, he wanted to watch.
ESPN reported that McCann was on the verge of tears at the news this morning.
I called him the "Cuban Babe Ruth."
Ruth started as a pitcher too, was larger than life, a leader on the field and a gregarious personality known as much for enjoying life off the field as for his exploits on the field. Babe Ruth started his career pitching too, until his teams decided that they needed him on the field every day.
I was sure that eventually, Jose Fernandez would lead the Marlins to a World Series title.
Like all dreams though, that one has come crashing down too.
Because Jose Fernandez transcended sport because of his Herculean struggles.
His death transcends sport because of its olympian tragedy.
Awoke from the American Dream too soon.
Dashed on the rocks of South Beach.
REAL LIFE. REAL NEWS. REAL VOICES.
Help us tell more of the stories that matter from voices that too often remain unheard.
This post was published on the now-closed HuffPost Contributor platform. Contributors control their own work and posted freely to our site. If you need to flag this entry as abusive,
send us an email
.