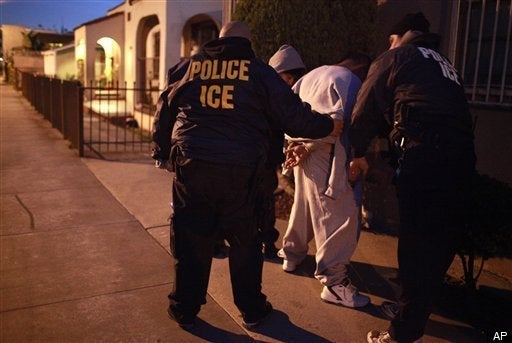 The young husband and father, an Iraq veteran, was lying in his own blood, shot at 71 times by heavily armed men, who then allegedly prevented medical assistance from being given until he was dead. Minutes before, he was sound asleep in his bed after working the midnight shift at the mine.
There are lots of questions. The Pima County, Arizona, Sheriff's Department is giving few answers. Worse yet, answers given have been either evasive or in contradiction to the facts.
Just days ago, Vanessa Guerena had looked out her window in the early morning to see armed men approaching. One of them pointed a gun at her. She ran to wake her husband, Jose. All he knew was that armed men were attacking his family; Vanessa didn't know who they were. He told his wife to grab their son -- a second child was in school at the time of the attack -- and seek refuge in a closet. He took a rifle to see what was happening.
The official story was that deputies identified themselves. They claimed Jose started firing at them. They said he was "heavily armed." And the media reported what they were told. The Arizona Daily Star wrote: "Deputies served a search warrant on Tucson's southwest side shot and killed a 26-year-old man after he fired a rifle at them..."
It later emerged that Guerena had never fired his rifle; the weapon's safety was still on when he was gunned down. After admitting he had not fired, police claimed Guerena threatened the officers, snarling that he "had something" for them. Apparently, we are to believe that Guerena uses dialogue from some cheap cop film.
KOLD news reported that a spokesman for the Sheriff said: "He fired a shot at the SWAT team which struck a protective shield that was being held by the very first individual in the home. ...SWAT officers from both our agency and other agencies returned fire." The station reported, "The suspect was dead at the scene."
But Jose was not killed instantly. He lay bleeding while his wife was on the phone with 911 trying to get help -- an odd move for people assumed to be criminals. She told 911 that men had shot her husband. An ambulance arrived minutes later but police held the medical team at bay for over an hour, until Guerena was dead, even as Vanessa begged for help.
The Sheriff's department will only say they were serving warrants at various homes that day. But they will not say what the warrant said for the Guerena home.
The Arizona Star reports: "few details about the investigation ... are known. Details of the search warrant have not been made public and deputies would not comment on what was seized from the home."

Emergency 911 operators seemed confused as to whether or not the home was one of several targeted with search warrants that morning. The Star reports: "Dispatchers said there were several addresses where the SWAT team was going that morning and they were not sure if this house was one of them..." If dispatchers knew raids were being conducted, but were confused as to why Guerena's home was involved, it could indicate deputies raided the wrong home.
A spokesman for the Sheriff's Department, Michael O'Connor, was evasive when questioned about the raid. He claimed the raid on four homes involved "a narcotics conspiracy case" and said: "We did find things that we were asking for in that. It may have been drug ledgers, narcotics paraphernalia, any other material between the residences. Those things were found, in addition to a large sum of money."
That sounded bad until a reporter asked whether any of this was found in the Guerena residence. "No, it was one of the four, but it was not that residence." Asked if they found actual evidence in Guerena's home, the answer was vague: "We found information that was pertinent to the drug conspiracy case, yes. I'm not going into details of what those things were." Wise, considering that previous details issued by the department were later retracted as inaccurate.
Police said their SWAT vehicles were outside and were visible. But Guerena had been asleep in his bed. He never went outside, he was killed in his hallway. He could not know the assault was being conducted by law enforcement. O'Connor said: "We go to the door, we pound on the door. We wait approximately 15 seconds. If no one answers the door, we breach the door with a heavy tool and open the door." That's police lingo for smashing down the door.
If you were sound asleep, and awakened by your spouse screaming that the house was being attacked, precisely how long would it take before you were fully aware of what was going on? You better hope it is less than 15 seconds, or you too could be dead.
Even the current official story is self-contradictory. Deputies opened fire on the man because one of their own had been shot. They thought he had been shot because a bullet hit a doorframe and some of the wood came loose and hit the man's shield. But they fired that bullet, not Guerena. The bullet hitting the frame cannot be the cause of them opening fire, since it was the result.
Until the Tucson Sheriff's Department releases the warrant and alleged evidence that justified it, we cannot know precisely what happened. Whether they have something to hide remains to be seen, but so far they are neither forthcoming nor candid.
Whatever one may think of the hazards of using recreational drugs, the sad reality is that drug warriors are more deadly. Drugs may negatively impact the lives of people who choose to use them. But drug warriors attack the wrong homes with surprising frequency. Drugs tend not to kill, but when they do, it is those who choose to use them. Drug warriors are not so specific.
The real harm of recreational drugs is nothing compared to the dangers of the war on drugs, especially now that the police have been turned into paramilitary outfits.

Popular in the Community