Because he received on-field treatment, Hazard, Chelsea's best player, had to be removed from the match, which reduced Chelsea to nine players against Swansea's eleven. 
This really, really pissed Mourinho off. Sky Sports' cameras captured Mourinho angrily confronting Carneiro on the sidelines after Hazard was taken off.  
I was unhappy with my medical staff. They were impulsive and naive. Whether you are a kit man, doctor or secretary on the bench you have to understand the game. You have to know you have one player less and to assist a player you must be sure he has a serious problem. I was sure Eden did not have a serious problem. He had a knock. He was tired. 
It was the physio and the doctor. The problem was that I had 10 men and the moment the medical department puts a foot on the pitch then I have got nine men. So for them to do that, they must be sure the player has a real problem and not a little knock, and with my experience and the way I read the game I could clearly see it was not a problem. But without any doubt, they went to the pitch and left the team with nine men. Without any doubt, if you are involved in the game then you have to understand the game.
At the Swedish FA's medical conference in 2014, she told attendees how watching Champions League games as a teenager made her want to be an on-field team doctor. 
Mourinho, however, has punished Carneiro for doing the exact thing she's dreamed about for decades. Not only was she criticized by Mourinho during and after Saturday's match, but a Facebook post from Caneiro is thought to have played a part in his decision to demote her. He viewed the innocuous post as a demonstration of disloyalty, according to The Guardian. 
Yet, the officials who signaled for Carneiro have been free of blame and criticism from Mourinho. As has Hazard, whose own reaction to a hit that Mourinho called not a "real problem" led to the stoppage in the first place.
Essentially, Carneiro has been demoted to a lesser role at the club role for doing her job correctly.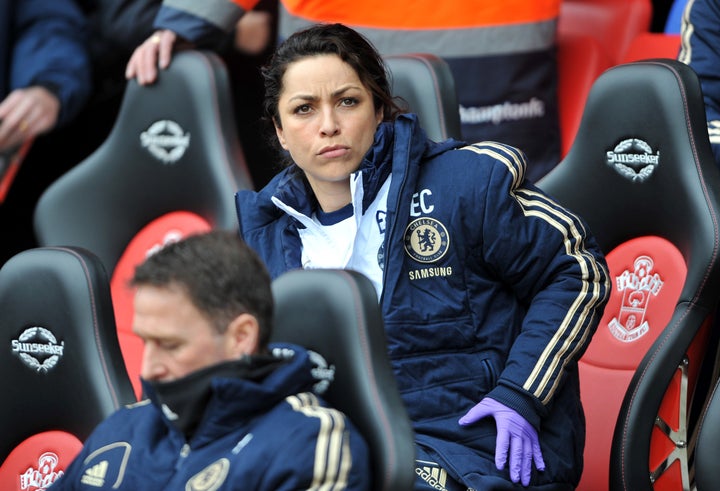 This case marks the second time this summer that Mourinho's been accused of sexism. In July, Mourinho attacked former Liverpool rival and current Real Madrid manager Rafa Benitez during a press conference. When asked about a joke Bentiez's wife made about Mourinho's old teams, Mourinho batted her joke down and plainly told her to get back in the kitchen.  
"And for her also to think about me and to speak about me, I think she needs to occupy her time, and if she takes care of her husband's diet she will have less time to speak about me," he said.
Carneiro, too, has been the subject of sexism in recent months. In two separate incidents in March, fans of Manchester United and Arsenal were recorded catcalling Carneiro as she treated an injured player. 
At the time, Chelsea released a statement in response to the abuse directed at Carneiro:
The issue of equality is one we take extremely seriously and we abhor discrimination in all its forms, including sexism. Such behavior is unacceptable and we want it eradicated from the game.
Right now, Chelsea should heed its own words. Mourinho remains indignant on the controversy he's sparked with Carneiro, saying at a Friday press conference that he wouldn't answer any questions about his falling out with her. 
"My decision [this weekend] does not mean they won't be on the bench in the future," he said. "I have a fantastic relationship with people who work with me. I welcome dialogue. I make mistakes. I am far from ruthless." 
Ruthless, perhaps not. But sexist? Yes.  
PHOTO GALLERY
Amazing Sports Photos
Calling all HuffPost superfans!
Sign up for membership to become a founding member and help shape HuffPost's next chapter