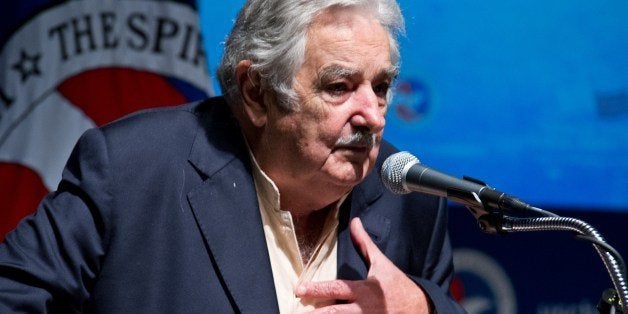 WASHINGTON -- Among the mistakes that Uruguayan President José Mujica counts for his presidency was foregoing a joint energy project with Brazil that would've used coal to generate cheap electricity. Worried about the coal's effect on the environment, Mujica's administration passed on the joint project with Brazil.
These days, Mujica isn't so worried about the impact his tiny country would have had on global warming.
"China inaugurates a coal-fired power plant every month," Mujica said Tuesday at an event with the U.S. Chamber of Commerce, referring to the decision he now regrets. "And us, a country with only 3 million people… concerned about the environment, decided not to [pursue the energy project.]"
A former guerrilla fighter who has gained international notoriety for his frugal lifestyle and trailblazing legalization of the marijuana trade, Mujica isn't the first figure that comes to mind when imagining a free market champion.
At Tuesday's speech to the Chamber of Commerce, Mujica said the previous way of thinking that prevailed in Uruguay was to fear foreign investment out of suspicion that the Uruguay's riches would get siphoned out of the country without benefiting local people.
"We were like the dog in the manger," Mujica said, "We didn't eat and we didn't let others eat."

Now Mujica says Uruguay's experience over the last decade shows his old approach was wrong.
"Objectively speaking, Uruguay in the last 10 years has gone through a structural change," Mujica said. "We need much more investment and much more investment in people."
Speaking before the crowd of business leaders, Mujica pitched Uruguay as an attractive place for foreigners to put their money, focusing on plans to build a deep-water port estimated to cost more than $500 million, as well as more vaguely articulated interest in investing in science, technology and engineering. He invited the crowd to consider retiring in Uruguay, highlighting the small size and pleasant pace of its cities and the country's low crime rate.
Uruguay's accomplishments are impressing allies. Chamber of Commerce President Tom Donohue praised Mujica's efforts, and spoke in glowing terms of a visit he made to Uruguay last year. Two-way trade between the U.S. and Uruguay has grown 275 percent over the last decade, according to Donohue.
"More and more U.S. companies are beginning to explore the tremendous potential of doing business in Uruguay," Donohue said, adding, "We're doing everything we can to enthusiastically encourage it."
If Mujica now sometimes speaks using language more commonly heard in board rooms than union meetings, he also framed his economic ideas in terms more associated with the left, saying, "We produce, but we distribute."
"I know for business owners it hurts, because the entrepreneur's mission is to make the business profitable," Mujica said. "But the government's responsibility is to obligate them to redistribute [wealth], so that the economy doesn't falter, among other things … That contradiction is as old as the world."
Still a collectivist at heart, Mujica encouraged the audience to think about "world integration," rather than organizing competing trade blocs designed to counterbalance the rise of China. Such an approach, Mujica said, would allow the world to confront poverty by tackling it in places that wind up sending migrants abroad because of lack of work in their home countries.
"Poor people are going to keep coming," Mujica said. "We have to go to where they are."
In a speech that appealed little to left-leaning ideology, every now and then hints of Mujica's political roots appeared.
"For however much of a president I may be, I'm still a worker," Mujica said, later adding, "We're friends of the business community. We do everything we can for them, but we won't sell you our souls."
CORRECTION: An earlier version of this story incorrectly stated that Mujica was a guerrilla fighter during Uruguay's military dictatorship. He was jailed prior to the dictatorship.
Before You Go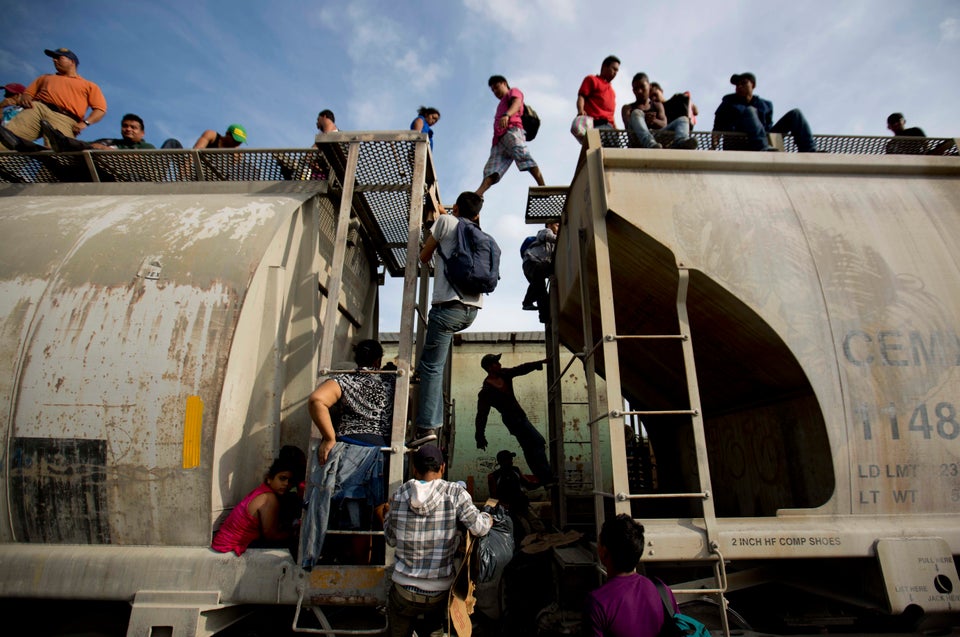 Why Latin Americans Really Come To The U.S.
Popular in the Community