You know that strange stomach feeling you get thinking of your parents drinking, smoking, or doing that other thing that parents sometimes do?
That uncomfortable pang is small potatoes compared to the grimace-inducing experience of watching Donald Duck or Prince Charming engage in illicit adult activities. Just take a look at Minnie Mouse and Daisy Duck taking bong rips and tell us your childhood self isn't crying on the inside.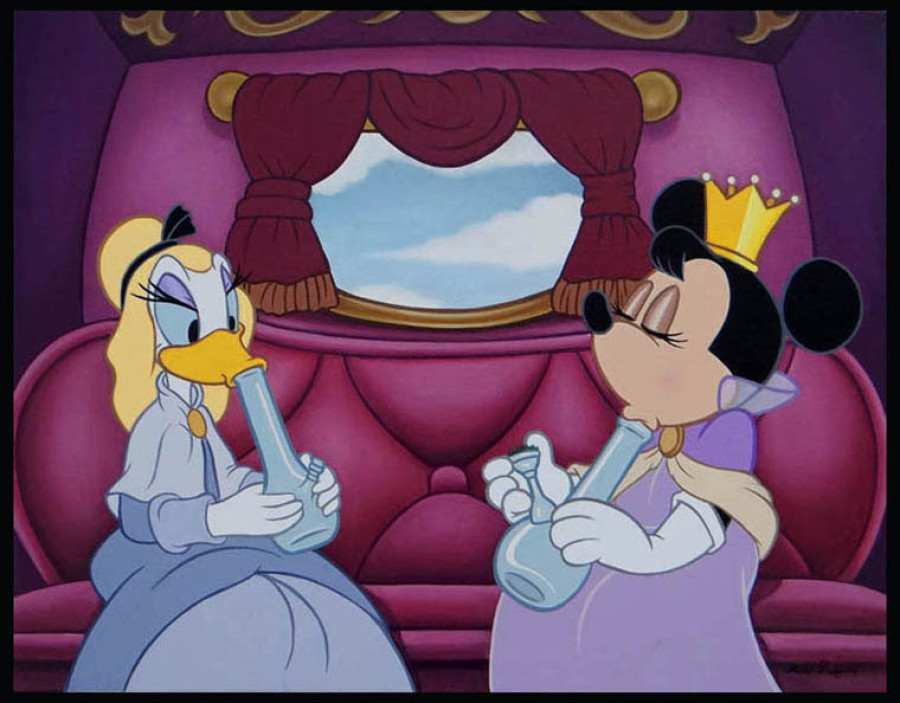 These wonderfully warped depictions of Disney classics is brought to you by artist José Rodolfo Loaiza Ontiveros. His upcoming exhibition, "Profanity Pop," is described as a "celebration of creative freedom in our time" -- creative freedom apparently translating to Snow White taking sexy selfies. There's something surprisingly unnerving about watching your childhood BFFs making out, doing drugs and taking pregnancy tests, no matter how much you thought you'd moved on from your Disney roots.
Although the exhibition features all the standard symbols of post-adolescent rebellion, the imagined scenarios aren't strictly for the purpose of breaking the rules. Beneath the surface, most of Ontiveros' artworks harken back to classic themes of mythology, religion and power -- the stuff on which art history was founded. While it's strange to see Mickey and co. exploring the dark underbellies of these taboo territories, it's also clear that Ontiveros isn't just going for shock value. His Disney reimaginings give two-dimensional characters the rare opportunity to transgress the "Rated G" laws under which they were created, giving the cheery cartoons a freedom they were so long denied. Of course, that doesn't mean watching Cinderella get drunk with Frida Kahlo will make you any less creeped out.
Check out Ontiveros' bold works below, featuring artsy cameos by both Kahlo and our personal favorite, Bob Ross. For more interpretations on the naughty Disney theme, check out Dina Goldstein and Saint Hoax.
"Profanity Pop" runs at La Luz De Jesus in Los Angeles from August 1 until August 30, 2014.
Correction: A previous edition of this article listed Daffy Duck instead of Donald Duck. Sorry Donald!
REAL LIFE. REAL NEWS. REAL VOICES.
Help us tell more of the stories that matter from voices that too often remain unheard.