 WASHINGTON -- Ask Republicans on Capitol Hill or Sunday show pundits and they'll tell you the same thing: Our southern border isn't secure -- just look at the crisis overwhelming authorities today.
Texas Governor Rick Perry is demanding the National Guard be brought in to beef it up, while former Alaska Governor Sarah Palin is convinced that there effectively is no border. "Without borders, there is no nation. Obama knows this. Opening our borders to a flood of illegal immigrants is deliberate," she warned in the pages of Breitbart, echoing a common consensus among opponents of immigration reform.
But ask people who live along the border, and you'll get quite a different answer. Or ask Jose Antonio Vargas.
The Pulitzer Prize-winning, undocumented journalist traveled to McAllen, Texas this week, fresh off the release of his documentary Documented to give a voice to thousands of children who have been detained at the border, but he didn't expect to find himself trapped there as well. He didn't realize how secure the border is. "They're everywhere. Actually, as I'm talking to you, there's a border control van parked at the hotel I'm staying at," Vargas told The Huffington Post in an interview on Saturday.
Vargas flew to the small border town on Thursday and joined other immigration activists to interview and film undocumented minors fleeing escalating violence in their home countries in Central America. The temporary facilities where they are being held are ill-equipped and over capacity, which has prompted the Obama administration to request billions in additional funds from Congress to address what members of both parties have called a "humanitarian crisis."
But what Vargas didn't know is that in order to be able to leave the border town he would need to pass through an interior U.S. Border Patrol checkpoint set up within 45 miles of McAllen. That would require presenting proper documentation he doesn't own.
"When my friend Mony Ruiz-Velasco, an immigration lawyer who used to work in the area, saw on my Facebook page that I was in McAllen, she texted me: 'I am so glad you are visiting the kids near the border. But how will you get through the checkpoint on your way back?' A curious question, I thought, and one I dismissed. I've visited the border before, in California. What checkpoint? What was she talking about?" he wrote in Politico Magazine on Friday.
Such checkpoints are located throughout the Southwestern U.S. border, comprising of a 100-mile wide, Bill-of-Rights-free strip where authorities have claimed the privilege to do things they would not be permitted to do anywhere else in the country, such as executing a "routine search" without a warrant or probable cause, or asking American citizens for papers.
Vargas could fly out of the local airport as he has done in the past by using his Philippines-issued passport. But he has learned that the border patrol is active in the airport, placing him in a precarious situation and he worries that, even though his visibility as an immigration reform activists has shielded him in the past, he may not be so lucky this time.
"I'm going to fly out of here, I haven't decided exactly when, but it's going to be a test since the border patrol is at the airport," he told HuffPost. Though Vargas was brought to the U.S. as a young child, he is not eligible for the federal deferred action that addresses people in his situation, because he is over the age of 30, he said.
Vargas' story highlights some of the struggles undocumented immigrants have faced for years. But it also shows, contrary to conventional wisdom, that security at the border is anything but lax.
In fact, according to the NDN/New Policy Institute, since 2002 federal funds to secure the border have tripled and the number of U.S. Border Patrol agents has doubled to a little over 21,000. Moreover, crime along the U.S. side of the border is down, and the growth of the undocumented immigrant population has stalled in recent years. "Obama era policies have stopped the flow – which is one reason why we have the resources to be apprehending those attempting to enter the country today," said NDN President Simon Rosenberg.
As Vargas put it, "The border is secure, that's why these kids are getting apprehended."
To Luis Malbonado, a DREAMer who lives near McAllen, a heightened security presence resembling an occupied military zone is all too familiar. Both his mother and sister were deported mere hours after being stopped by authorities in the city, a task made easier by their proximity to the border, he said.
"It's been three years since I haven't seen my mom, five years since I haven't seen my sister. Right now there's no way I can go and see them. I'm stuck," he told The Huffington Post.
Malbonado said residents of the Rio Grande Valley usually encounter checkpoints every few miles, and it was common to see border patrol and state trooper cars while driving on the highway. "It is so safe and secure that both my mom and my sister were deported [from] within the city," he added.
Malbonado also called on President Obama to visit the border, a trip that Republicans and even some Democrats have been calling for.
"He needs to come and see first hand and see what these kids look like," he said. "They do not have tattoos on their face. They do not look like the media is portraying them. These are kids. "
As for Vargas, the future is murky. He doesn't intend to leave the border until he finishes his job, so he is, at least for the moment, as much a resident of McAllen as the immigrant children he came to report on.
Cristina Jiménez, managing director of the immigration advocacy group United We Dream, was less than certain that Vargas would ultimately be able to leave McAllen. "It's going to be really difficult. None of the young people there have been able to leave. Border patrol is right next to TSA," she said. "Either way, if it's plane or driving Jose is going to have to confront the reality of being undocumented."
Ryan Grim contributed reporting. Vargas previously reported for The Huffington Post.
Before You Go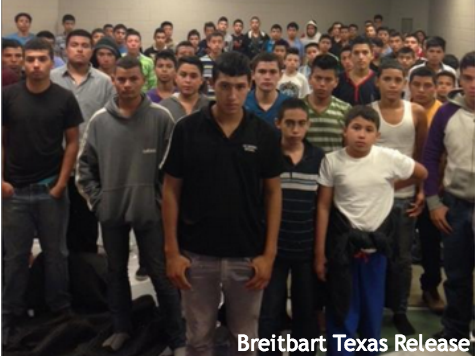 Overwhelmed Border Patrol
Popular in the Community