When Josef Sever cast votes in two U.S. presidential elections, the Plantation man said he was simply trying to do something positive and perform a duty that not all citizens fulfil. There was just one problem: He is not a citizen.
"This was a misguided attempt to exercise a civic duty that he believed that he owed this country ... He only wanted to be part of the country and do something good by voting in important elections," wrote Daniel Ecarius, Sever's assistant federal public defender.
Sever, 53, an Austrian who became a Canadian citizen and lived in the U.S. since 1992, apologized profusely for his crimes and acknowledged he will likely be deported to Canada.
"I am deeply sorry," he told U.S. District Judge Ursula Ungaro at his sentencing Friday in federal court in Miami. "This will certainly never happen again in any society that accepts me."
Prosecutor Robert T. Watson recommended a year and a day in prison.
"By voting as a non-citizen, [Sever] effectively nullified the vote of a U.S. citizen. This form of disenfranchisement is no different in effect than had the defendant stood at the polling place door and denied access to a U.S. citizen," Watson wrote.
The judge said Sever's offenses were not trivial, but considering all of the circumstances in the case -- including his history of being a contributing member of the community -- that a sentence of five months in federal prison followed by his almost certain removal to Canada was punishment enough.
Federal prosecutions of non-citizens for actually casting ballots in the Southern District of Florida are rarer than might be expected. Court records for the region, which stretches from Fort Pierce to Key West, show that only 18 people have been prosecuted for voting in federal elections since January 1, 2000.
Most of those prosecutions occurred in 2004. The only recent cases involved Sever, who was charged earlier this year, and a 2008 case against Jean Bastien, a Haitian man who was arrested in West Palm Beach and admitted voting in the 2006 federal elections.
The individuals convicted were often sentenced to probation, though they also faced possible deportation. It wasn't possible to confirm Friday what decision immigration authorities made on their cases.
Many of the offenders pleaded ignorance or confusion or said they got bad advice from other people who told them they could vote, an excuse that didn't wash with federal authorities.
Applicants who fill out voter registration forms must state in writing that they are a U.S. citizen and swear an oath the information is true, but county officials said they have no way to confirm citizenship. State authorities also prosecute voter fraud cases involving non-citizens.
Though the criminal charge usually states a non-citizen knowingly voted illegally, the courts have ruled that prosecutors don't have to prove intent.
In one case in Miami-Dade County, Ricardo Knight admitted voting in the 2000 presidential election. His lawyers argued the Jamaican native was borderline mentally challenged with an IQ of 76, but he was found guilty and sentenced to a year of probation and fined $500.
The legal permanent resident, who was in his 20s when he voted, had applied to become a U.S. citizen and told immigration officials during his citizenship interview that he had voted in a federal election. When they asked why, he said he did not know that he had to be a U.S. citizen to register and vote, according to court records.
A federal appeals court later upheld Knight's conviction.
The case against Sever arose when state authorities forwarded his name as a possible illegal voter.
Sever registered to vote with no party affiliation and admitted he cast absentee ballots in the November 2004 and 2008 presidential elections, court records show. He became a Canadian citizen in 1979, which meant he did not need a visa when he entered the United States.
The case was pursued by federal authorities mostly because Sever also lied about being a citizen when he filled out federal forms and bought several firearms between 2007 and 2010 at a Hialeah store. He also admitted that he lied on an application to renew a concealed firearm permit in Broward County.
There was no evidence Sever's gun ownership harmed anyone, his lawyer said. Sever is "a gun enthusiast who greatly enjoyed target practice at legitimate gun ranges," the lawyer wrote.
Sever pleaded guilty to four counts of making a false statement in connection with the purchase of a firearm, one count of falsely impersonating a U.S. citizen when he renewed a concealed weapon license in 2010, one count of falsely claiming to be a U.S. citizen when he registered to vote in Broward County in March 2008, and one count of voting in an election in November 2008. The statute of limitations had run out on the earlier voting incident.
He faced a maximum of five years in prison on the most serious charge: falsely impersonating a U.S. citizen to register to vote.
Sever, who had no prior criminal convictions, has been locked up at the federal detention center in downtown Miami since the end of July and will be handed over to immigration authorities when his prison sentence ends. His lawyer said he may fight the effort to remove him to Canada.
Several letter writers told the sentencing judge that Sever, an engineer, was an excellent worker who was employed in managerial roles and played guitar at the Weston church he attended.
"While it is true that he had no right to vote and that his was a vote that should not have been counted, his vote did not corrupt the system and did not make a difference as to who was elected," Sever's lawyer wrote.
pmcmahon@tribune.com, 954-356-4533 or Twitter @SentinelPaula ___
(c)2012 the Sun Sentinel (Fort Lauderdale, Fla.)
Distributed by MCT Information Services
Related
Before You Go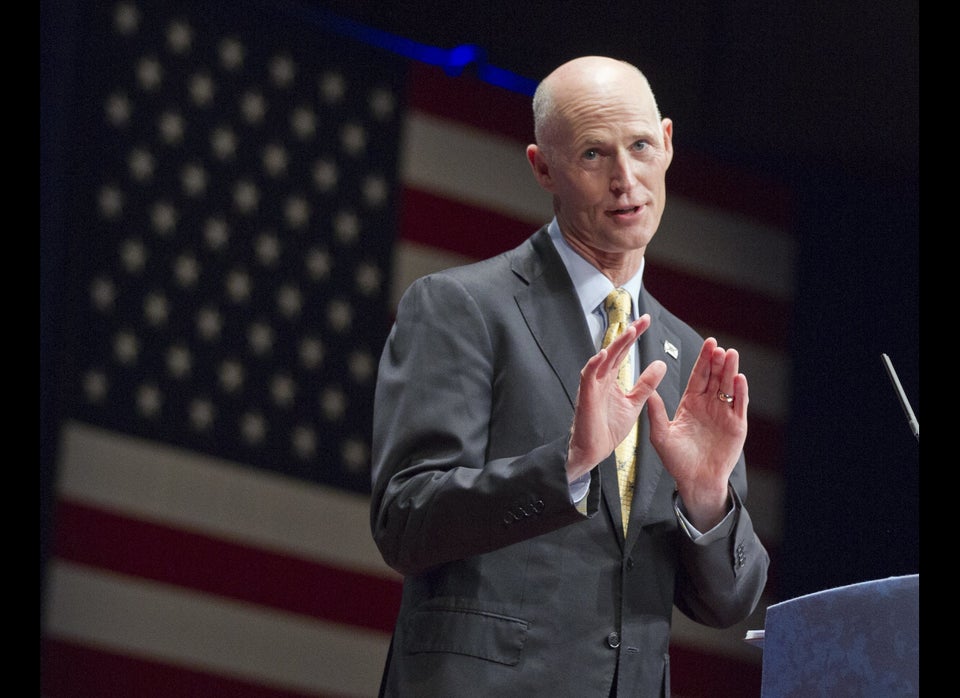 Rick Scott Controversies
Popular in the Community