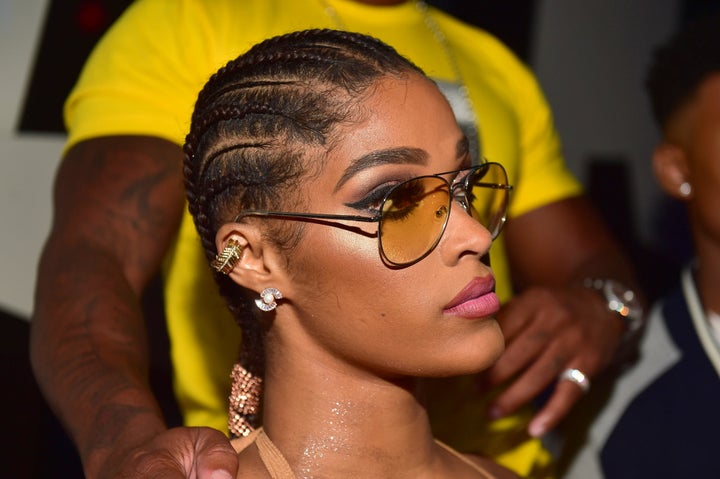 For years now, reality television has been dominated by a unique brand of manufactured drama. I call it "ratchet reality." We've seen it in franchises like "Bad Girls Club," "Basketball Wives" and "Love & Hip Hop," where mostly black men and women in the entertainment and sports industries play out messy, soap-operatic storylines (love triangles, secret babies, affairs) for the viewing pleasure of millions. 
It's a formula that has been perfected in Mona Scott Young's "Love & Hip Hop: Atlanta," the No. 1 show in the "Love & Hip Hop" franchise. It's the ATL installment of the series, which follows the life and loves of Atlanta music artists, that first introduced us to Joseline Hernandez in 2012. Joseline Hernandez, the self-professed "baddest puta" of VH1, is a fascinating study in contradictions who, inadvertently, embodies so many elements of the ongoing conversation around representations of black women on TV. 
In her 2012 debut, Joseline was an ex-stripper and aspiring hip-hop artist working with Grammy-winning producer Stevie J. But the real drama came when it was revealed that she was also sleeping with Stevie, who was then in a relationship with another Atlanta fixture, Mimi Faust. The Mimi-Stevie-Joseline love triangle turned the show into the most popular reality series on VH1, and made Joseline, with her outrageous looks and funny one-liners, the most talked about member of the cast. 
But five years after her reality television debut, Joseline Hernandez has a new narrative. She's all about positivity. On the July afternoon that she visits the HuffPost offices to chat about her new chapter (after reportedly quitting "LHHATL"), she's eager to talk about the impact that her 6-month-old daughter, Bonnie Bella, has had on her outlook on life.
"You know, I think when you become a mother your whole life changes because now you have to care for another person," Hernandez says.
"Everything that I went through in my life, I want my daughter not to have to go through," she continued. "I think that becoming a mother makes you focus so much more in your business."
Joseline, 29, is every bit the larger-than-life figure that she's come to be known as on "Love & Hip Hop." She's loud, confident and hilarious. She's also problematic as hell. Just weeks before our chat, the rapper and model is all over the blogs for referring to her ex Stevie J's teenage daughter as a "nappy head" in a vulgar Twitter rant.
And throughout the entire last season of "LHHATL," the underlying drama between her and Stevie J was the fact that, last year, she falsely accused him of molesting his own 7-year-old daughter with Mimi Faust. Add this to the fact that for the last six years, Joseline has been something tantamount to a villain on the reality franchise, stealing Stevie J from Mimi while constantly antagonizing her and essentially every other female cast member on the show.
Proving that she's on a new "positive" wave may be an uphill battle. Because Joseline is, by definition, a polarizing figure. There are those who love her, those who dislike her, and those who feel that she represents everything wrong with the representation of black women on TV. 
Indeed, beneath a HuffPost Black Voices Instagram post on the day of the interview, reader comments included negative reactions like "Please use black women who uplift our image. Positive black women please" and "Let me know when you interview #michelleobama Powerful BLACK WOMAN."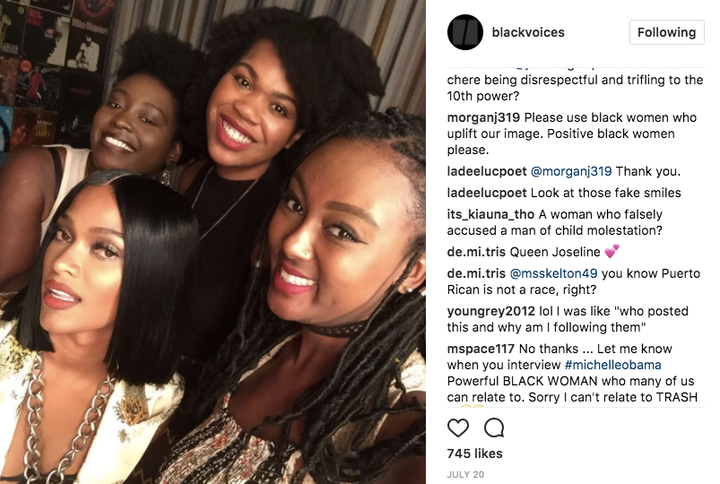 Joseline, at least on the surface, seems unmoved by opinions like these. When asked about the criticism that she and shows like "Love & Hip Hop" get from the black community, she's quick to declare that everyone has a right to their own opinion. 
"Everybody's able to say whatever they want, feel however they feel, and it's not really a big deal to me because if I choose to live my life in front of the media then I need to take what they give," she explains. 
In the same breath, she mentions the corporate, money-making machine that churns out these images.
"You know, a lot of people don't know what goes behind a production company. There are producers, writers, directors, talent. To say that it gives [black people] a bad name ... it might not be us," she says. "All the ladies on the show can do is get they money, show they life, and hope for the best." 
This is the fascinating, somewhat troubling calculation and conflict of Joseline. On one level she knows she is being manipulated to generate drama, much of it unflattering. On another level, she focuses only on getting money. For Hernandez ― who grew up poor in Puerto Rico and Fort Lauderdale, Florida, lost her father to drug abuse, and started stripping at an early age to take care of herself and her family ― the manipulation of her image is in no way a deal breaker. It's a means to an end. It's a matter of survival. 
Hernandez says she considers herself a feminist ("Duh!") and a proud, black Puerto Rican. She believes that, by being unapologetic about her past as a stripper on the show, she made a way for girls like her to branch out and "get this money." Cardi B, another stripper-turned-rapper who found major success after dropping a few hilarious one-liners and snatching wigs on "Love & Hip Hop: New York," is one of the girls Hernandez sees as a prime example of the power of reality television to elevate women who otherwise would have been trapped by their circumstances. 
"I love Cardi. She's a hard worker. She makes great music. I'm going to root for all the ladies because I don't want the ladies to get me down so why the fuck would I kick them down?" Hernandez says (in this instance she avoids addressing her public beefs with female R&B artist K. Michelle and producer Scott Young). 
"I was the first girl that got on TV and said, 'Hey, I stopped stripping and now I'm a musician.' I like that the ladies that came after me feel like they can get away from they situation because of what I was able to do," she adds.  
Again, contradiction. Joseline talks about uplifting other women, while much of her reality TV persona (up until the birth special for her daughter, Bonnie Bella, which she executive produced) has hinged on fighting with other women. But Joseline embraces contradiction. Indeed, she seems to thrive on it. She doesn't feel that her image, or the image of any of her contemporaries on these "ratchet reality" shows, negates any of her efforts to be positive, to be a good mother, daughter and friend. She's not Michelle Obama, and she's never professed to be. And she has no regrets about revealing the less flattering sides of her character to the world. 
"I had a great time doing the show and I still do have a great time doing reality because it's fun," Joseline insists. "Even though sometimes they can edit it a certain way. At the end of the day I don't regret anything that I do."
I reference the drama between her, Stevie and his daughters. Does she regret that? "I have made mistakes, absolutely," Joseline admits. "The only thing that I could do was apologize for it, mean it, not do it again and focus."
What's fascinating about Joseline Hernandez isn't so much who she is, but what she represents.
The real conundrum of Joseline and girls like her isn't simply the contradictions they encompass, but the fact that shows like "LHHATL," for all the criticism they receive, continue to do well. Why? Schadenfreude, of course, is a big part of this. There's a unique kind of entertainment that thrives on the messy lives of others, that feeds us by making us feel as though, no matter how bad things get, at least we've got our shit together. 
But while self-satisfied judgment is one thing, one must also consider the fact that there are black women who, for better or worse, identify with the sagas of women like Joseline. Women who have been sexually and emotionally abused, who have been the side chicks, whose only access to financial stability has been through their bodies. The unfortunate reality is that these elements of Joseline's story are never given the same weight, the same time, the same gravitas as the messy drama. 
"People think that I'm so horrible, but I've been through so much on TV," Hernandez says. "Having an abortion on TV.  My baby daddy saying that he's not the father, that he'll send me back to the strip club. Things like that."
Sitting face to face with Joseline, after years of watching her television antics, is a jarring experience. The knowledge of her "storyline," the silent judgment of the numerous awful things she's said and done, lies just beneath the surface. But mixed with that is the understanding of the frustrating frailty and complexity of being human. 
What's fascinating about Joseline Hernandez isn't so much simply who she is, but what she represents, and that is many things. She's the bad role model, the thot, the hustler, the victim, the "boss bitch." Depending on who you ask, she should be applauded for owning her sexuality and her body, or derided for allowing a white-owned corporation to exploit her and other black female bodies for a buck. It's really up to the viewer to decide. 
But there's something to be said for agency and autonomy. There's something to be said for the fact that representation may not always be about reflecting the respectable things about us. That doesn't mean absolving shows like "Love & Hip Hop" of their perceived sins. But it does mean creating and allowing space for black women to be, to be, in all their forms. Even black women like Joseline. We can call them out, we can judge them, we can boycott them, we can hate. But, surely, we must accept the fact that they exist.
The "Love & Hip Hop" franchise is now on its fourth installment, Miami, scheduled to debut later this year. Whether Joseline Hernandez will actually return to the franchise (she's coy when asked about her future on the show), there's no doubt that there will always be more Joselines ― complicated, messy, entertaining and, most of all, hungry. 
Calling all HuffPost superfans!
Sign up for membership to become a founding member and help shape HuffPost's next chapter
BEFORE YOU GO