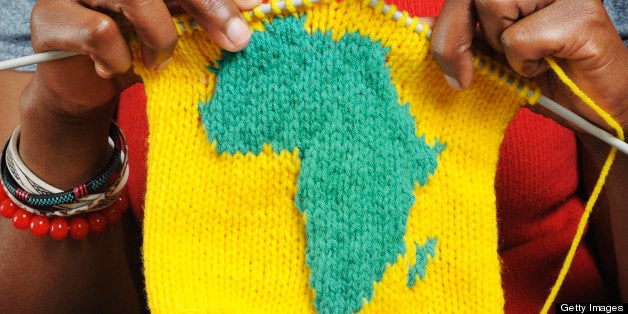 Joselyne Nibagwire is the Head of Quality Control at Abasangiye Iterambere (Abasangiye), a sewing cooperative of 25 women located in Kayonza.
She is one of two Indego Africa artisan partners traveling to the United States in June for the 2013 Artisan Trip, a leadership, education, and community engagement initiative for emerging women leaders from Rwanda.
This two-week trip is designed to improve participants' export market-readiness, deepen their knowledge of global supply chains and operations, enhance their communications and strategic leadership skills and facilitate meaningful interactions with partners, supporters and customers in the United States.
This is her story of resilience, perseverance and drive...
I was born in 1973 in Rwamagana in the Eastern Province of Rwanda. I attended secondary school until other Tutsi students and I were kicked out following the outbreak of the Rwandan civil war in 1990. I heard that the only way for Tutsi women to survive was to marry Hutu men, so I married a Hutu man in 1991 when I was 17.
When the 1994 genocide began, my neighbors turned against me. They told me I deserved to be killed and thrown into a latrine, so I jumped into a latrine myself to at least avoid suffocating from being thrown in headfirst by others. I lived through the fall but remained trapped in the latrine for five days. Of my seven siblings, only two survived.
After the genocide, I had difficulties with both my own family and my husband's family. My family resented me for marrying a man whose relatives performed many locally known atrocities. My husband's family harassed me because they were angry that my own family testified against imprisoned genocidaires. My husband began to abuse me and blamed me for his relatives' jail sentences. After he burned all of my clothing, my children begged me to leave him because they feared I would die in their house. I did divorce my husband, and I still help care for my five living children.
I knitted at home to make ends meet, but I was lonely. I found a part-time cleaning job through AVEGA Agahozo, an association that supports widows of the 1994 genocide. In 2010, Indego Africa, in collaboration with Survivor Fund and Foundation Rwanda, launched a textile cooperative, called Abasangiye, comprised of AVEGA Agahoza members in Kayonza. I joined Abasangiye and eventually became a leader of the cooperative. Furthermore, I learned English through Indego Africa's literacy training program.
With my participation in Abasangiye, I am lucky to have met new people who have more or less gone through similar situations as I have. Over the years, I have learned to forgive, and I am starting to love people again. I am much more courageous than I was prior to joining Abasangiye.
In 2012, I was accepted into the Goldman Sachs 10,000 Women initiative after encouragement and assistance from Indego Africa and the women of my cooperative. Through the trainings, I learned how to write business plans and how to manage a business. I shared what I learned with the women of my cooperative, as I was the first from Abasangiye accepted into the program. This past February, I graduated with 31 other Rwandan women entrepreneurs. I have assisted two other women with the application process, and they have been selected to the program as well.
In addition to my work with Abasangiye, I also have my own knitting business. I learned to knit at the age of ten and sold baby clothes while attending primary school. Today, I knit sweaters, socks, scarves and gloves for secondary school students and my neighbors in Rwamagana.
I began my business hand-knitting everything, but this process was time-consuming. Using money earned through Indego Africa orders, I purchased a knitting machine. I also began teaching a young woman to knit. As my business grows, I hope to purchase more knitting machines, hire more workers and purchase a new workspace outside of my house. With my work at Abasangiye and my own knitting business, I am changing my life. I plan to build a new house for myself with my earnings.
Joselyne's story is one of many that demonstrates the resilience, perseverance and drive of Indego Africa's artisan partners. Her upcoming trip to the United States will provide her the opportunity to share her story first-hand while developing relationships with potential business partners and supporters. She has her own goals for the trip, "I hope to promote and expand the market for Abasangiye cooperative. I also hope to meet other professionals and designers who are familiar with our craft."
Support Indego Africa's artisan partners like Joselyne in The Huffington Post's Raise for Women Challenge. Your donations directly impact over 500 artisan partners and their over 1300 dependents in providing increased access to food, education and shelter.

REAL LIFE. REAL NEWS. REAL VOICES.
Help us tell more of the stories that matter from voices that too often remain unheard.