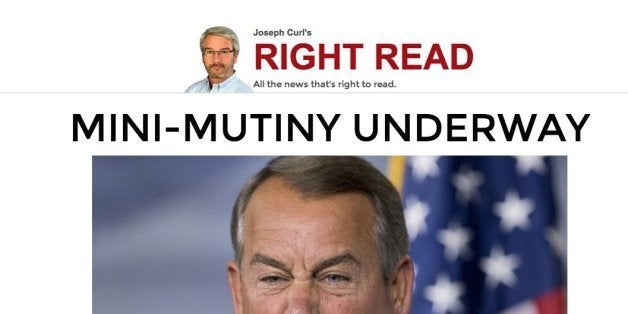 NEW YORK -- Joseph Curl, a veteran political writer and most recently an editor for The Drudge Report, unveiled a new politics-focused, aggregation-heavy site on Monday called Right Read.
In an interview with The Huffington Post, Curl said Right Read is "going to be an aggregation site in which I read hundreds and hundreds of stories so you don't have to." He noted that his nearly four years working on The Drudge Report, the conservative aggregation powerhouse, gave him the skills needed to wade through the sheer volume of stories published each day in order to find the most newsy, compelling links.
According to Curl, the site will focus most heavily on national politics, his area of expertise, and is being launched through a partnership with The Washington Times. Curl served as a White House correspondent for the right-leaning paper and was on staff there until 2010, when he started at The Drudge Report. He has continued to write a column for The Washington Times since then.
Since Curl's primarily role as Drudge Report morning editor was to aggregate stories, he had less time to write about politics himself. Curls said he expects to do more writing, and perhaps traveling for the 2016 campaign, through the new site.
The Drudge Report doesn't publish a masthead listing staffers, but it's known that two or three other editors have kept the site running in recent years, along with reclusive founder Matt Drudge. Charlie Hurt, another Washington Times columnist, joined The Drudge Report as an editor in spring 2012.
Curl, who left The Drudge Report last year, isn't the first editor of the website to try launching his own project. The late Andrew Breitbart, who worked for The Drudge Report and also early on at The Huffington Post, started his own site, Breitbart.com, in 2005. Last year, The Drudge Report linked to Breitbart over 1,700 times, more than any site besides Yahoo News.
In the interview, Curl said that Drudge suggested he start his own venture after leaving the site, and offered nothing but praise for his former boss.
"Matt Drudge is the master and he will be for as long as he wants to be," Curl said. "I'm quite sure that nobody will be getting rid of The Drudge Report bookmark and replacing it with RightRead.com anytime soon."
Related
Popular in the Community