We need collaboration more than ever, and here's why.
Collaboration is not "here's all of my ideas; you can look but don't touch." Collaboration is sharing views but more importantly being open to others' perspectives and ideas. We need each other to grow, to be stronger, smarter, better, together.
Joseph Gordon-Levitt, renaissance actor, director and screenwriter, when not acting can be found making, collaborating and leading his online production company hitRECord.
Levitt says, "hitRECord is an online community of creative people. Other online communities people go to chat and socialize, but at hitRECord people come together first and foremost to collaborate."
Like many great companies, hitRECord initially started as a passion project of Levitt's. Founded in 2006, the company's contributors have included Bradley Cooper and Brie Larson. hitRECord on TV won an emmy in the Outstanding Creative Achievement in Interactive Media in the area of Social TV Experience category in 2014.
With collaboration comes the unexpected, the unknown. "The point of hitRECord is for people to make things together," Levitt adds.
If you don't want someone messing with your work then you're missing the point of this platform. A user on can post their work being a photo, illustration, mixed media and then another user builds on top of it - and another, and another. Levitt says, "I find it extremely fun and creatively challenging."
Joseph Gordon-Levitt's company hitRECord has partnered for a special collaboration with the National Park Service and National Park Foundation in celebration of the National Park Services' Big 100 Birthday encouraging a new generation to #FindYourPark.
Levitt is constantly approached by brands and organizations for partnerships, but when the National Park Service did he felt honored.
"It's something the government has been doing right for the last 100 years and as an American I'm very proud of it," Levitt says.
In celebration, members of the hitRECord community were able to execute their personal ideas into a series of projects that paid homage to the parks. The final creations include a limited line of apparel, an adult coloring book, a set of postcards and more.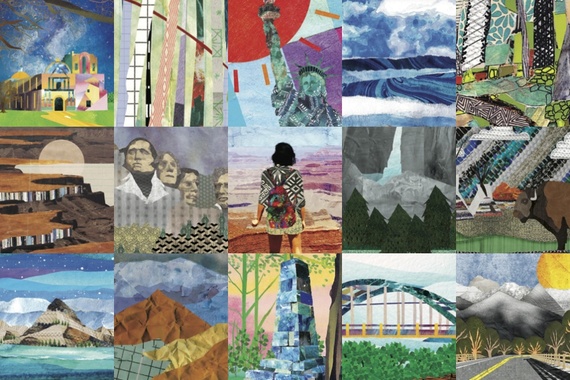 The National Parks can mean something different to anyone. You could travel around the country to see them, morning runs to keep you motivated, a proposal at sunset or simply escaping your everyday routine for just a moment.
Being a California native, Levitt has fond memories of camping in Yosemite with his family. Levitt explains, "I love camping. It was something my family would always do, especially in Yosemite. My mom, dad, brother and I would pitch a tent, go hiking and explore."
Levitt hopes people go and visit their national parks now more than ever. If the National Parks Service didn't exist, the fate of our favorite places would be in question. "Yosemite would be some parking lot or something," he adds.
We ended our conversation about how there's more and more ways to entertain ourselves without even leaving the house.
Levitt concludes, "These distractions are not inherently bad, but there's something so inherently good about going and being with nature, getting inspired and realizing you have this opportunity to get out there and explore."
Calling all HuffPost superfans!
Sign up for membership to become a founding member and help shape HuffPost's next chapter