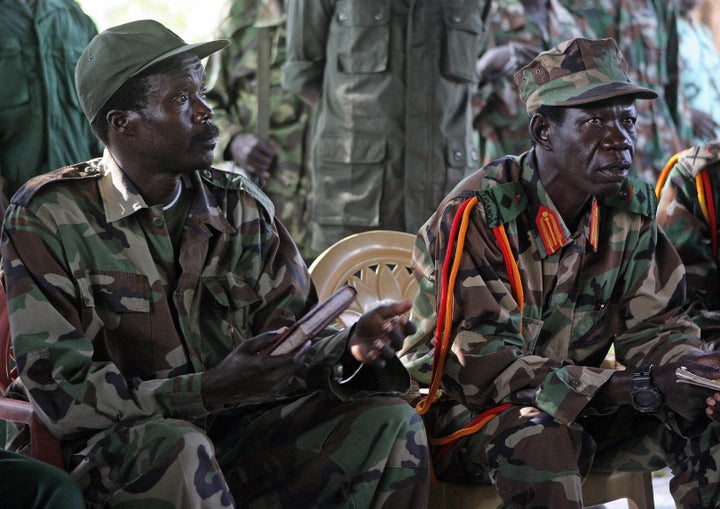 KAMPALA, March 9 (Reuters) - Uganda said on Friday it would catch Joseph Kony dead or alive, after a video spotlighting the atrocities of his Lord's Resistance Army (LRA) swept the Internet and drew a wave of international support.
The LRA is notorious for violence including hacking body parts off victims and abducting young boys to fight and young girls to be used as sex slaves. Kony and his fighters were driven out of northern Uganda in 2005 after terrorising communities for nearly two decades.
"All this hoopla about Kony and his murderous activities is good in a sense that it helps inform those who didn't know the monster that Kony is. But of course, this is too late," Uganda's defence ministry spokesman Felix Kulayigye told Reuters.
"It might take long but we'll catch Kony, dead or alive. How many years did it take to end the conflict in Northern Ireland? So our hunt for Kony can take long but it will end one day," he said.
The 30-minute YouTube video, by a little-known team of filmmakers based in San Diego, made an emotional appeal for the U.S.-backed Ugandan armed forces to capture the LRA leader by the end of this year.
By Thursday, it had been viewed almost 40 million times, while Tweets about Kony had become the No. 1 trending topic worldwide on Twitter.
Kony fled northern Uganda to roam the dense forests of Democratic Republic of Congo, Central African Republic and South Sudan. Attempts to corner him and his rump LRA force, believed to be 200-300 strong, have failed.
In a renewed push to bring Kony to justice, U.S. President Barack Obama sent 100 U.S. military advisers to the region last year to help Ugandan forces track down the self-declared mystic.
U.S. troops have set up small base in the Central African Republic, where Ugandan soldiers are also operating, though the latest reports suggest Kony is now in neighbouring Congo.
In January 2006, eight Guatemalan "Kaibil" Special Forces soldiers from the U.N. mission in Congo were killed in a botched operation against the LRA in Congo's Garamba National Park.
In late 2008, the United States backed Ugandan-led air strikes and a ground attack on LRA camps in Congo.
These too failed as the LRA leadership slipped into the bush, seemingly after being tipped off, and unleashed a retaliatory killing spree that left thousands dead.
According to Matthew Green, author of a book about the hunt for Kony, The Wizard of the Nile, his units were highly organised and armed with recoilless rifles, mortars, rocket-propelled grenades, VHF radios and satellite phones.
Green says escaped LRA child soldiers he interviewed expressed contempt for the Ugandan army as a fighting force.
"Much as they might like to grab Kony, the Ugandan military and other armies in the region have repeatedly proved that they lack the necessary helicopter, logistical and intelligence-gathering capabilities," Green told Reuters.
"U.S. forces could get the job done, but there would have to be a remarkable shift in the political calculus in Washington for them to consider a kill-or-capture mission."
Fred Opolot, Director of the Ugandan government's Media Centre said the LRA leader was operating in "some of the most difficult terrain anyone can imagine".
"People who are thinking it's taking long to eradicate the LRA menace need to appreciate the overwhelming geopolitical complexities involved in the hunt for these guys," Opolot said.
Ned Dalby, Central Africa analyst for the Brussels-based International Crisis Group, said geographical, logistical and political realities severely complicated the hunt for Kony.
He said the armies of South Sudan, Democratic Republic of Congo and Central African Republic were poorly-equipped, lacked professionalism and had discipline problems.
The U.S.-backed Ugandan army spearheading the hunt for the fugitive LRA leader was more professional, but were not being allowed to enter Congolese territory for now, Dalby said.
The Americans were "no silver bullet", he said.
The independent research group Small Arms Survey said there had been at least 12 raids by the LRA in northeastern Congo in the first two weeks of February.
People in the isolated southeastern town of Obo in Central African Republic said Kony and his men lived concealed in the forests. "They're more at home there than the animals," said Mauricio Gueyi, a local driver.
Ugandan officials lamented that the video did not mention the fact that Kony had long since left Uganda.
"This video gives the impression that there's a continuing war in northern Uganda which is absolutely false," said Opolot.
"These deliberate omissions make the motives of this video suspect. Could it have been for propaganda purposes, or raising money, for whatever reason?"
In northern Uganda, residents also expressed a range of views about the video.
"This ability of Kony to still commit crimes out there worries us as people of northern Uganda ... the man is still capable of coming back here and terrorising us again," said Charles Akena, 30, a social worker in the northern town of Gulu.
Sam Lawino, 33, thought the film was "both bad and good".
"It's good because its tries to depict the crimes that Kony has perpetrated in Northern Uganda," he said.
But he added: "In my opinion the video will end up reopening the wounds of the several victims who are now trying to heal and start new lives." (Additional reporting by Pascal Fletcher in Johannesburg, David Lewis in Dakar and Paul Marin-Ngoupana in Bangui; Writing by David Clarke; Editing by Pascal Fletcher and Andrew Roche)
Calling all HuffPost superfans!
Sign up for membership to become a founding member and help shape HuffPost's next chapter
BEFORE YOU GO
PHOTO GALLERY
Joseph Kony Facts