Here's an announcement sure to get some scientists talking: An outspoken creationist is offering thousands of dollars to anyone who can scientifically disprove the Biblical creation story.
Dr. Joseph Mastropaolo, who has a degree in kinesiology, is putting $10,000 on the line for his "Literal Genesis Trial," a "minitrial" in California that would involve a bailiff, court reporter and a judge. Only scientific evidence that is "objective, valid, reliable and calibrated" will be allowed, according to the Creation Hall of Fame website, which is collaborating with Mastrapaolo on the project.
A "non-literal Genesis advocate" would also be expected to put up $10,000. The winner of the "trial" would take home everything.
"[Evolutionists] are not stupid people, they are bright, but they are bright enough to know there is no scientific evidence they can give in a minitrial," Mastropaolo told the Guardian.
Mastropaolo belongs to the subset of creationists known as Young Earth creationists, who believe that Earth and its inhabitants were created by God some several thousand years ago -- an account of which is laid out in the book of Genesis, in the Bible's Old Testament.
A representative for Answers in Genesis, a high-profile organization that advocates for creationism, told The Huffington Post that though the group is not involved with Mastropaolo's Literal Genesis Trial, it is "generally supportive of attempts by people to expose the bankruptcy of molecules-to-man evolution."
"We are not sanguine about efforts that claim creation can be proven today," Dr. Georgia Purdom, molecular genetics researcher and Answers in Genesis spokesperson, wrote in a boilerplate email to HuffPost. "Both creation and evolution are outside the domain of 'observational science' and thus neither is provable. Instead, the creation vs. evolution question involves 'historical science,' which is used to interpret the evidence we see today. The evidence does not speak for itself; in fact, it is subject to interpretive bias."
Scientists, however, have dismissed the Literal Genesis Trial as a publicity stunt.
Michael Zimmerman, vice president for Academic Affairs and provost at Evergreen State College in Washington state, said Mastropaolo has done this sort of thing before, calling it The Life Science Prize.
"Joseph Mastropaolo is back generating publicity, promoting ignorance and spewing misinformation," Zimmerman wrote. "Nothing of significance has changed over the last nine years in Mastropaolo's rhetoric or in his understanding of science."
Dave Muscato, public relations director for American Atheists, was also derisive about the trial.
"Genesis has been thoroughly disproven many, many times as a historical source," Muscato told HuffPost during a phone interview. "I don't doubt that [creationists] sincerely believe that Genesis is true. But the problem is they start with a conclusion and look for ways to prove it, as opposed to the opposite, which is how science works."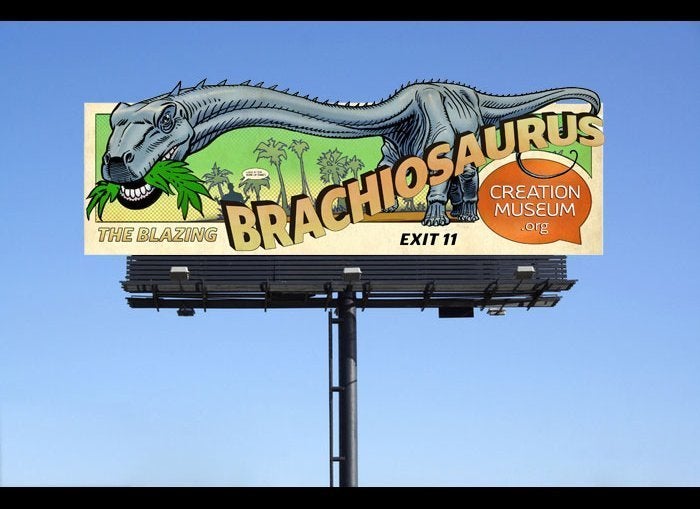 Creation Museum Billboards
Popular in the Community