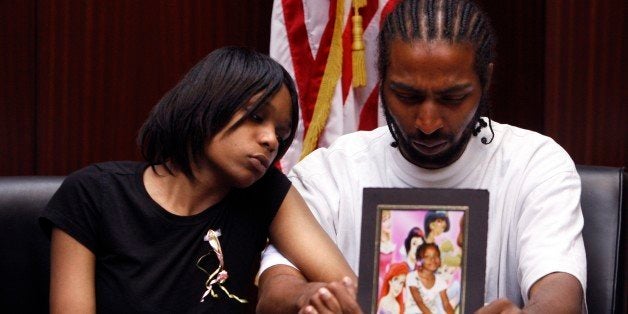 A mistrial has been declared in the trial of the Detroit police officer who shot a sleeping 7-year-old to death.
The Wayne County Prosecutor's Office said that Wayne County Circuit Court Judge Cynthia Gray Hathaway declared a mistrial Friday after the jury deadlocked. Jurors had been deliberating over a misdemeanor charge for Officer Joseph Weekley, who killed Aiyana Stanley-Jones during a botched 2010 police raid.
"No matter the outcome of any jury's decision, I have already been devastated and my life has been ruined irreparably by the events that occurred on May 16, 2010," Weekley said in a statement, according to the Detroit News.
"No parent ever deserves to lose a child, regardless of the circumstances," he also said. "I know in my heart and before God that what transpired that day was out of my control, but I will still have terrible grief weigh upon me every day for the rest of my life."
The jury began deliberating Tuesday on the charge of careless discharge of a firearm causing death, which carries a sentence of up to two years in prison. Jurors would later tell the court they were having difficulty reaching a decision.
Weekley went into the trial last month charged additionally with a count of involuntary manslaughter, which carries a 15-year maximum prison sentence. The judge dismissed the charge during the trial after a motion by the defense, citing a lack of evidence.
Roland Lawrence, chairman of the Justice for Aiyana Jones Committee, said in a statement Friday that the trial was both a "travesty and a comedy."
"This trial is a travesty because the judicial system allowed the death of a child by a well-trained police agency to go unpunished," he said. "It is comedy because the people of [southeast] Michigan actually think that Aiyana's family is responsible for Aiyana's death."
Shortly after midnight on May 16, 2010, Weekley entered the Stanley-Jones home. He was the first through the door as part of the Detroit Special Response Team's search for a murder suspect. As a crew filmed for an A&E reality series about murder investigations, another officer is said to have thrown a flash-bang grenade, allegedly making it difficult for Weekley to see. Weekley then fired the shot that killed Aiyana, who was sleeping on the couch with her grandmother, Mertilla Jones.
In court, Weekley maintained that Jones struck his gun, which caused him to shoot. Jones, a primary witness in the trial, denied doing so or being close to Weekley. The prosecution argued that Weekley shouldn't have had his finger on the trigger of his gun, per his professional training.
"The only evidence that points to any kind of knowingly creating a danger or intending to cause injury, the only testimony is that of Mertilla Jones, which is by its nature and by comparison to the other testimony, including the medical examiner, is completely and totally unbelievable," Weekley's lawyer, Steve Fishman, told the judge last week.
The shooting of the black child by a white officer, who continues to work on the Detroit police force, has caused some to draw parallels to other cases of police shootings and to criticize the justice system's handling of cases involving police officers and black victims.
Several weeks before Weekley's latest trial began, a police officer in Ferguson, Missouri, shot unarmed, black 18-year-old Michael Brown, sparking mass protests, a heightened police response and nationwide conversations about institutional racism in police forces across the country. Before Weekley's trial began, potential jurors were asked questions about the Ferguson shooting and police militarization and whether their thoughts might influence their decision in the case.
Last year, Mertilla Jones drew a connection between her granddaughter's death and that of black teen Trayvon Martin, who was unarmed when he was shot by neighborhood watch volunteer George Zimmerman in Florida. She spoke during a rally after Zimmerman was acquitted.
"I'm out here to fight any way for the other Aiyanas that's to come," she said, "because it ain't stop at just my grandbaby."
Weekley was tried last year for involuntary manslaughter in Aiyana's death, but the first jury also failed to come to a decision. The next court date in the case has been set for Nov. 21.
Related
Before You Go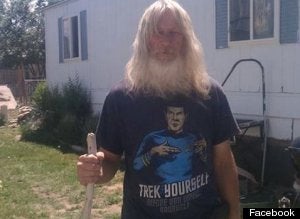 The Most Outrageous Stories Of Police Misconduct In 2013
Popular in the Community