A retrial has been set for Joseph Weekley, the Detroit police officer who shot and killed a 7-year-old girl during a 2010 police raid.
Weekley's previous trial ended without a verdict in June, with jurors explaining they were deadlocked after three days of deliberating. He has been accused of a felony charge of involuntary manslaughter and a misdemeanor charge of careless discharge a firearm causing death. Wayne County Circuit Judge Cynthia Gray Hallaway set Weekley's second trial for Dec. 4 during a hearing Wednesday, the Detroit Free Press reported. Charles Jones, the father of 7-year-old Aiyana Stanley-Jones, who was killed early Sunday in Detroit, holds a photo of Aiyana in attorney Geoffrey Fieger's office in Southfield, Mich., Tuesday, May 18, 2010.
Weekley was part of a team of cops attempting a risky midnight raid to arrest a suspect accused of shooting a teenager outside a party store. A video crew from the A&E documentary show, 'The First 48," was on hand to record the action. Then, a stun grenade was thrown through the window of the home, and Weekley was the first officer to storm inside.
But that's where the joint recollection ends. Weekley said that the victim's grandmother, Mertilla Jones, grabbed his submachine gun, which jostled his finger onto the trigger. He claimed that he didn't even feel the recoil of the gun going off. His defense attorney, Steve Fishman, insists that Aiyana's death was, simply, a tragic accident. In a Friday, March 8, 2013 photo, defendant Joseph Weekely, right, and A&E producer Allison Howard, who was at the raid, sit in court before Judge Cynthia Gray Hathaway at Frank Murphy Hall of Justice in Detroit. Weekley goes on trial Wednesday, May 29, 2013. (AP Photo/The Detroit News, David Coates)
"She hit it in a downward motion," Weekley said of his submachine gun during the first trial, according to the Associated Press. "As she hits it down, I start to pull it back. I hear the shot."
Aiyana was shot in the head as she slept on the couch.
But prosecutors question how the grandmother could have risen off the couch and accosted Weekley in seconds as a disorienting flash-bang grenade landed in the room. They wondered how an elite Special Response Team would have failed to see toys on the lawn as they set up outside, a warning that children could be inside the house. Another DPD officer testified during the trial that officers are trained on how to avoid firing their gun in similar situations.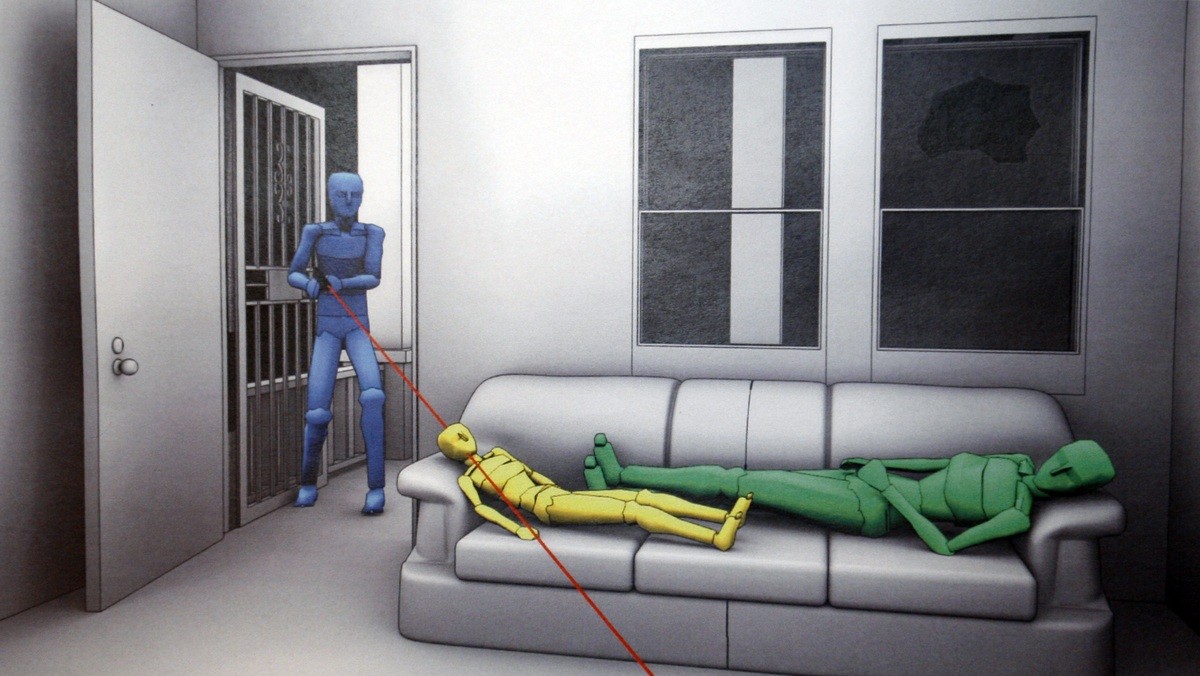 This copy of a drawing provided by attorney Geoffrey Fieger shows the shooting scene as depicted from an independent autopsy of 7-year-old Detroit girl Aiyana Stanley-Jones. Fieger says the independent autopsy shows Aiyana was shot through the top of her head during a police raid on her home. (AP Photo/Courtesy Geoffrey Fieger)
"He may be a good father. He may be a good person," the prosecutor said of Weekley, according to the Associated Press report. "It does not matter. ... Because of his conduct, Aiyana Jones is dead."
To make matters worse, it eventually emerged that the police had thrown the grenade into the wrong flat. Police had received the name and address for the suspect they were hunting from an informant. The suspect, Chauncey Owens, who was arrested, actually lived upstairs.
More than two years later, the fallout over the young girl's death continues. A man rides a bicycle past the house where a 7-year-old girl was shot and killed by police in Detroit, Monday, May 17, 2010. (AP Photo/Carlos Osorio)
Mayor Dave Bing banned film crews from shadowing police after Jones' death. One of the show's videographers, Allison Howard, pled no contest to obstruction of justice during the police investigation and was sentenced to two years of probation.
On Wednesday, rapper J. Cole's released a video for his single, "Crooked Smile" featuring TLC, that he dedicated to Aiyana. The video shows a DEA raid that takes the life of his character's daughter after an innocent summer BBQ.
And Joseph Weekley will stand accused of involuntary manslaughter in the death of Aiyana Stanley-Jones once again this December. Taking the stand during his first trial, he said, ""I just feel devastated and depressed. I'll never be the same, no."
"I'm out here to fight any way for the other Aiyanas that's to come," she said, "because it ain't stop at just my grand-baby."
Before You Go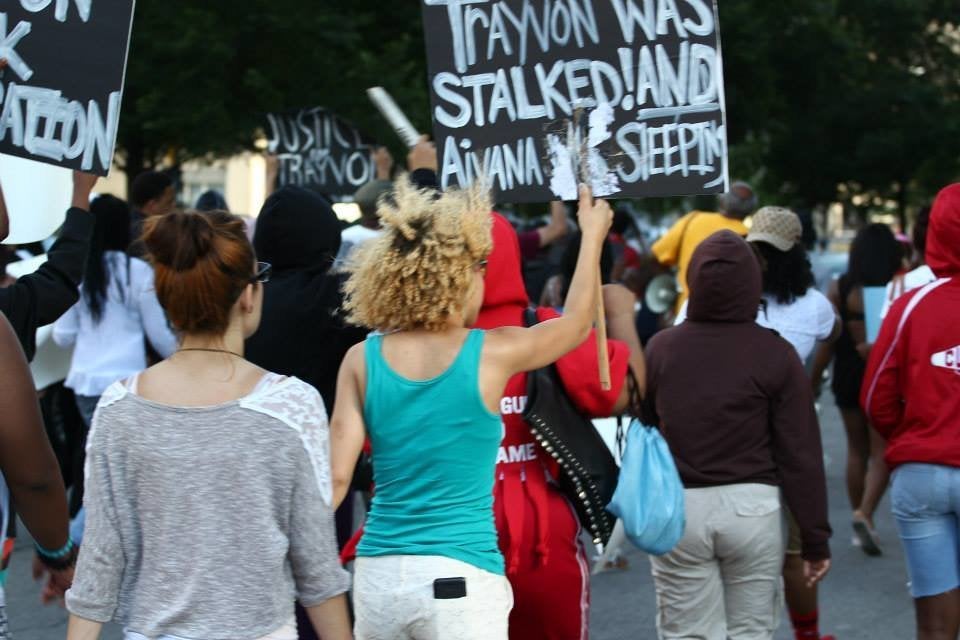 Detroit Rallies For Trayvon Martin And Aiyana Stanley-Jones
Popular in the Community