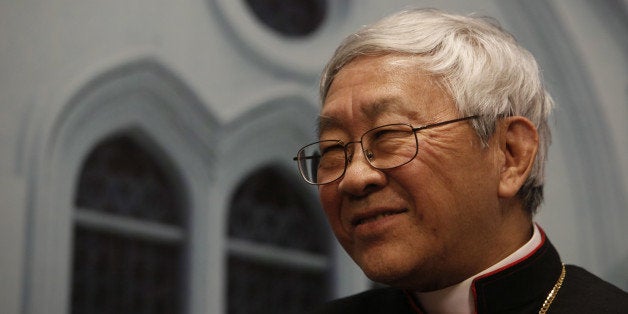 Catholic Cardinal Joseph Zen Ze-kiun, 82, surrendered to police during an Occupy Central protest in Hong Kong on Wednesday.
The cardinal joined Occupy Central founders Benny Tai, Chan Kin-man and Chu Yiu-ming who turned themselves in to "take responsibility" for what police have called "illegal" protests, BBC reported. The men remained just an hour at the police station, though officers told the protestors they would be invited back to the station at an appropriate time. As he left the premises Zen asked the people gathered outside to pray for democracy.
A former bishop of Hong Kong, Cardinal Zen has been a vocal proponent of the Occupy Central demonstrations initiated more than two months ago and even led a three-day pro-democracy march through the city in June. In September, the octogenarian spent a night outside in the public square with student protestors.
The cardinal reportedly wrote on his blog in November that in the fight for democracy a "miracle may take place, like David hurls a stone to hit down Goliath. And no one would expect that the Berlin Wall fell down all of a sudden 25 years ago."
Zen told America Magazine in October that his many days standing beside protestors have caused him concern about the situation in Hong Kong.
"The authorities celebrated the national holiday [on Oct. 1]... but they don't seem to realize the seriousness of the situation or how angry the people of Hong Kong are," Zen said. "They seem to have no sense of what has happened in these days."
Zen went on to say he feared the situation might "get out of hand" -- a prediction that some might say has come true as the government began cracking down on demonstrations in November. Clashes broke out later that month when authorities destroyed an entire protest camp in the Mong Kok district.
On Dec. 1 student protestors stormed the central thoroughfare in the Admiralty district and tried to shut down government offices in what many have called the worst outburst of violence since the Occupy Central protests began. Police employed the use of batons and pepper spray in their arrests -- and at least 40 people were hospitalized in the chaos, Fortune reports.
"I ask people everywhere to pray for us," Zen told America Magazine in October, "as the situation in Hong Kong is dangerous right now, anything can happen."
Related
Popular in the Community