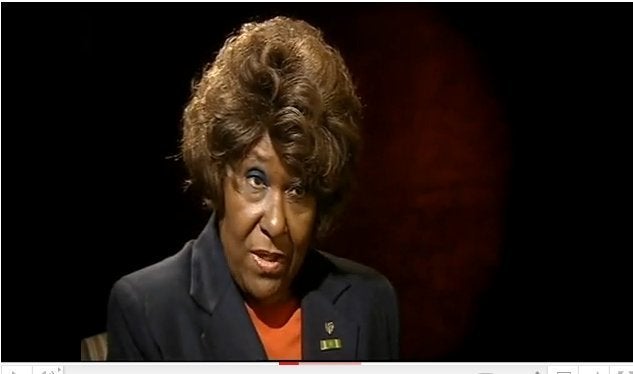 Josephine Harris, a 69-year-old grandmother from Brooklyn whose story of survival during the September 11 terrorist attacks received nationwide attention, has passed away.
On 9/11, following the plane attacks on the World Trade Center, Harris descended 50 floors of stairs in an attempt to escape the building. That's when she encountered a group of firefighters from Ladder Company 6. New York Magazine described the scene:
Captain Jay Jonas and five of his firefighters from Ladder Six, based in Chinatown, had been on the 27th floor of the North Tower when they heard a rumble, felt the staircase sway, watched as the lights flickered off and on. A captain from another company let Jonas know the cause of the disturbance: The South Tower had just collapsed. [...]

On about the twentieth floor, they ran into Josephine Harris, a heavyset, 59-year-old bookkeeper who'd worked at the Port Authority for six months. Harris had a limp, but she bulled ahead. She was stubborn that way. Just a few months before, she'd been hit by a car. "My back went up in the air," she says. "I came down on my side." Still, she'd signed herself out of the hospital that same day. "I put a brace on my leg and went on about my business," she says, matter-of-factly reassuring herself, "It's not my time yet." On September 11, with one good leg, she'd already made it down 50 floors. [...]

"We got to bring her with us," he told his company. By that point, Harris could barely stand. Butler, short, barrel-chested, the company's strongest man, put her arm over his shoulder. The company's pace slowed to Harris's. Then, on the fifth floor, Harris stopped. She wasn't thinking of dying, she'd later say. She was simply exhausted.
At that point, while Harris and the firefighters paused, it happened: "The tower collapsed above and beneath them. The section in the stairwell where Harris stopped and refused to go any further--the small pocket of Stairway B between the second and fourth floors of the building--was the only area spared. If they had been moving any faster or slower, they most certainly would have been crushed by the debris."
The group was eventually rescued, and both Harris and the firefighters thanked each other for their life-saving actions; the Ladder 6 crew had a jacket made for Harris that read, "Our Guardian Angel."
The story was documented in an NBC News special titled "The Miracle of Stairwell B."
Ms. Harris, 69, was unconscious when they arrived, and they had to force open the door. "They did CPR, and worked on her for some time," a Fire Department official said. But she was pronounced dead, apparently after a heart attack.

News of Ms. Harris's death arrived at Ladder 6 by a telephone call from her sister, Thelma Johnson.

"I kind of had the same feeling as if a relative had died," Chief Jonas said. "Right away you start thinking about all the things you'd gone through. It was a cloak of sadness, and it is still there. With the 10-year anniversary coming up, it's going to be a little different without her."
Popular in the Community