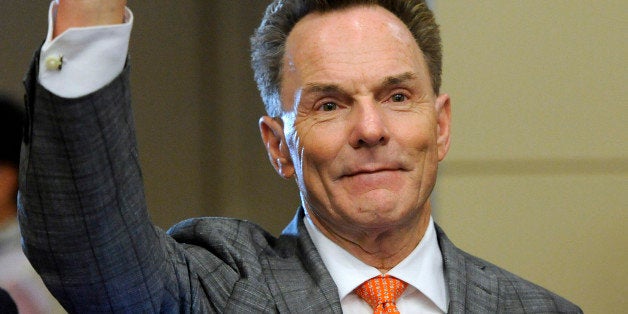 The Duggar family pastor has some thoughts about the Josh Duggar molestation scandal and Caitlyn Jenner.
"Everyone does wrong, and what was wrong was very wrong as to what was testified to and it's completely unacceptable," Dr. Ronnie Floyd of the Pinnacle Cross Church in Rogers, Arkansas, told People magazine, referring to the allegations that Duggar molested five underage girls when he was a teenager. "But I'm thankful, whether it's him or any other one, that I serve a God who can forgive everything.''
Floyd's definition of "sin" evidently extends to Caitlyn Jenner as well. On Sunday, he gave a sermon criticizing the Olympic gold medalist and reality star whose July 2015 cover of Vanity Fair is being hailed by people around the world this week. Jenner recently gave an inspirational interview with Diane Sawyer in which she came out as transgender.
"You dads, make sure you raise your sons around men who are manly," Floyd said, according to People magazine. "What's remarkable about this is the world is applauding. Gender is not fluid.'' But added that the Bible says "all humans be treated with dignity and respect,'' whatever their sins.
"Bruce Jenner is no different from all of us," Floyd reportedly said in his sermon, using the name by which Caitlyn Jenner was formerly known. "We are all sinners. The key is cleansing our sins through Christ's grace."
"I think the story with Caitlyn is that [fundamentalists] see the story with Caitlyn as controlling [her] own body, which, for a fundamentalist, is a giant paradox they can't wrap their head around," said Watts. "Josh Duggar is a victim [to them], and Caitlyn is making it where God is the victim. Somehow God has made a mistake. It's hard for them to understand -- they generally reject science and psychology anyway."
"For them, they see it as a sin against God directly and they don't understand. For them, it's a perversion," Watts continued. "Josh prayed for his sins and is clearly forgiven. Caitlyn didn't try hard enough."
Floyd was not immediately available for further comment.
CORRECTION: A previous version of this article mistakenly stated that Floyd's church was in "Rodger, Arkansas." The name of the town is Rogers.
Related
Popular in the Community