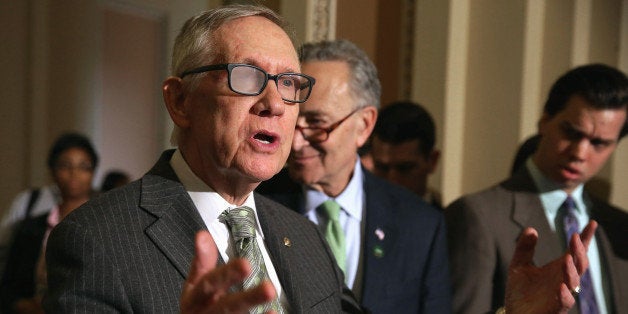 WASHINGTON -- Senate Minority Leader Harry Reid (D-Nev.) said Thursday that if Republicans don't schedule a confirmation vote soon for U.S. attorney general nominee Loretta Lynch, he'll do it himself.
"I know parliamentary procedure around here and we're going to put up with this for a little while longer, but not much," Reid said in an interview with MSNBC's Rachel Maddow. "Absolutely we can force votes. If we don't get something done soon, I will force a vote."
Democrats appear to be reaching their breaking point. Earlier in the day, White House press secretary Josh Earnest lashed out at Sen. Chuck Grassley (R-Iowa) for suggesting it was Democrats' fault that Lynch hasn't moved. And Reid said that he's warned his GOP colleagues that things are about to get messy if they don't act on Lynch.
"I had a conversation today with a number of Republicans and told them really to get her done, or I will make sure they will have an opportunity to vote against her," he told Maddow.
Reid's office explained how, exactly, he could force a vote on Lynch.
Any senator can call up a nominee that's been set on the executive calendar. Reid plans to make a motion to move the Senate onto the executive calendar and take up Lynch's nomination, if McConnell doesn't schedule a vote on Lynch "very, very soon," said Adam Jentleson, a spokesman for Reid.
It only takes a simple majority to clear those votes. So Democrats could conceivably cobble together a handful of Lynch's GOP supporters to vote with them to move the Senate into executive session, at which point Reid could set up a procedural vote that lines up a confirmation vote on Lynch the following day.
Lynch appears to have the votes to be confirmed, whenever she does get a vote. She would be the first African-American woman to become U.S. attorney general.
Before the Senate adjourned Thursday, Reid said there's been "significant progress" in finding a way forward on the trafficking bill, but that negotiators aren't there yet.
"I'm going to serve notice right now that Ms. Lynch's nomination will not remain in purgatory forever," he said on the Senate floor.
Senate Majority Leader Mitch McConnell (R-Ky) said the trafficking bill will be back up early next week. And then, if all goes well, Lynch is up.
"It's my hope that we'll be able to go through an orderly amendment process and pass a trafficking bill early next week," he said. "The Senate would then consider the Lynch nomination."
Laura Barron-Lopez contributed reporting.
Popular in the Community