 To be asked to participate in the first reading of a brand-new Disney animated feature was like a dream come true for Josh Gad.
"You have to understand that -- when I was growing up -- I was absolutely obsessed with the animated films of Disney's Second Golden Age," Gad explained during a recent phone interview. "I mean, I recall going to see The Little Mermaid in theaters no less than 20 times. My poor mother had to send me with various aunts and uncles and nephews & nieces who were old enough to take me. We almost ran out of relatives."
"And then when Aladdin was released to theaters in 1992, I remember watching Robin Williams tearing it up up there onscreen," Josh continued. "And I remember turning to my Mother and saying prophetically 'I'm going to do that one day.' So to then get that phone call and be asked to come take part in a reading for Anna and the Snow Queen was a complete thrill for me."
"This was about three years ago before I went off to do Book of Mormon. This version of the movie was supposed to be done in 2D and featured songs by Alan Menken. And at the reading that I took part in, Megan Mullally read the part of Elsa the Snow Queen. And she was brilliant, by the way," Gad enthused. "But this movie, it was a completely different thing than Frozen. It had a storyline that stuck a lot closer to the original source material. And at this reading, Olaf was an entirely different character."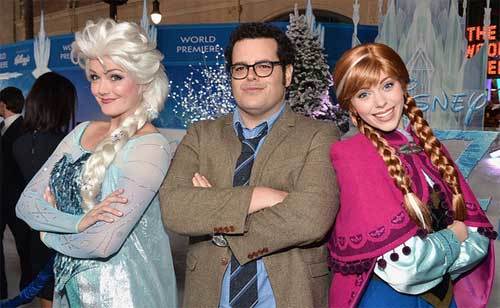 But in the end, the powers-that-be at Walt Disney Animation Studios just couldn't bring themselves to greenlight Anna and the Snow Queen. Which wasn't all that surprising. Given that Disney's story department had been struggling since the 1940s to bring this fairytale for the big screen. Only to then be tripped up by the episodic nature of Andersen's story.
Which -- as you might expect -- was a huge disappointment to Gad. Given that -- since childhood -- Josh had dreamed of voicing the next Timon, Lumiere or Sebastian. That sidekick in a Disney animated film that you just can't forget.
But then Book of Mormon happened. And Gad found himself nominated for a Tony, thanks -- in large part -- to those brilliant Bobby Lopez - Matt Stone - Trey Parker songs that Josh got to perform in this show.
"So I had officially left Anna and the Snow Queen. I had moved on and was then going to do this other movie for DreamWorks. But then I heard that Disney was looking to take another run at the Snow Queen and that they had just hired Bobby Lopez and his wife Kristen to come write some songs for this movie," Josh said. "I then wondered if I'd actually blown my big chance to be a Disney animated musical."
Now what Mr. Gad didn't seem to understand was that Mr. & Mrs. Lopez were two of his biggest fans. And as soon as Bobby & Kristen came on board this project, they then began actively campaigning to have Josh brought back on board the production.
"Whenever the topic of Olaf came up with Walt Disney Animation Studios, we just kept saying 'Josh Gad, Josh Gad, Josh Gad,' '' Kristen stated. "I mean, Bobby knows Josh's tricks and Josh's range so well. So he knew that -- if we could just get Josh cast in this role -- that he could then bring something surprising and fun to this movie. "
But then the Hollywood equivalent of a Christmas miracle happened. Me and My Shadow developed some pretty serious story problems. So much so that DreamWorks Animation decided to pull this project (which was originally supposed to bow in theaters in March of 2014) off of that studio's official release schedule. Which then meant that Gad was now free to return to Disney and once again begin voicing Olaf.
"Mind you, even with Josh back on board, it still took us a while to figure out what to do with Olaf. For a time, this snowman character was Elsa's main henchmen and his magical ability was -- thanks to his carrot nose -- he could smell anything that was coming from miles & miles away," Bobby recalled. "But that didn't work. It just didn't make sense. More to the point, given how appealing Olaf's design was, it seemed to be a waste of this character's true potential."
"We must have spent two weeks just talking about this one character, trying to find a more organic way to make Olaf part of Frozen's story. Not to mention finding a way to make this character fun," Kristen continued. "We kept looking for ways to make Olaf part of Anna and Elsa's early childhood, that innocent time when these two sisters were still close. And then when we came up with the idea that Olaf is this snowman who's obsessed with summer ... Well, that just plugged into our innocence theme. There was just something so poignant about a character being that naive."
And given that they now had this story hook for Olaf, Bobby & Kristen then went ahead and wrote In Summer, this snowman's salute to summer. Which both movie critics and animation fans have singled out as the comic highlight of Disney Frozen.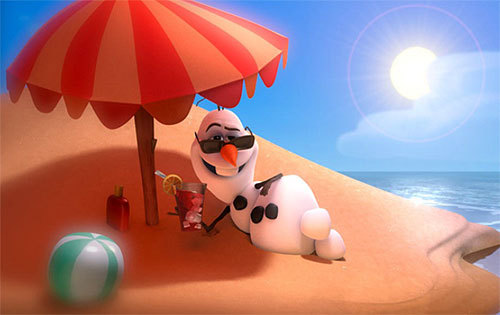 "And what was great about that song was that Bobby & Kristen wrote it specifically for my voice," Josh continued. "And thanks to all the time we spent together working on Book of Mormon, Bobby now knows all of my vocal tricks. So you know how In Summer ends with that over-the-top operatic flourish? Bobby deliberately put that in there because he knows that I can do that with my voice and he thinks that it sounds funny."
So now -- thanks in large part to the Lopezes -- Gad has now achieved his childhood dream and become a singing sidekick in a Disney animated feature. So how does it now feel for Josh to be able to walk into a Disney Store and buy a plush version of Olaf? Or -- better yet -- see the snowman that he voices 40 feet high on a water screen as the host of Disney California Adventure's new nighttime show, World of Color: Winter Dreams ?
"This has all been so surreal. But I have to admit that I am enjoying getting to share all of this with my 2 1/2 year-old daughter, Ava. Who shares her father's unhealthy obsession with all things Disney," Gad laughed. "I mean, she doesn't entirely understand what's going on. I think that my daughter thinks that her Olaf doll is some form of black magic. That Daddy is somehow throwing his voice into this little teddy bear. Because sometimes she'll press it and I'll be standing there, not moving my mouth and it's like some sick ventriloquist is doing some weird dummy show for his daughter."
"But Ava's smart. She got it the second she saw the Frozen teaser in a movie theater. I took her to see Monsters University. And the teaser trailer for Frozen didn't have any dialogue. It only had my laugh. But as soon as she heard that laugh coming off of the screen, Ava looked at me and said 'That's Dadda,' Josh concluded. "I swear to God that I had never explained it to her. I had never told her 'Your Dad's in a Disney movie' because Ava's only 2 1/2 and she doesn't understand Disney or movie. But the fact of the matter is that she knew that voice coming off that movie screen was her Dad. And now, that's how Ava identifies the characters from Frozen. First there's Elsa, then Anna and finally Daddy."
Jim Hill is an award-winning entertainment writer who lives in New Boston, NH. Over the past 30 years, he has interviewed hundreds of veterans of the animation & themed entertainment industry and written extensively about The Walt Disney Company.
Jim is currently working on a behind-the-scene history of the development & construction of Disneyland. For his more immediate musings on movies, TV shows, books and theme parks, please check out his blog, jimhillmedia.com.
Popular in the Community