The first Democrat hoping to unseat Sen. Josh Hawley in 2024 has already come forward, launching his campaign on the anniversary of the Jan. 6, 2021, insurrection with a nod to the Missouri Republican's notorious actions that day.
Lucas Kunce, who lost last year's Democratic Senate primary to beer heiress Trudy Busch Valentine, is returning to challenge Hawley in 2024, he told HuffPost on Friday.
"He's never had to run with all the baggage he now carries," said Kunce, a Marine veteran and former arms-control negotiator with NATO. "This is the 'Show Me State.' You gotta show people what you stand for. This guy has shown everyone that he's a coward and faker."
Kunce's launch video leans heavily on Hawley's pre-riot salute and footage uncovered by the House Jan. 6 committee that shows the senator fleeing the mob inside the Capitol. Later that day, Hawley objected to certifying election results in the Senate. He later wrote in an op-ed that his objection was designed to encourage debate about election integrity.
Kunce has an extremely uphill path to victory against Hawley, who ousted incumbent Democrat Claire McCaskill in 2018. Hawley is one of only a handful of incumbent Republicans up for reelection in a cycle when national Democrats will focus resources on defending seats in Arizona, Nevada, Pennsylvania, Ohio and West Virginia. But Hawley is so polarizing that Democrats will follow the race regardless.
A spokesman for the National Republican Senatorial Committee, the Senate's campaign arm, brushed off Kunce's challenge.
"Unhinged liberal Lucas Kunce will grift millions from coastal elites, then lose. Just like when he ran last election," NRSC communications director Mike Berg told HuffPost in a statement. A spokesman for Hawley did not provide a comment.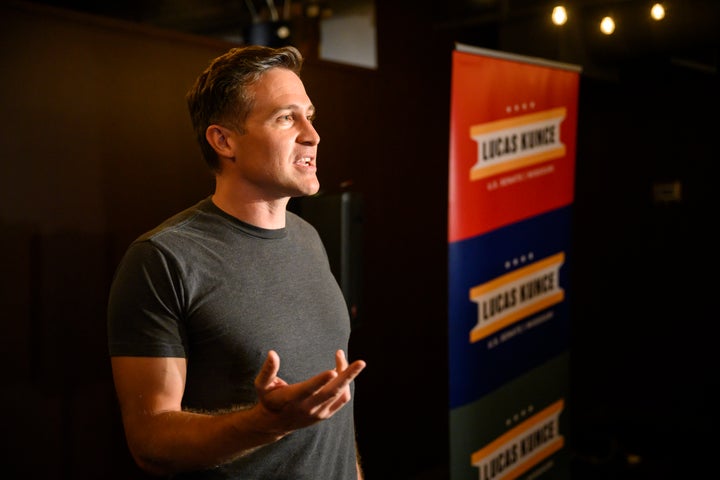 Kunce lost the primary by 5 points but managed to raise nearly $6 million from a strong national grassroots base. He was nonetheless defeated by the Anheuser-Busch brewing heir, who loaned her campaign millions from her own fortune. Busch Valentine lost the general election to Republican Eric Schmitt in a state that Trump won by double digits two years earlier.
That doesn't bode well for Kunce, who hopes there's a path to victory in espousing a populist message and highlighting Hawley's positions on Jan. 6, gender roles and other issues.
"He's just done creepy things, like write books telling everybody how to be a man, and if you don't do what he says then you're not a man. So we're going to hold him to task for all of that," Kunce said. "He's obsessed with what everybody else is doing in their bedroom, at work, on the internet, in the doctor's office."
Kunce said that despite losing his last primary, it helped lay the groundwork for another campaign, mostly in the form of a deep online donor base.
"We worked super hard, and you're probably not going to win the first time," Kunce said. "When I came into this I had no family money, no connections. I wasn't the son of a banker like Josh Hawley. And so for me, we had to figure out how to build up a real grassroots movement. And we ultimately did that by the end."
Popular in the Community