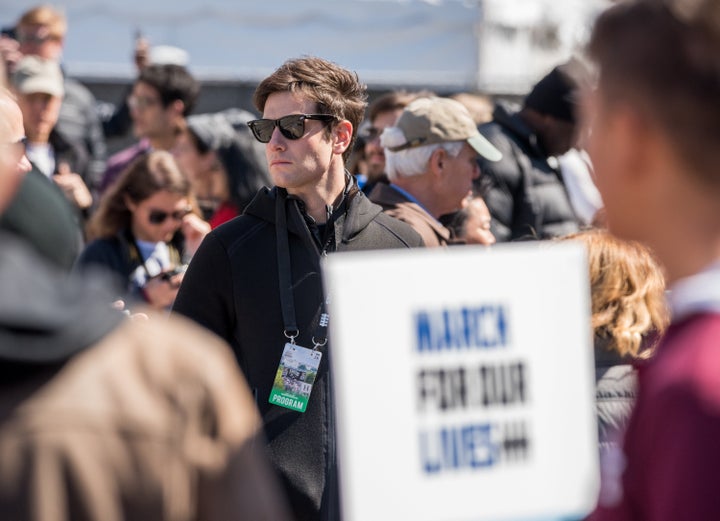 The Kushner brother had promised to attend the anti-gun violence rally in an earlier Instagram post. His girlfriend, model Karlie Kloss, also participated in the gathering.
Kloss shared a photo on Instagram of her and Delaney Tarr, a 17-year-old survivor of last month's Parkland, Florida, mass shooting ― the tragedy that claimed 17 lives at a high school and sparked the demonstration in Washington and similar marches across the U.S.and the world.
"Today, and every day, we will continue to fight for those things that are right. We will continue to fight for common sense. We will continue to fight for our lives," Kloss wrote in a caption, quoting Tarr.
Josh Kushner made headlines earlier this month for donating $50,000 to March For Our Lives.
Axios reported that the 32-year-old founder of venture capital firm Thrive Capital and health insurance company Oscar had "quietly" made the donation.
At the Women's March in Washington the day after Trump was inaugurated last year, Kushner was photographed in a crowd of demonstrators. According to the Washingtonian, Kushner told other marchers he was there "observing."
Trump and his Twitter account were unusually silent on Saturday as hundreds of thousands of protesters marched in cities across the U.S. and around the world demanding meaningful gun reform.
A White House spokeswoman commented on the rallies, saying, "We applaud the many courageous young Americans exercising their first amendment rights today."
Trump was criticized earlier this month for apparently caving in to pressure from the National Rifle Association and backpedaling on gun control measures he'd supported in the wake of the Parkland massacre. Teenage survivors of the shooting came up with the idea for Saturday's marches.
The president has instead pushed for arming some teachers in schools ― an idea that law enforcement and education groups have called wrongheaded.
Popular in the Community