 There's a lot more to Josh Radnor than "How I Met Your Mother." Best known for playing Ted Mosby on the hit CBS sitcom -- which is heading into its eighth season -- Radnor has done quite a good job of stepping away from the series in recent years. In addition to signing a book deal with Simon & Schuster in January, Radnor wrote, directed and starred in two well-received Sundance films: "happythankyoumoreplease" and "Liberal Arts."
"The regularity of the show is rare to have as an actor," Radnor told HuffPost Entertainment. "It's certainly as good and pleasant of a day job as you could hope to have. Now that I'm doing this other stuff, however, it feels like the show and the other creative things in my life are more in balance."
Out on Sept. 14 in limited release, "Liberal Arts" stars Radnor as Jesse, a college admissions worker at a crossroads in his life. When his second-favorite professor (played by Richard Jenkins) retires, Jesse heads back to his college and embarks on a relationship with Zibby (Elizabeth Olsen), a student at the school.
Radnor and Olsen sat down with HuffPost Entertainment to discuss the new film, why being nice is such a rarity in 2012, and which movies are best to watch on an airplane.
You guys have a pretty nice meet-cute in the film. How did you meet in real life?
Josh Radnor: I got 45 pages [of the script] to my agent and she happened to be Lizzie's agent.
Elizabeth Olsen: I just started working with her, and ... you tell the story. It happened to you.
Radnor: She just declared, "I have your Zibby: Elizabeth Olsen." I think they were just cutting "Martha Marcy May Marlene."
Olsen: I had just started working. I was snuck a script early on.
Radnor: I said [to my agent], "You didn't give her the script?" She said, "No, no, I didn't give her the script."
Olsen: I expressed interest in it, but at the same time she was trying to play it really cool for me. Because she didn't want to shove anything onto him. She wanted him to think he was making the choices.
Olsen: We ended up sitting down for an hour and a half and read through the whole script.
Radnor: We actually met for coffee earlier. We met in November, and I read with you after Sundance. Because I remember saying, "What's it like to be the It-Girl?"
Olsen: How many times have I had to answer that question this year? I was like, "Really?"
Radnor: When are you not going to be "it"?
Radnor: Maybe it's tag. You just have to find another ingenue and tag them.
Lizzie, after you read the script, what made you want to sign on?
Olsen: I loved the way Josh writes. There is a style to it and it's intelligent and funny, but it's honest. I just did three psychological thrillers back-to-back-to-back. I was really tired of that because that was further away from me. I thought Zibby was someone completely relatable to my life. I just always wanted to rush things, grow up sooner, couldn't understand why someone older couldn't make a change. There's something really honest and great about her. Also, I wanted to say those words really badly. The words on the page were so much fun to say out loud. That's a really simple thing to say about wanting to do a script, but I feel like that rarely happens.
"Liberal Arts" is a very earnest movie, which makes almost makes it an outlier compared to what's produced nowadays. Why do you think that is?
Radnor: I think the word "earnest" kind of has a negative connotation on some level. I think one of the things that's happened is that being cynical is somehow conflated with being sophisticated. I think that's problematic, to say the least. I don't think evil people or negative people are inherently interesting all the time. People who are good people getting better at being themselves -- to me, that's something that's really interesting to watch. I went to college with really good people and had really excellent teachers and met some fascinating folks and I think those people are worthy of our attention. They're going through something. As they say, "Everyone's fighting a great battle." I think just attacking something with great sincerity feels kind of brave in this day and age, but I feel like that's what I want to do.
Olsen: I also feel there has been a draw in the last five years to tell a story about "the little man" -- someone quirky and awkward who doesn't fit in. I think to be able to tell a story that's universal hits home more than "the little man." Like, "I'm so quirky! I'm awkward, but it's funny because it's weird!" That's the story being told.
Radnor: There are certain films that studios used to make in the '70s and '80s that they've abandoned. They are films that I care about. I'm interested in real people going through things that feel vital and feel of their time. I want the film to have a timeless quality to it. When I go to movies and I love the movie, it's because it feels like it articulated something about how we're living now, and also gives me some insight into my own life. I feel actually altered after having seen it.
You bring up this chasm between art and commerce in the film by discussing the Twilight books...
Radnor: It's called a vampire novel. We're not sure what it is [laughs].
Right. You don't actually mention Twilight in the film or David Foster Wallace's Infinite Jest, which plays a prominent role. Is that another way to keep the film timeless, so when there's another trilogy of vampire books in fifty years, "Liberal Arts" can still resonate?
Radnor: We mentioned Wordsworth, Keats, Blake, Beethoven, Wagner. These are the public domain names that are already canonized. With the modern books, in the same way that I don't name the college, I wanted it to be everyone's college. If I say, "This is my favorite book," I want you to bring your favorite book to it. The minute you start naming things, peoples' opinion makers click on and they say, "I didn't like that book!" and they fold their arms and you've lost them for the whole movie. So I decided to keep that a little more general. And I have a little fun with that when it comes to the vampire book, because it rewards everyone knowing what book you're talking about.
In the film, your characters disagree about whether something successful like "Twilight" has value to the reader or viewer. How do you feel about popular entertainment?
Radnor: I'm of the opinion, especially for young people, that given the landscape of entertainment options -- they can have their faces buried in all those machines -- I think there's something kind of sweet and touching about someone who's sitting there with a book. With bound pages with writing on them. Whether that's Harry Potter or Twilight. I used to read a ton of Stephen King when I was a kid -- which is funny, because I really hate horror movies -- but I used to tear through those. I found my way to all sorts of other literature because I got the experience of being told a story through a book. I think it's OK to read for pleasure, but I was interested in this debate: What's the purpose of reading? Is it to nourish us or entertain us. For me, the very best books are the ones that do both of those things at the same time.
Olsen: I think anyone can do whatever they want. I would never pass judgment on anyone for getting enjoyment out of anything they read or watch, but I like reading for nourishment.
Olsen: I see everything. I'll be the first one at the worst reviewed romantic comedy. I love it all.
Radnor: There's a difference between what you're going to see opening weekend versus what you're going to watch on an airplane. I think there's something to be said for a great airplane movie.
Oh, that's a great cable movie, too. It has been on HBO for weeks.
Radnor: Some movies don't play well in the theater, but have this fantastically long life on television. It depends where you're seeing it on some level. What the altitude is.
Josh, what did you learn on "happythankyoumoreplease" that helped with making "Liberal Arts"?
Radnor: The first one was such beautiful, naive experiment on my part. I surrounded myself with amazing people who really had done this a lot, so I was being educated as I went. It just took me a while, but then I was up and running, like, "Oh, I get this." After the first movie, what I realized about shooting a movie is that you're trying to gather as much raw material as you can, so you can get in the editing room and play. I realized on some level what I was doing when we were shooting, so I would have the film more in my head. How it was going to cut together. So, A) you don't have to waste time; you can just shoot what you need. But also you can just shoot. For instance, the opening sequence with the quick shots of Jesse. We had shot a scene of him interviewing a girl -- it was a fully written scene with a really lovely actress who did it. But it somehow wasn't playing -- we couldn't get the opening right. I had this idea: I said to the costume designer, "Bring me a bunch of shirts and different ties and we'll just shoot me improvising these scenes." I had it as a back-up; I thought maybe it'll be funny. We ended up opening the movie with it.
Lizzie, what was Josh like as a director?
Olsen: I think it's impossible, first off, to direct a movie. I can't imagine having written what you directed, having to be so close to the material, and then being the lead of a film. I feel like that's too many hats for one person. But he was so incredibly organized and prepared that you never felt like there wasn't someone steering the ship. It's really hard to be on a set when someone isn't a captain. It's really difficult and frustrating. Even if we did butt heads at times.
Olsen: Very few, but even if you do, at least there's someone who cares enough to say something against you.
Radnor: And something good always comes out of that.
Olsen: I always think it's good to have a conversation about two different opinions. Always having multiple opinions is a good thing, because then you can have a conversation and learn something from the conversation. The scary thing is when people don't have an opinion or don't know what they're doing. He was always specific and always knew exactly what he needed in order to get the day.
After watching Josh, would you ever want to direct yourself?
Olsen: No. I like being part of projects from the beginning. I like putting people together. I like putting a team together that works well together. I like talking to writers about rewrites, from my character point of view. But directing a movie, I would have no idea how you do that. I could direct a scene in scene study class for theater.
Radnor: Check in a few years. Let's see if you're prepping a film.
Olsen: I would like to produce. In a way of putting something together; creating a project with a group. I would never trust myself with a movie and other peoples' money. Are you kidding me? It's so much pressure. I think it's scary.
Is it very difficult to direct yourself?
Radnor: It is. But I surrounded myself with a great team of people who function as these external eyeballs. Jesse Hara, he's a dear friend -- we grew up together -- and he's my producer now. He really has a sense of what I'm going for. He had to encourage me to not undershoot myself. I actually read this interview with Ben Affleck. He called Warren Beatty and Robert Redford and different people who directed themselves and said, "What's your one bit of advice?" And they said, "Make sure you get enough coverage on yourself." Because you start looking at the clock, and you've given everyone else a lot of takes, and it's time for you and you say, "OK, two or three takes, let's go. Let's move on." They reminded me, "Give yourself enough time." My director of photography, Seamus Tierney, who I've worked with twice, has a really great eye. Every once in a while, I think we'd be moving on and he'd say, "You might want to do another one." I would trust that. You get different eyes on it. The script supervisor was terrific on this. You figure out who you can ask opinions from.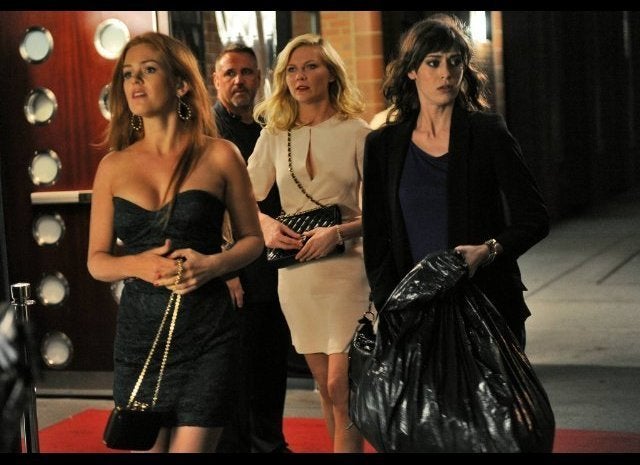 Fall Movie Preview 2012
Popular in the Community