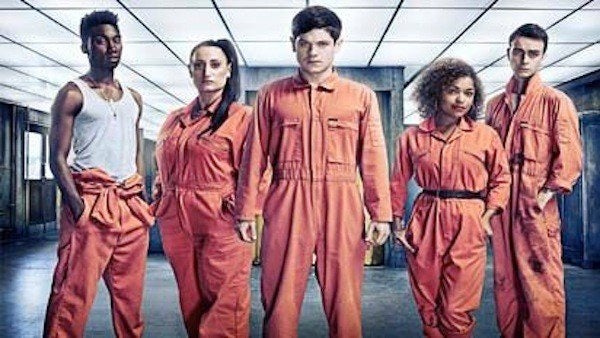 "Misfits" creator Howard Overman penned the American pilot with Schwartz and though there's no network attached to the project yet, Deadline reports that they sent out their spec pilot to the networks this week, along with more than a dozen other specs.
"I hope we get to make it," Schwartz excitedly told The Huffington Post at the "Gossip Girl" 100th episode celebration in December. "I really hope we get the chance to make. I'm working with Howard Overman, who created the U.K. version of 'Misfits,' so I'm playing the guide, and it's really his baby. I'm a huge fan of ['Misfits'], and that's my role on the show, as a fan."
The BAFTA award-winning raunchy sci-fi teen dramedy follows a group of young community service workers who discover they have powers after a freak electrical storm.
Unlike some failed U.S. adaptions of U.K. shows ("Skins," "Life on Mars"), "Misfits" isn't totally unfamiliar to American audiences. The first two seasons of the hit E4 show made their way to Hulu last summer and millions have been watching. Season 3 is currently streaming exclusively on Hulu, with new episodes airing every Monday.
Iwan Rheon, who currently stars as Simon in the U.K. "Misfits," told The Huffington Post in a phone interview: "It will be very interesting to see how it changes to appeal to American audiences ... That's what it's all about, isn't it? Taking a great idea and putting your spin on it. I think it's brilliant, and I can't wait to see it."
But Rheon's BAFTA-winning co-star, Lauren Socha, who stars as the brash Kelly, thinks that finding her American counterpart is going to be a challenge for the "Misfits" American reboot.
"You know what? Without sounding disrespectful, 'Misfits' is 'Misfits,'" Socha told The Huffington Post via phone. "We've won the BAFTA. I've got a BAFTA. We don't need to prove to anyone else. Obviously, they're going to take it to a higher level, with a production team and stuff like that. If America wants to try and smash it, they can, but at the end of the day, they've got 'Shameless' and 'The Office' over there. Competition is absolutely nothing because with English telly, you start with something and then you leave it as that. And I think it's going to be very difficult to try and get a job as Kelly in America. She's so distinctive! I'm impossible to play! Good luck to it, though. I think I'll be a bit gutted, but let's see what they do."
Watch the first episode of "Misfits" Season 3, now streaming on Hulu. New episodes of the teen supernatural drama premiere every Monday.
Related
Popular in the Community